You Are An Impostor And Don't Qualify To Speak On Issues Concerning Ndigbo —Igbo Speaking Community PG , Chief Sunday Udeh Chides Chief Solomon Aguene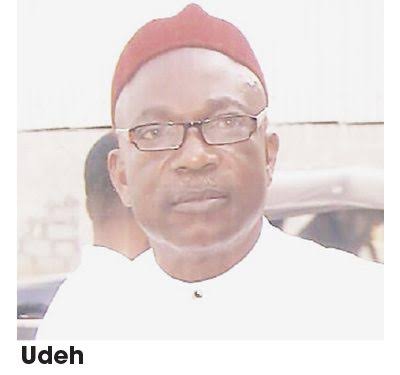 There appears to be another circle of brewing crisis amongst some Igbo social cultural Organizations in Lagos state.

This however may be an indication that the relative 'self imposed peace and truce ,observed by all Igbo political, Socio – Cultural Groups operating in the State during the just concluded party campaigns and general elections, appears to have been broken.
The contention this time is said to be revolving around a published interview credited to the President General ( PG) of the Igbo Speaking Community, Chief Dr. Sunday Udeh, where he was quoted to have cancelled Eze Ndigbo titles that did not emanate or have the blessings of his Group.
In a quick reaction to Chief Udeh's utterances, Chief Solomon Aguene, who responded from his own faction of Ohanaeze Ndigbo Lagos State, lambasted and threatened to deploy security and legal institutions against him. Chief Aguene who maintained that Chief Udeh was not front runner or authority to reckon with on any Ndigbo issues in Lagos, enjoined the public to disregard the statements, adding that Udeh's utterances was capable of breeding animosity amongst the Igbos.
Other Igbo groups like the Igbo Elders Council, the Council Of Ndieze Ndigbo and Ohanaeze Ndigbo Lagos State led by Chief Sunday Stainless Ossia, have all reacted in their own different ways attacking Udeh's statement.
However, in an interview with Journalists on Saturday, Chief Udeh's lampooned Chief Solomon Aguene, calling him an Imposter.
Chief Udeh who had earlier clarified the interview he granted to PM Express, Specifically said that it was the 15 Ezes that were crowned by Chief Solomon Aguene in a hotel at Magodo, were the Ezeship that he cancelled as the President General of Igbo Speaking Community.
He said "solomon is an imposter. He breached the constitution of Ohanaeze Ndigbo .Solomon is not supposed to come to where ndigbo gather and make any comment. Constitution of Ohanaeze both national and the state has 4 years single tenure and when solomon finished his tenure instead of him to vacate office,he still remained there answering president of Ohanaeze. During his reign, solomon had five factions ,the whole igbos in Lagos knows that solomon has so many factions during his own time .
I am not supposed to react to his comments because Solomon has no right to say anything concerning the Igbo Speaking Community or Ohanaeze Ndigbo, because he is not the president, the authentic president of Ohanaeze Ndigbo today,quote me is Chief Sunday Stainless Ossia. So the statement Solomon Aguene made is null and void and it has no effect".
According to him, his contention was based on obvious divisions amongst the Igbos and multiplication of groups in Lagos state " my bone of contention is igbo people, over division have made igbos to look like objects of caricature. Let igbos come together, let them come together and speak with one voice".
Clarifying Ohanaeze Ndigbo status in crowning Ezes, Udeh went down memory lane and stated this : " So the issue of whether Ohanaeze crown Eze or not, because that was what i read in one of the stories, we should tell ourselves the bitter truth ,Ohanaeze in igbo land doesn't crown Eze . Nna Nwodo, a vibrant leader he was then , never crowned anybody Eze .
The late Professor Obiozor of yesterday did not crown anybody Eze in South East. The new president general now, Chief Emmanuel Iwu, i don't know how many people he is going to gather in igbo land and crown Eze. I don't think in the constitution of Ohanaeze there is any where it is enshrine to crown Eze Ndigbo outside igbo land .I don't know whether they have such constitution but one thing i want to tell you today is that Chief Solomon ugbonna Aguene committed a blunder,he made a caricature of Ezeship in Lagos State.
He gathered about 15 People from Ebonyi state and made them Ezes in open an place in a hotel at magodo. So i don't see how such a person that used the tradition and culture of igbos as if there is no respect again .it is an abuse of tradition and culture . As the President General of Igbo speaking community, those people he crowned are the people that i said are null and void and can't become Ezes in Lagos State" .
Further emphasizing his position, he said, " Yes,those Ezes that were crowned by Solomon Aguene are the people that i said are null and void Ezes, because i have never seen where they crown Ezes
In the hotel, i have never seen where they gathered Ezes in such manner, because Ezeship is not a marriage blessing course where Reverend father will gather about 20 people and conduct wedding for them at the same day,it is out of tradition ,it is out of culture".
On whether Igbo Speaking Community has the power to Crown Ezes, Chief Udeh said: " from the Corporate Affairs Commission, the Igbo Speaking Community has power to Crown Eze Ndigbo . Again, in the constitution of Igbo Speaking Community in Lagos as registered with CAC with registration number ( 1111534 ) , Ezeship is enshrined there. The constitutional provisions of Eze Ndigbo by the Igbo Speaking Community started many years ago when there was crises between Yorubas and Igbos every corner, and everywhere. At Ajegunle area, fighting was rampant that the Oba of that area needed to know an igbo man he will consult to resolve the problem ,so we decided to get leaders in all the local Government, we began to have Ezes in the local Government , so that when the crisis erupts ,the oba or the baale will have a leader he will consult and that is why igbo speaking community have the right to crown Eze.
We are the first igbo group that were registered in Lagos on state government protocol , we are the group that crowned Eze Ndigbo Ohazuruike ,we are the group that crowned the second oldest Eze of igbo speaking community, Eze Amuwo Odofin, Eze Eluwe,who is still alive . Even Eze Anumneze that died recently , I mean the oldest Eze Igbo , It was the Igbo Speaking Community that crowned and made him the paramount ruler as "Ojiofor Ndigbo". The igbo Speaking Community is the only authentic body that have right to crown Eze Ndigbo in Lagos state".