Taskforce Nab Notorious Motorcycle Robber, Vow To Make Lagos Unbearable For Criminal Elements In 2023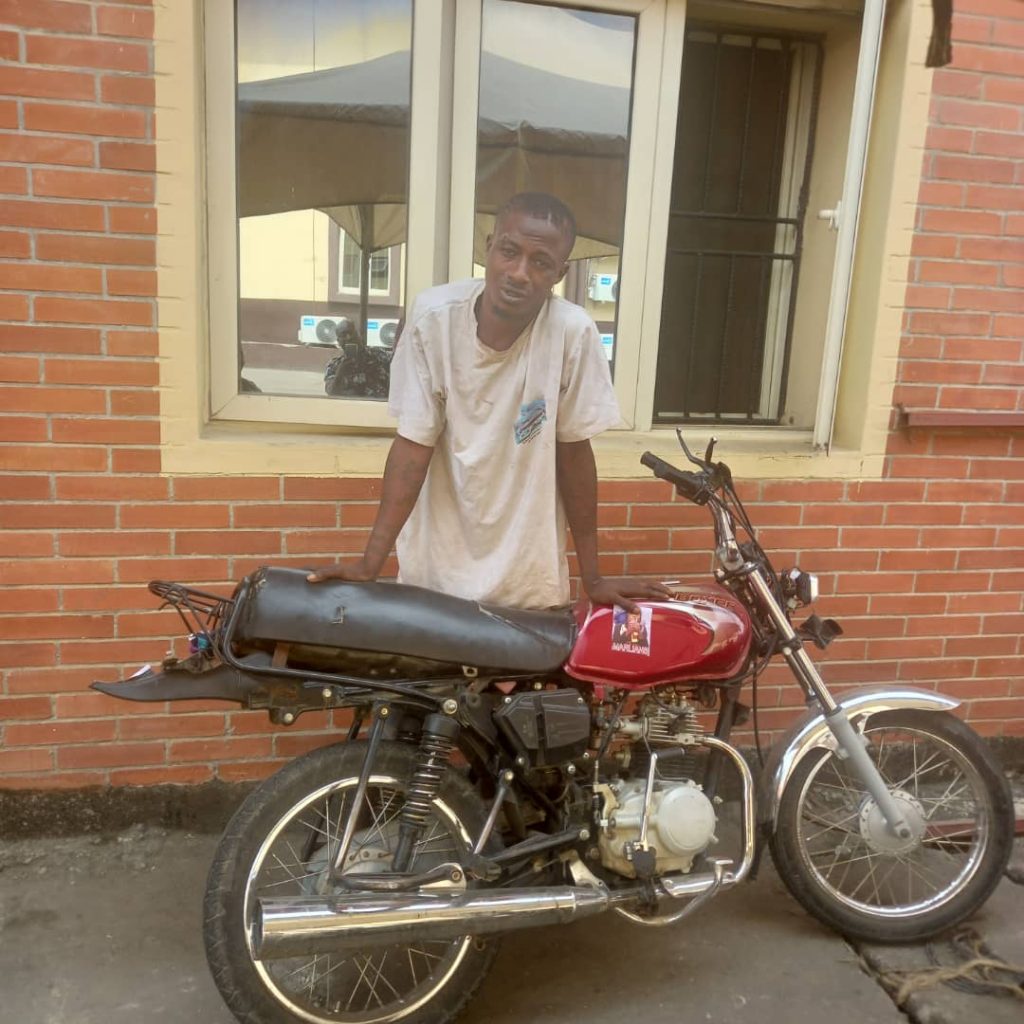 A Notorious Motorcycle Robber who Specializes in dispossessing members of the public in the early hours of the day,has been nabbed by Operatives of the Lagos State Taskforce . 

Have arrested one notorious Okada robber, Yusuf Lammeed, who specialises in robbing innocent members of the public in the early hours of the day across various parts of the State,
The suspect who operates across various parts of the state was said to have been accompanied by two accomplices currently on the run. 
Taskforce operatives arrested the suspect while he was trying to rob a lady who stood at the bus Stop at Ikeja Along waiting for a bus at about 5;30am on Friday. 
The victims screams for help when approached by the suspects,  alerted the officers on patrol along that axis which led to a hot pursuit where one of them fell from the bike and was apprehended.
While confessing to the crime at the Taskforce Headquarters in Bolade Oshodi, the suspect revealed that he and his other gang members, tribunal and Abbey of Mushin, have been into the business for over six months. He disclosed that the ban on the operations of Okada in the State had made the business a lot more difficult but they still carried out operations at intervals to steal phones and sell to their dealers in Mushin area popularly known as Segun Scatter, Steven Memory, Kalimantan and Ejo.
Speaking on the arrest, The Chairman of the Agency, CSP Shola Jejeloye, said that the Agency would do all within its power to ensure that crime will continually be made to be un lucrative for anyone still involved in it.
"Crime is not career. We have made several efforts in the past and will intensify the efforts to ensure criminal elements in the State either flee from here or turn over a new leaf. We will be all out in 2023 to achieve our mandate of zero tolerance to criminality in the State.
Jejeloye urged miscreants, traffic offenders, environmental offenders, car snatchers, burglars, pickpockets, one-chance operators, etc,  to have rethink this year or they will have themselves to blame at the end of the day. 
He appealed to residents to report any criminal activities around them to the nearest police Station or to the Agency.
According to the Agency's Director, Press,and Public Affairs, Mr. Gbadeyan Abdulraheem, Task force chairman has assured Lagosians that a crack team had been assigned to fish out the other gang members who fled the scene of arrest and also apprehend the buyers of their loot. The suspect arrested will be charged to court accordingly.