Suspects Who Brutalize An Inspector In Igando Community, Gang Up To Blackmail Police to evade Prosecution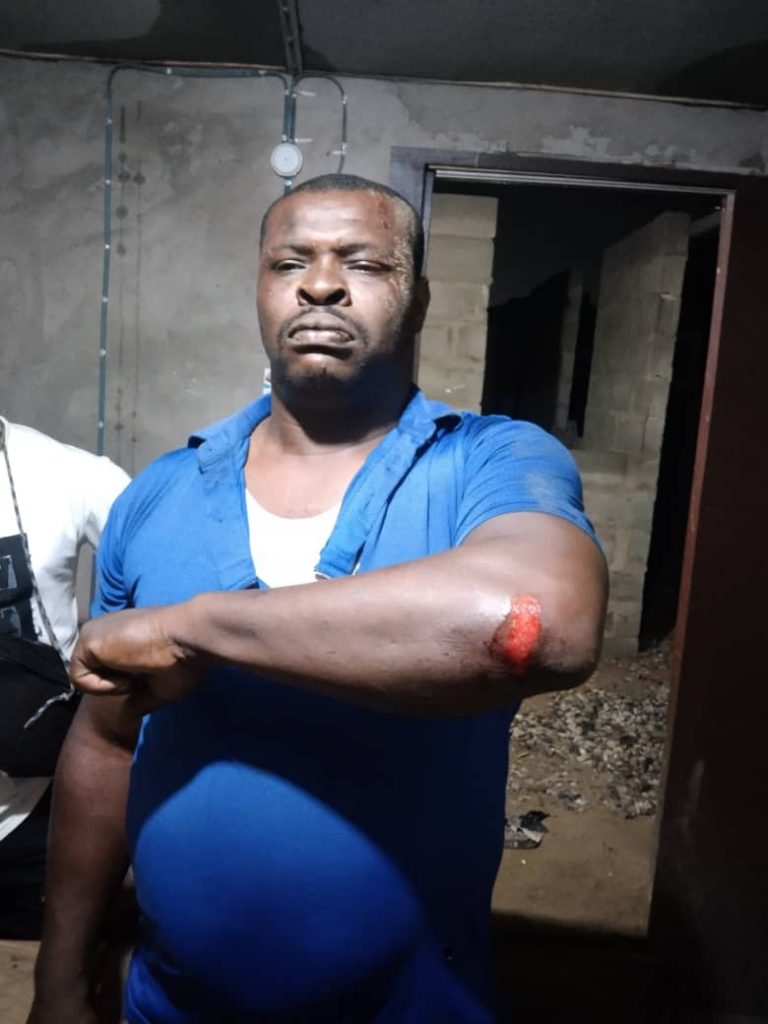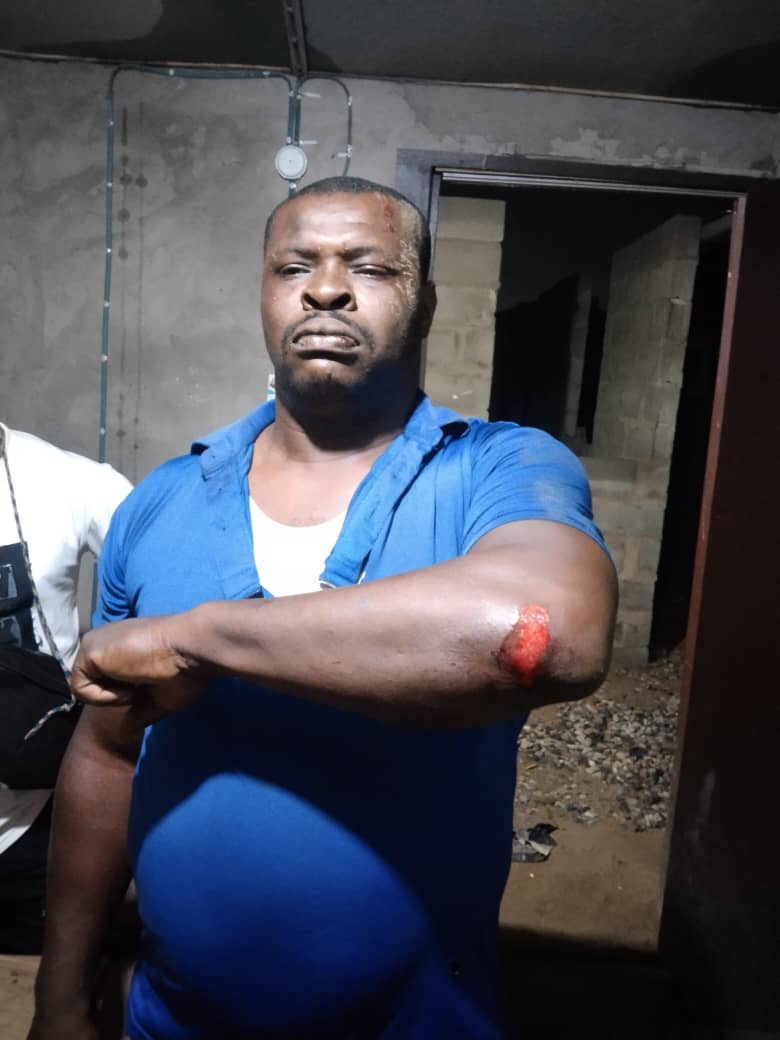 The popular saying that Police Officers are one of the most endangered species in the Nigerian Security sector, has played out last week in Lagos, as a family of Seven persons , who outnumbered, attacked and brutalized a police officer, Inspector Martin Akwa, who was on reconnaissance duty operation, have turned round alleging and blackmailing the Police Force in order to evade Prosecution.

While acting out their planned scripts, some of the suspects who were arraigned for assault on Inspector Martin, and presently enjoying court bail, had besides using the social media to incite the public and spread falsehood against the Police, also dispatched a petition garnished with tissues of lies, sent to the State Commissioner of Police, CP Abiodun Alabi, in a desperate effort to frustrate on going court Prosecution and evade justice.
Like the proverbial whirlwind that blew the ass of the chicken open to expose it's anus, One of the suspects, identified as Promise, who was assisted and carried up into the X- Squad office at yesterday's parties interview at the police headquarters, Ikeja, Lagos, was caught and seen walking majestically home without any human aide or walking stick and umbrella assistance , contrary to the acting he had earlier displayed during the hearing .
Promise, who was trailed by our under cover reporter to the clinic where he was sent for treatment for his supposed injuries by the investigating team, was shortly seen walking home whole, healthy and erect, after creating the impression at the X- Squad section, that he sustained bone injury during the altercation with the brutalized Inspector Martin .
It would be recalled that one of the suspects , Mrs Happiness Liberty, who is a mother of three and resident of Igando in Alimosho Local Government of Lagos State, had deliberately lied and misled an Online newspaper when she narrated her supposed side of the incident without the reporter hearing from the other parties.
While trying to draw public sympathy, she was said to have contradicted herself when she affirmed that despite that seven of her family members who attacked and injured the police officer, also sustained injuries including their children, the police still went ahead and arraigned the family in court to cover up for the purported torture.
Countering the falsehood and allegations being peddled against the police, an eye witness to the incident, Mrs Omolaja, who said that she was also invited by the police X-Squad Section, confirmed that she "had to rush down to report at the nearby Igando police station, without initially knowing that the man being gang beaten, was a police officer, just to save the man from further torture and group beatings he was receiving from the Men who descended and held him down along the road, just to avoid his possible death."
Narrating her independent account, Mrs Omolaja stated thus : " I was returning from church service through Ikotun area last Sunday, September 11, 2022, on getting to Igando bus stop axis, I noticed to my annoyance that a young woman was holding on to a tall huge man's shirt and slapping him at the same time.I immediately accosted her, asking her why she should be slapping and holding the man that way.When she didn't listen to me and continued what she was doing, I asked her if that is how she treats the husband at home and whether if the man we're to be her husband, would she have done this to him. I was still begging her to leave the man, when some young men , about six or seven young Men came there , confronted and started beating the man mercilessly.They threw him down from his motorcycle and held him down while the man was struggling to rise up.when I couldn't stand what they were doing, I rushed down to Igando police station and informed them that some people were about to murder a man and they sent their patrol men to the scene.It was later that I discovered that the man that they were beating is a police officer.It is false declaration to say that the officer slapped the woman first"
Buttressing the Eye witness account, an information gathered from a credible police sources, revealed that the brutalized Inspector Martin, had in his own statements written at the X-Squad Section and Igando police station, Stated thus : " i was in mufty returning from an official duty where i was detailed to monitor the activities of Suspected criminals at Igando road, when an unknown elderly Yoruba woman confronted me for attempting to hit her with my motorcycle, I explained to the unknown elderly Yoruba woman that the motorcycle did not touch her but considering her age, I quickly apologized to her and she immediately entered a tricycle (Keke) and left. Surprisingly another young woman who was not part of the incident, just slapped me from behind and queried if the Way and manners I spoke with the elderly Yoruba woman,was how to apologize to an elderly person in my village. Before I could get answers to my question on the reason why she slapped me , some men apparently walking with her intruded and while I was seated on my motorcycle arguing with them, they descended on me , threw me on the floor and started beating me without provocation . They seriously tortured and wounded me on my arms, head, fore head, face, tongue and lips before the police patrol men came to rescue me and we were all brought to the station, where I received first aid treatment from one Nurse Mary Adediran.", In an interview with the Nurse, Mrs Mary Adediran, She Stated that she was invited to the police station at about 8pm on September 11,2022 , and she administered first aid treatment on the wounded police officer who she confirmed was very weak when she got to the station,with injuries on his arms, fore head, face, swollen lips and injured tongue.
On whether she treated the suspects of any injuries, the Nurse said that there were no injuries on Mr. Favor and Promise.
" The two men had no visible Injuries and never complained of any injuries.It was promise who complained of stomach pain and when I suggested of giving him pain killer, his brother Favour declined , saying that Promise stomach problem has a long history and is on native prescription not to take English drugs, hence the pain can only subside with his usual traditional Herb medicine, it was then that the DPO bought a bottle of seven up for him which he drank and shortly was okay", Nurse Mary Adediran Stated.
Our sources also revealed that when the Divisional Police Officer,DPO Joshua Gbadegesin,was notified of the incident, he came down from his office to the counter and directed that the injured officer should be given a first aid treatment before being taken to the hospital , while the nursing mother , Happiness Liberty, should be released on bail to enable her go home with her children. This gesture was said to have been rejected by Happiness, who insisted that she would not go home until her husband and siblings were allowed to go home with her, despite the grievous harm and assault meted out to the bleeding police officer.
Contrary to what happened, the housewife, who was said to had earlier begged the DPO not to charge the case to court while expressing her gratefulness to him over soft drinks and snacks given to her husband's siblings, suddenly turned to falsely accuse the Police of torturing, detaining herself, her husband, his siblings, her three children including an 11-month-old baby.
A check at the police station indicated that the housewives name was not even included in the charge sheet , showing that she deliberately lied when She said that their arraignment was to justify her incarceration with her children in police custody for days with accompanying threats not to grant any interview to the media or else her husband and siblings would be killed.
A police officer who spoke on the grounds of anonymity said thus : "Common sense shows that Happiness allegation of being asked not to talk to the media, was part of the gang up to frame up the police and get public sympathy . It doesn't appear sensible and tenable to say that their ordeal started from Sunday September 11, 2022, and that they were tortured for four days from 11 to 14 September, 2022 without food or water. Does it appear sensible that every police officers at the station swooped on them and started beating them until one of them passed out and was revived , including children that were not part of the case. The whole report is clearly an arrangement carried out with the Journalist and that is why they diverted from the case to another faceless allegation of sexual assault against the DPO by one faceless "Sharon Alede" , who purportedly for over two months was also asked not to speak with the media or else would be killed.All these are fabrications.