SOLIDARITY : Eze Chika Nwokedi, Other Igbo Leaders Visits Detained Eze Fredrick Nwajiagu At Panti CID, Yaba Court,  Begs For Leniency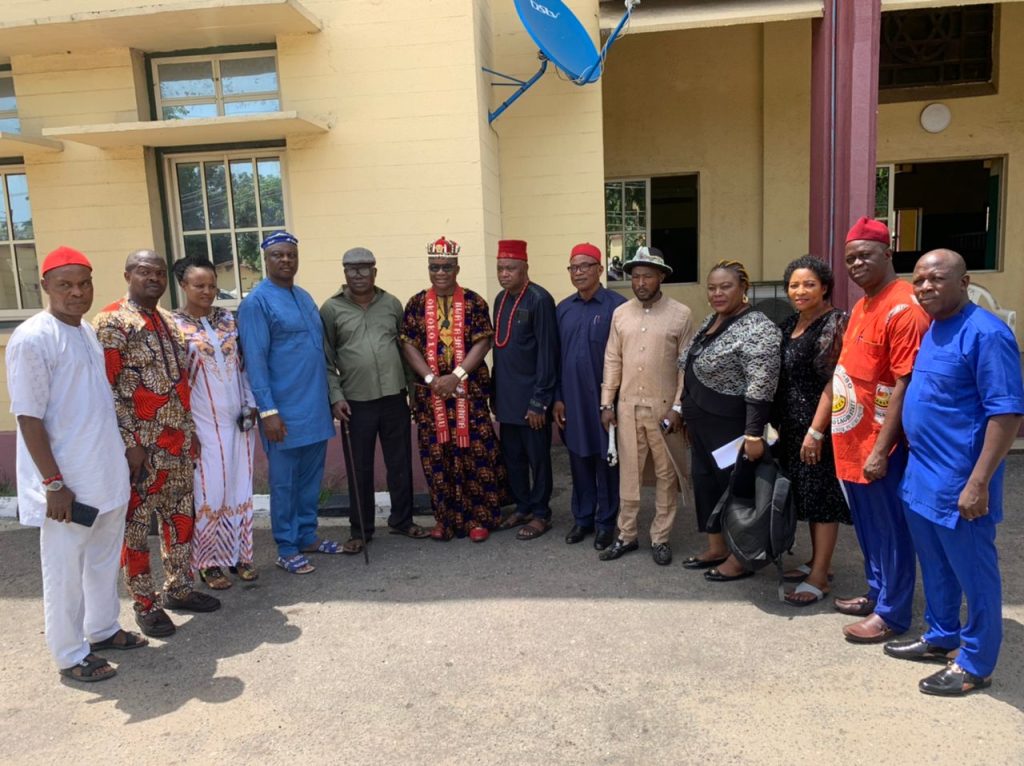 In a rare show of brotherly love and togetherness, the Chairman, Council of Ndieze of the  Igbo Speaking Community in Lagos State, Eze Chika Nwokedi, in company of other Igbo Leaders, today paid a solidarity visit to the detained Eze Fredrick Nwajiagu at the state CID in Panti, Yaba, Lagos state.

The group also were at Chief Magistrate Court Yaba, were  Nwajagu, Eze Ndi Igbo Ajao Estate,  was arraigned for the outburst and video he made threatening to bring IPOB to Lagos State to protect Igbo dominated markets and properties which has witnessed several attacks after the general election of 2023.
It would be recalled that In the viral video under contention, Nwajiagu was seen warning that if the burning of Igbo markets and attack does not stop , he would bring the IPOB to secure Igbo properties and markets hence Nigeria Police and Security agents don't give protection to the Markets.
He was arraigned on two count charges bordering on
Conduct likely to cause public disturbances and Threat to cause public disturbances.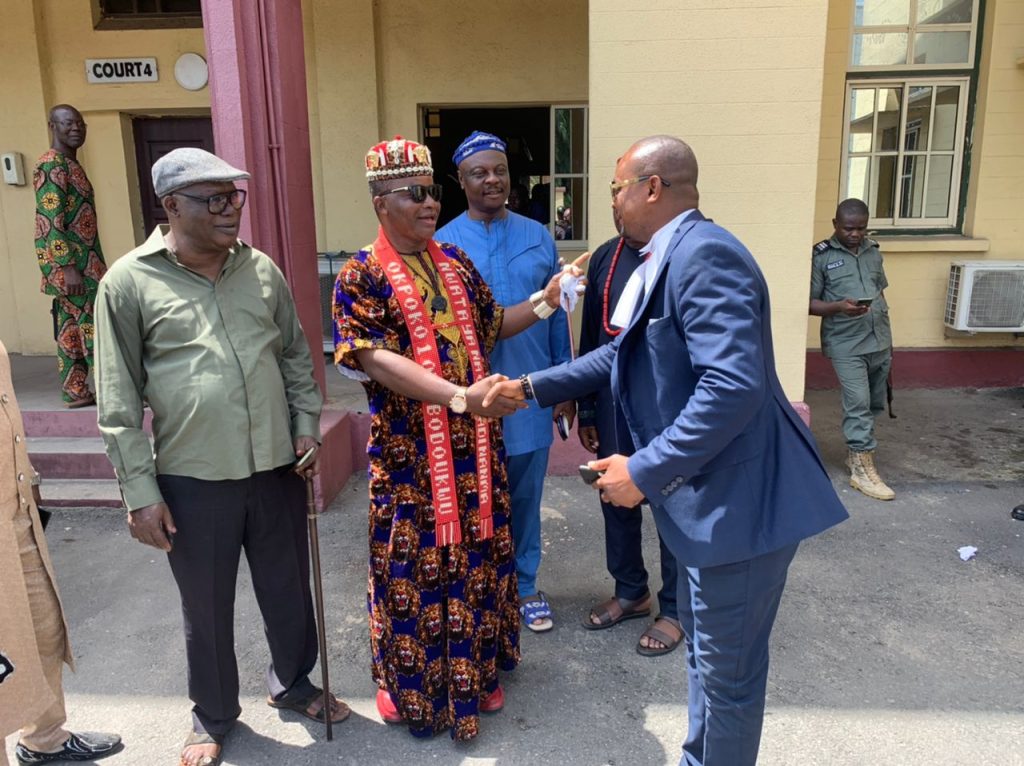 About four Igbo Ezes in Lagos State led by Eze (Dr) C. C. Nwokedi, Eze Ndi Igbo of Ijegun/Ijeododo who is the Chairman of Ndi Eze NdiIgbo of Igbo Speaking Community in Lagos state, Eze Augustine Ojukwu, Eze Ndi Igbo of Amuwo Odofin, Eze Alex Nwoye, Eze Ndi Igbo of Ejigbo, and Eze Nicholas Njoku were in the court to pay solidarity to Nwajiagu . 
Also the President of Ohanaeze Ndi Igbo Lagos State, High Chief Sunday Osai was in  court with his Chairman of Chairmen Local Government Councils in Lagos State, Chief Dr. Okechukwu Uzuegbunam, the Igbo Youth Leader , Chairman of Igbo Speaking Community Igando/Ikotun Local Council Development Area, Engr. Dr. Theophilus Chuks Onuegbu, President South East Concerned Groups and others were present .
In the court,the prosecutor had prayed that  Eze  Nwajagu be reminded in the correctional center because his bail posed flight risk but Barrister Nkechi Agubuzo, the lead counsel to Nwajagu objected the prayer and submitted that the case is a bailable offence.
There was arguments for and against but at the end, the magistrate who rose for some time , came back to upheld the prosecutor's prayer that  Eze  Nwajagu be reminded in Ikoyi Prison for one month.
Recall that Eze Nwokedi had before the arraignment passionately appealed to the security agencies and Lagos State Government to  release  Eze  Nwajiagu, over his threat to invite the proscribe Indigenous People Of Biafra, IPOB, to secure the properties of Igbo people in Lagos State.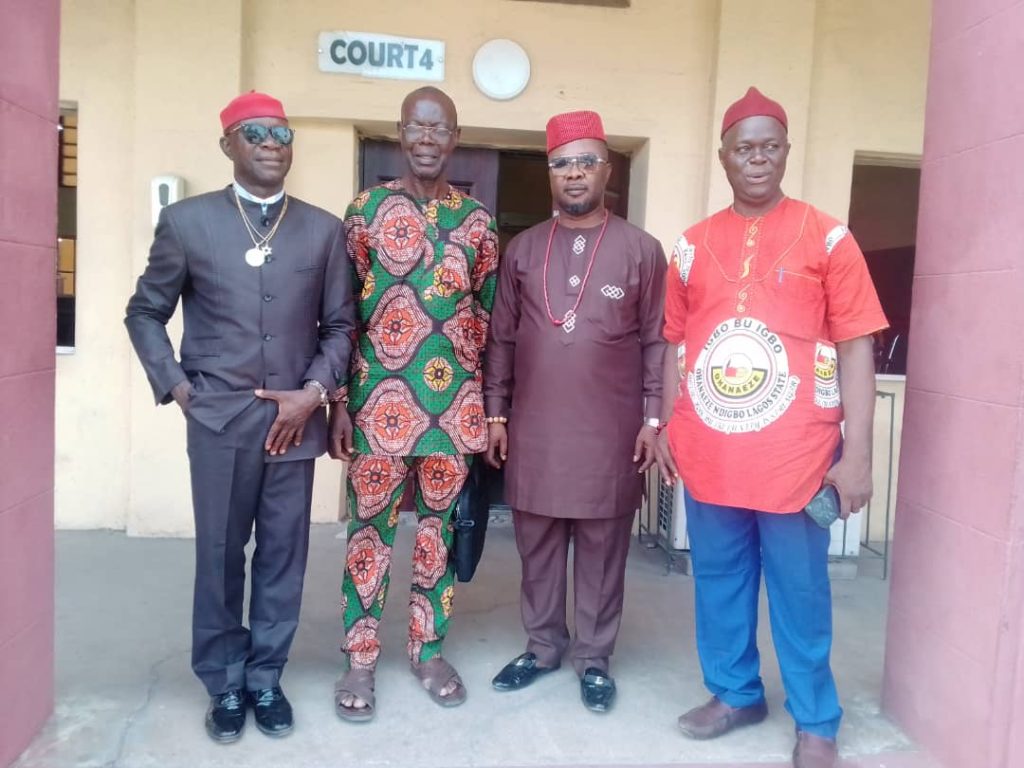 Eze Chika Nwokedi made the plea at his palace and stated that Eze Nwajiagu made those unguided utterances due to ignorance, noting that it was an unfortunate situation but it has nothing to do with Ndigbo living in Lagos State."
Nwokedi stated that despite disassociating with the threat video,  Ndigbo will not abandon Eze Nwajiagu because he is an Igbo Son and Ezendigbo , noting that in his travails , Igbos cannot deny him because he made such mistake that landed him in trouble.
He therefore called on Governor Sanwo-Olu to intervene and ask the security agencies to release him as a friend of Ndigbo to enable stakeholders talk to him in order to avoid future occurrence.
According to him,Ndigbo are law abiding and hard working people with legitimate means of living, who believe in peaceful coexistence among the host and other ethnic groups in Lagos State and do not associate themselves with any forms of violence.