Police Hijack Arise TV Photo Drone , Smash phones , Manhandle, Beat – up Journalists, Protesters, At Lekki Toll Gate , As Youths Mark Anniversary Of #ENDSARS Protests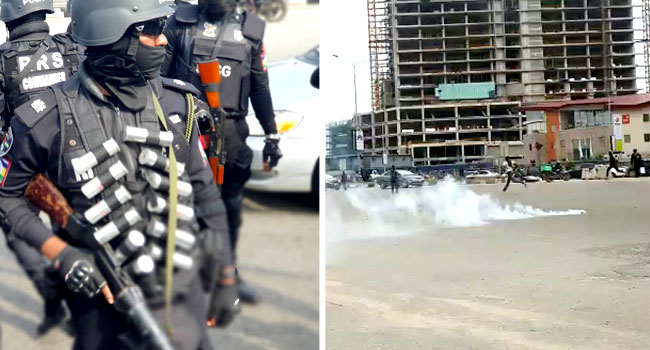 One year after the destructive bloody #ENDSARS PROTESTS# that rocked the length and breath of Nigeria, Operatives of the Nigeria Police Force appears not to have learnt its lessons.

This is the assessment of some residents across Lagos State who watched helplessly as police manhandle and force some protesters into awaiting blackmaria vehicle at the Lekki Toll Gate.
Journalists who were covering the event were also said not to have been spared from the spate of harassment and brutality meted out on protesters by operatives from the Lagos State Police command ,assisted by some Lagos State Government officials.
Arise Correspondents Seyitan Atagari and Femi , who were assigned to cover the event. reported that police operatives also slapped them and hijacked their photo drone while others had their phones smashed.
It would be recalled that on October 20th, 2020, a spontaneous peaceful protests initiated by some youths across the country, later turned bloody following the massacre of unarmed protesters at the Lekki Toll gate by alleged military personnels in battle fatigues.
The protest which was initiated following a viral video clip that showed brutality and extra Judicial Killings by operatives of the Special Anti Robbery Squad SARS in Delta State, was later said to have been hijacked by hoodlums who destroyed and set some police stations ablaze.
Indeed, APC led government of president Muhammadu Buhari reacting to the Five points demands by the protesters, had States to set up Judicial panel of inquiries, which a year after, most of the 28 States that complied with the directives, never achieved significant impact or had substantial success in addressing the high points of the protesters grievances.
At Arise news morning show anchored by Dr. Reuben Abati, a Right Activist, Barrister Effiong Inimehe ,while condemning government lack of political will to address the route causes of the carnage witnessed last year, during the protests, made nonsense the defense by Lagos State Commissioner of Information, Mr. Omotosho, who despite ongoing news reports footage from the Lekki toll gate protest ground,which he was watching ,chose to defend Police / government clamping down on unarmed protesters .