NSCDC Confiscates 201 Bags Of Canabis Sativa Worth N200m in Lagos.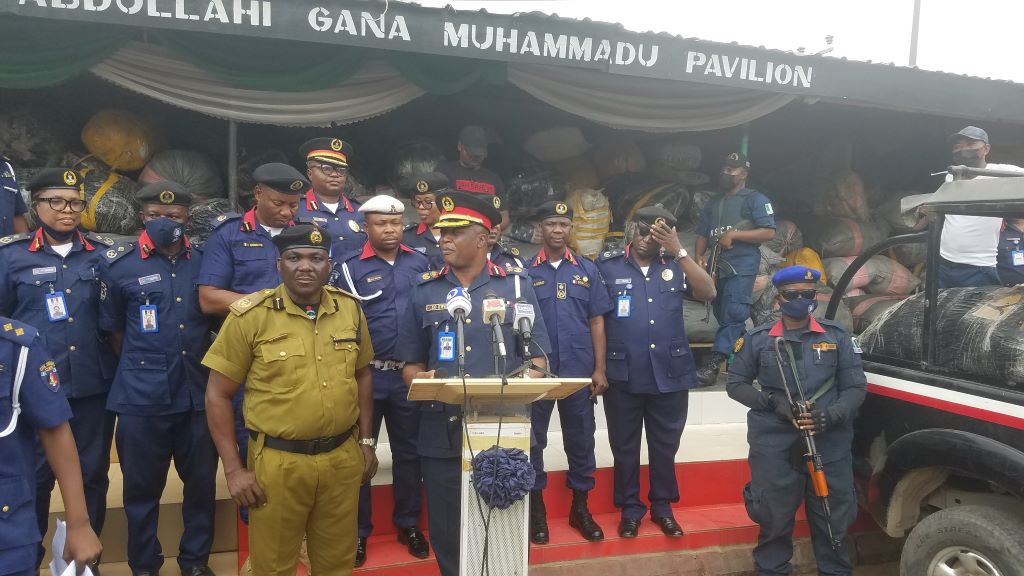 Operatives of Lagos State Command of Nigerian Security and Civil Defence Corps (NSCDC) on Monday , Feburary 21, 2022, disclosed that they confiscated about two hundred and one bags of suspected Canabis Sativa weighing approximately between 45 to 50kilogram per bags worth two hundred million naira in Lagos.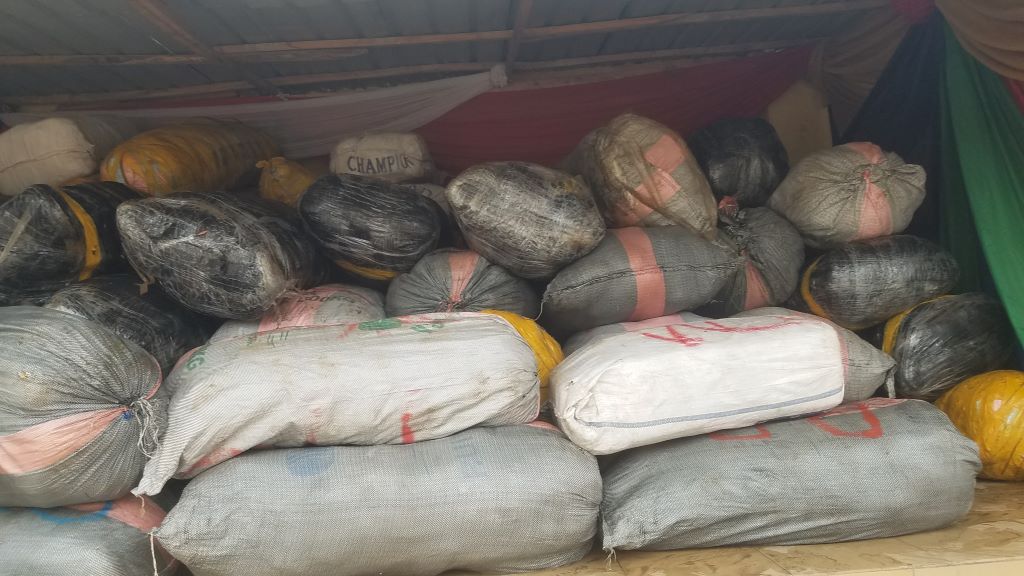 Our Correspondent reports that about nine Ghanaians National suspects were arrested during a sea patrol in the midnight by the Marines Unit of the State Command.
The suspects were identified as Victor Muda, 36; Freeman Gasu. 25; Moses Soffie, 52; Adotete Joseph,31; Christian Tethe, 29; Kubu Okoripa, 25; Stephen Soffie, 26; Daniel Toyakoti, 35 and Kubu Natte, 36.
Confirming the arrest, the Lagos State Commandant of the NSCDC, Okoro Douglas, said that the latest arrest were made on early hour of Monday when his men on a sea patrol intercepted the suspects with over 201 bags of suspected Canabis sativa with nine foreigners from Ghana by the Marines Unit of the command.
Douglas said that the bags of the weeds were contained in two boats weighing approximately between 45 to 50k per bags.
"Though the test is yet to be confirmed by the NDLEA but the actual weight would be confirmed by them soon"
"We are dedicating this job to our Amiable Commandant General, CG, Dr Ahmed Abubakar, because it was an intelligence driven arrest were made all the way from Ghana"
He stated that, his great concerns was that citizens of our neighboring country rather than appreciating the Nigerian government for their great support choose to help destroy our youth's future as all the nine arrested couriers of this contraband goods are all Ghanaians.
"We will not relent in making them pay for their evil work as they will be made to face the music of the music they are playing" Commandant said.
He added that the superb supportive role of the Nigerian Navy (NN) in Arresting this criminals will not go unmentioned.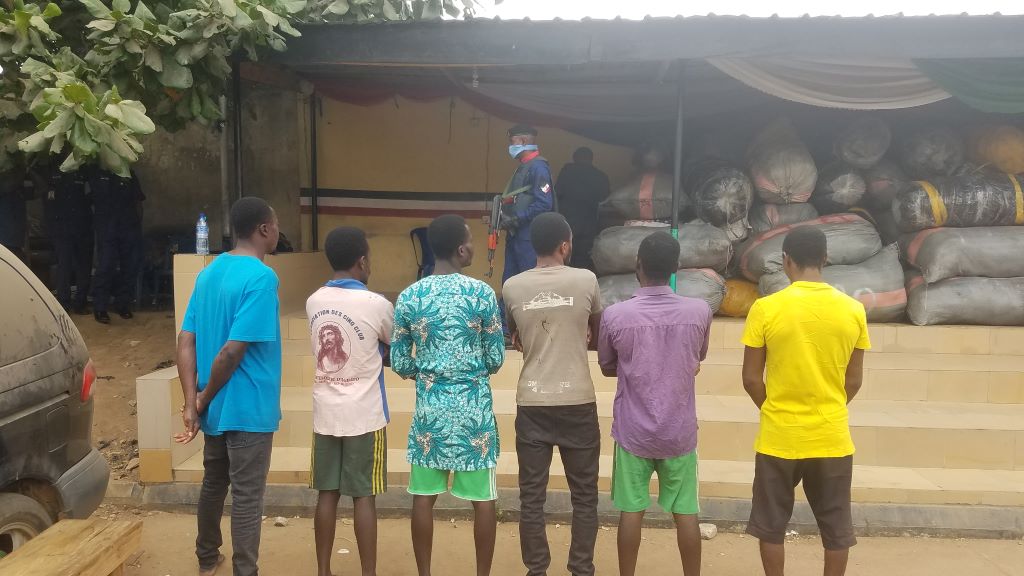 "Though, NSCDC do not have the prosecution right on drugs but interwoven connectivity between drugs addiction and vandalization of government's Critical infrastructure necessitate this arrest"
"However, the NSCDC, Lagos State Command will be handling over both the suspects and the two hundred and one bags suspected to be Cannabis Sativa weeds to Nigerian Drugs Laws and Enforcement Agency(NDLEA), the worth of over N200m as the street value for further investigation" Douglas stated.
In a similar development, six unscrupulous Beninese who attempted to smuggle one handed and two pieces of 250 litres capacity drum of suspected Premium Motor Spirit (PMS) from Nigeria to Republic of Benin were equally apprehended by the Corps in late last December, they have been investigated and their case has already been charged to court.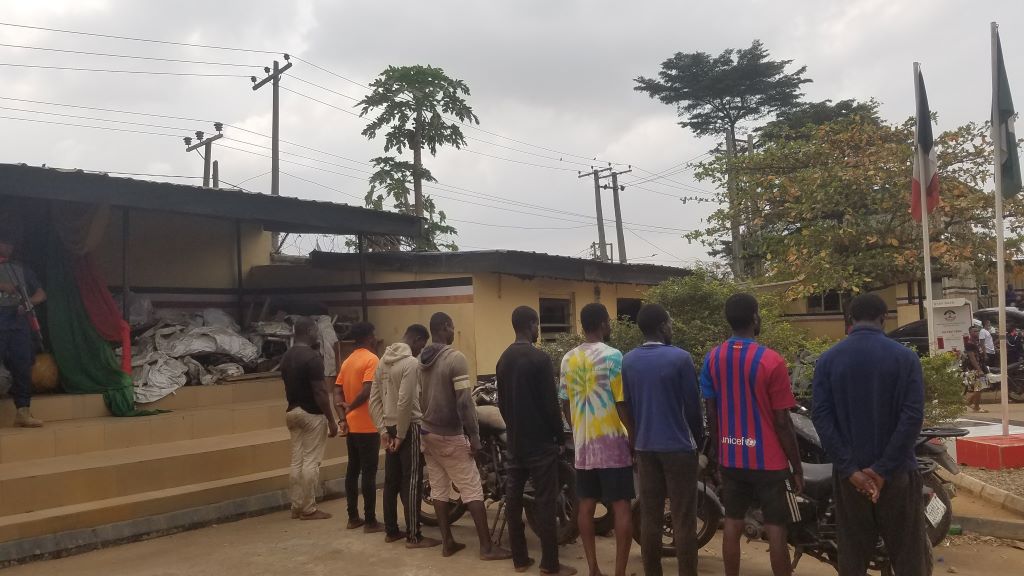 The Commandant, Douglas Okoro, equally expressed concerns that the desperate act of vandalizing Cable mostly one that are used due to construction work in Lagos State.
"One this note, three young men were equally arrested in which they will face the music in the law court".