Nemesis Catches Up With Drug Dealer, As He Gets Jail Term For Stabbing His Hemp Addict Customer, Who Stole Some Wraps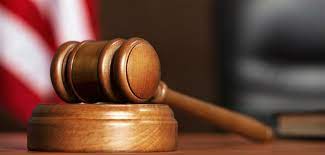 An illicit drug dealer, identified as Wale Gbadebo, who specializes in selling Indian hemp in Lagos, has been jailed after he stabbed one of his drug addict Customers, Temilade Lawal, who stole some wraps of narcotics from his store.

Gbadebo's Journey to prison started on a faithful day when he caught Lawal, one of his customers, stealing his drugs from his store and he was said to have angrily used a knife to stab him severally.
Lawal, was said to have bled profusely before he was rushed to the hospital for treatment and the matter was later reported to the Police.
It was learnt that the 49- years old illicit drug dealer was eventually arrested at Isolo area of Lagos, where he is notoriously known for selling Indian hemp to his clients including criminals.
After his arrest, Gbadebo was detained at Isolo Police Division for interrogation over his conduct.
According to Police sources, he admitted to have committed the alleged offence because he never expected he would go where he kept the hemp to steal despite the fact he knew he was a criminal.
The Police found him culpable and subsequently charged him before the Isolo Magistrates Court for assault and he pleaded guilty before the Court.
The prosecutor, Mr Oje Uagbale, during his trial told the Court that the accused person deals on India hemp, which he hid somewhere, where the victim went and stole some wraps, which prompted him to stab the victim, with a knife.
The prosecutor asked the Court to sentence him accordingly, since he admitted before the Court by pleading guilty, to serve as deterrent to others who may want to commit such offence.
The Presiding Magistrate, Mrs. O. A. Akokhia, found him guilty as charged and he was sentenced to one year imprisonment without an option of fine for assault.
He was thereafter taken to Correctional Centre at Kirikiri town, Lagos, where he will serve his term.