NDLEA Nab Blind Grandpa,  Intercepts Cocaine, Skunk Consignments From Canada, Brazil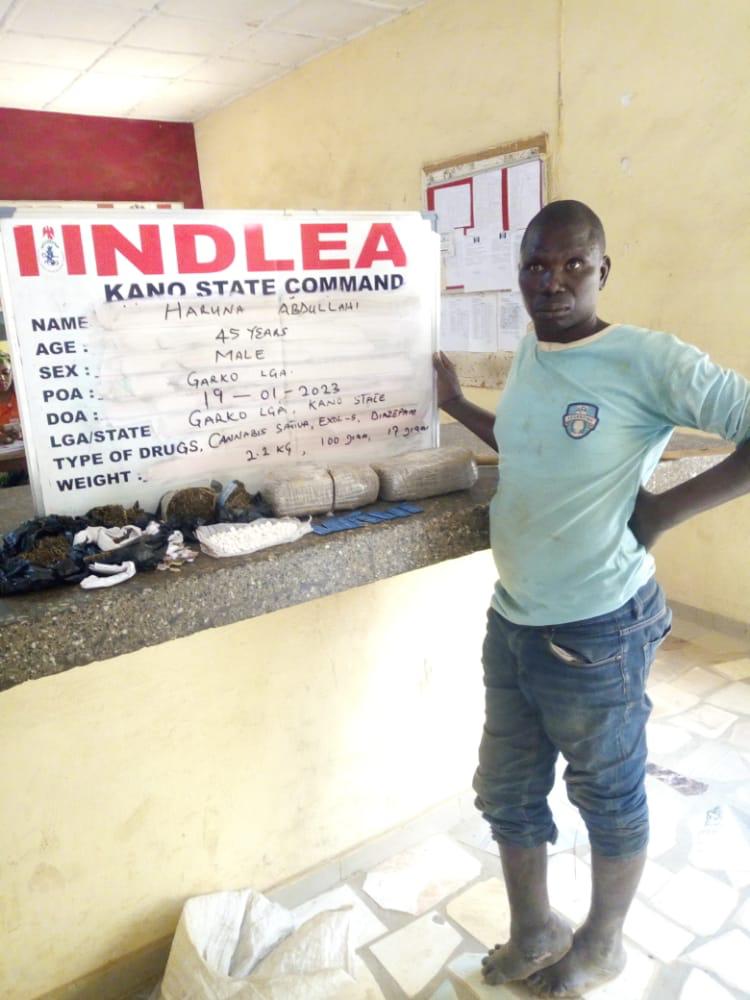 In its deliberate efforts to cut access to illicit opioids, Operatives of the National Drug Law Enforcement Agency NDLEA, have intercepted 126.95 kilograms of cocaine and skunk concealed in herbal tea packs and imported vehicles by drug cartels from Brazil and Canada at the Akanu Ibiam International Airport, AIIA, Enugu and the Tincan seaport in Lagos.

Just as in Osun State, the Agency took into custody a blind 67-year-old grandpa, Aliyu Adebiyi, in whose house they found 234 kilograms of cannabis at Sokoto village, Owena Ijesa, Atakumosa East LGA.
In his statement, he said a drug dealer kept the consignment with him for a fee of N6,000 per month and paid for three months upfront.
Speaking on the cocaine intercepted from Brazil and Canada,NDLEA's spokesman, Femi Babafemi,explained that at the Enugu airport, an Ethiopian Airline male passenger, Eze Christian Ikenna, coming from Brazil via Addis Ababa, Ethiopia was arrested on arrival at the airport on Friday 20th January.
A search of his two bags revealed 19 big sachets which he claimed to contained herbal tea but were later found to be cocaine weighing 16.20 kilograms.
Also, a joint examination carried out on a container marked TCLU 7799237 from Montreal, Canada at Sifax Okota Bonded Terminal by NDLEA operatives attached to Tincan Command of the Agency on Wednesday 18th January led to the discovery of 110.75kgs of cannabis Indica concealed in two of the four vehicles in the container: a 2011 Toyota Sienna and a 2011 Honda Pilot SUV.
Another deliberate efforts to cut access to illicit opioids by the Agency again paid off on Tuesday when a consignment of Tramadol which NDLEA operatives have been tracking for some months was eventually traced to a warehouse at Greenfield estate, Amuwo Odofin area of Lagos.
When the store was opened, a total of One Million Six Hundred and Forty Five Thousand Five Hundred and Sixty (1,645,560) pills of Tramadol 100mg, 200mg and 225mg were recovered.
Another 60,000 pills of Tramadol 250mg were equally recovered from a wanted drug dealer, Diugwu Alphonsus in Bariga area of the state same day while raids carried out in Akala area of Mushin on Wednesday 18th and Friday 20th January led to the recovery of 781.7kgs of cannabis.
In Abuja, NDLEA operatives on Monday 16th January raided Lugbe area of the FCT based on credible intelligence that a dealer was operating in a batcher on the outskirt of the town. A search of the batcher led to the recovery of 42.9kgs cannabis, 15grams cocaine, 137grams Methamphetamine, and a cash of Two Million One Hundred and Forty Eight Thousand, Five Hundred Naira (N2,148,500) only, believed to be proceeds of the criminal trade.