NDLEA BUSTS TRAMADOL CARTEL, SEIZES OVER FIVE BILLION NAIRA OPIODS IN WAREHOUSE.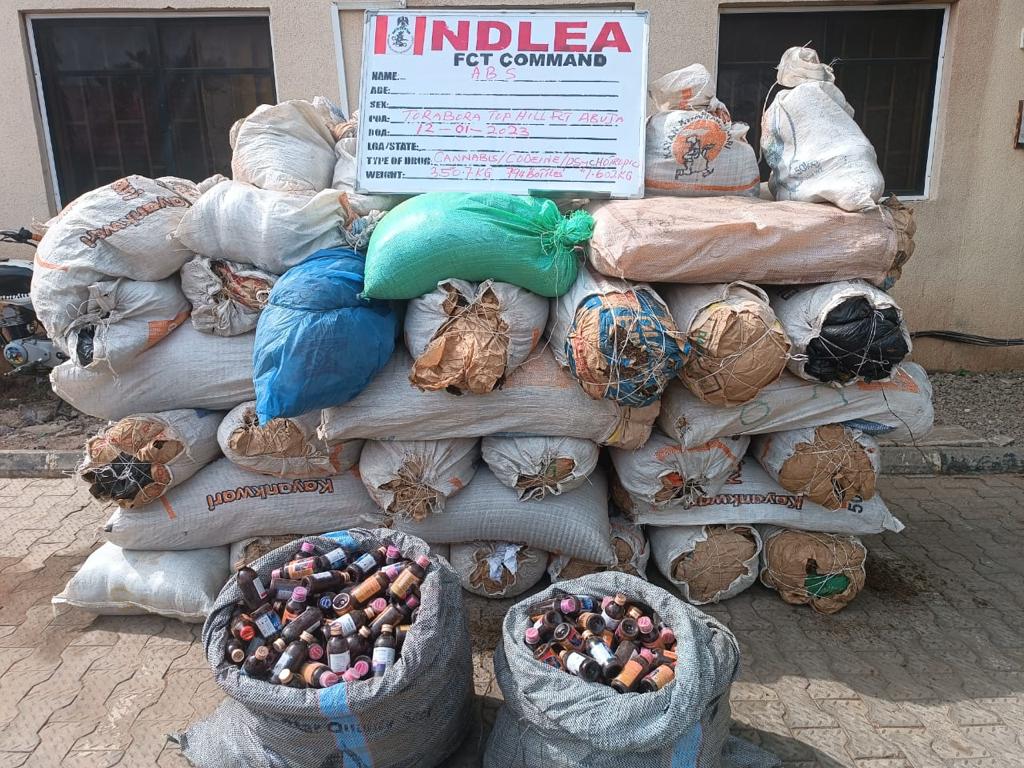 Operatives of the National Drug Law Enforcement Agency, NDLEA, have busted another Tramadol cartel in Lagos with the seizure of millions of opioids pills and bottles worth over five billion naira from their warehouse in Amuwo Odofin area of the state and arrest of two of the kingpins.This is even as the anti-narcotics officers also uncovered and dismantled a clandestine skuchies laboratory in a remote part of Sagamu, Ogun state where several equipment and various quantities of illicit substances used to mass produce the dangerous new psychoactive substance were recovered last Saturday.According to the agency's Director Media and Advocacy, Femi Babafemi, the drug cartels took the first heat last Tuesday from determined officers of the Agency who intercepted an imported consignment of Loud, a strong variant of cannabis, weighing 4, 878.72 kilograms along Awolowo road Ikoyi, Lagos.In his statement made available to newsmen, he noted that after a near fatal encounter with some suspected fake security agents escorting the drugs, the NDLEA operatives succeeded in recovering the consignment with a white truck marked BDG 548 XX conveying it.In his words, this was followed by the seizure of 121,630 pills of pharmaceutical opioids and some quantity of Molly from a dealer, Charles Okeke last Wednesday at Idumota area of Lagos Island.Another effort by the Agency to bring the drug cartels to their kneels paid off last Friday when operatives tracked and located a major warehouse for pharmaceutical opioids at 17 Sir Ben Onyeka street, off Ago palace way in Amuwo Odofin area of the state while the owner of the store, Aloysius Okeke was arrested.Illicit drugs recovered from the warehouse include: Three Million Two Hundred and Sixty Four Thousand Six Hundred and Thirty (3,264,630) pills of tramadol; Three Thousand Four Hundred and Ninety (3,490) bottles of codeine and Nine Hundred and Fifteen Thousand (915,000) capsules of pregabalin 300mg.This came on the heels of the arrest of a suspect, Olarenwaju Lawal Wahab who distributes for the cartel same day. Recovered from his white Mercedes distribution bus include: 14,690 bottles of codeine-based syrup; 402, 500 tablets of Tramadol 250mg; 50,000 tablets of Tramadol 225mg and 210,000 capsules of pregabalin 300mg.In neighbouring Ogun state, operatives in the early hours of Saturday 14th Jan. also discovered and dismantled a clandestine laboratory on the outskirts of Sagamu from where skuchies, a highly potent psychoactive substance made with a blend of Cannabis Sativa, Tramadol, Rohypnol, Exol-5 and industrial codeine, was being produced in large quantity, packaged and distributed in jerry cans and bottles.All the equipment for the production including power generators, industrial gas cylinders, drums and kegs as well as various quantities of illicit drugs such as 214kgs cannabis; 1,440 capsules of tramadol; 480 tablets of swinol; 1,440 tablets of Rohypnol and 114 liters of industrial codeine, among others were recovered from the building before sealing off the premises.

In Abuja, operatives of the FCT Command of the Agency on Thursday 12th Jan. raided the notorious Tora bora hills in the federal capital city and recovered 350.7kgs of skunk and 794 bottles of codeine hidden under rocks. This is even as 756kgs of C/S were recovered at Dawo village, Kaga LGA, Borno and transferred to the Agency on Friday 13th Jan. by officers of the Nigerian Army, FOB 29 Task Force Brigade, Benishiekh, in conjunction with Hunters group, based on intelligence from the State Command of NDLEA.In Ondo state, operatives stormed Alayere, Akure North LGA, where they arrested a suspect, Sunday Make with 275kgs of Cannabis Sativa and Seeds, while a total of 272kgs of C/S were recovered from two suspects: Nwele Friday, 35, and Egbe Nnaemeka, 47 at Ifo layout, Abakpa Nike, Enugu. In Katsina, 34.3kgs of cannabis were also recovered from an uncompleted building in Muduru, Mani village after which the owner, Murtala Isiya was arrested in a follow up operation. In the same vein, a notorious drug dealer who is physically challenged, Abiodun Emaria, 40, was on Saturday 14th January arrested with 6.2kgs of cannabis at his hideout in Ohada village, Uhunmonde LGA, Edo state.Chairman/Chief Executive, retired Brigadier General Buba Marwa commended the officers and men of Lagos, FCT, Ondo, Enugu, Borno, Katsina and Edo Commands for the arrests and seizures.
He charged them and their compatriots across the country to sustain the heat on drug cartels in Nigeria while balancing their efforts on supply reduction with drug demand reduction activities.