MUSHIN AGOG IN CELEBRATION, AS IGBO RESIDENTS UNDER EZE PETER UMEH, SETS LAGOS AFLAME WITH CULTURAL NEW YAM FESTIVAL FIESTA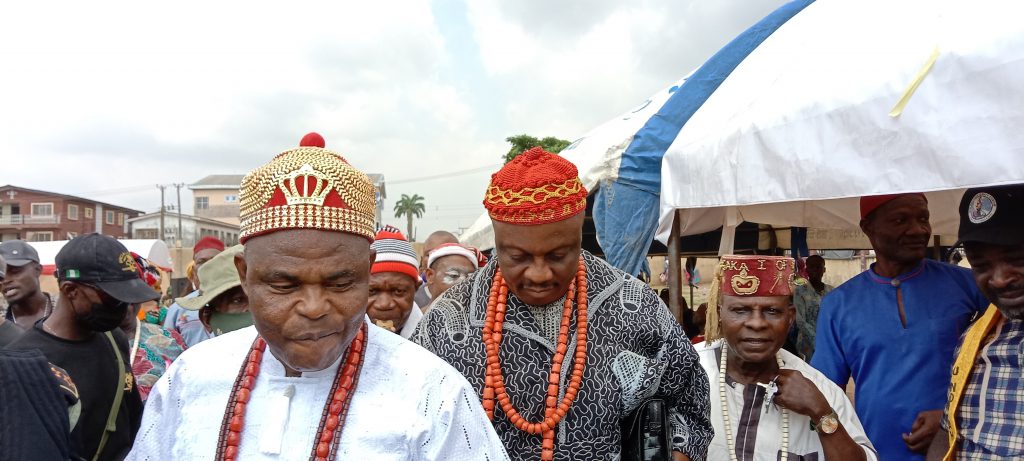 Mushin Local Government Area of Lagos State was last week, literally set on cultural extravaganza fire , as Igbo Residents under the Leadership of Eze Ndigbo in Mushin, Eze Chimereze 1, Eze Peter C.Umeh JP, Flaunt their Cultural Heritage, while Celebrating New Yam Festival In Style

The Igbo cultural heritage once again came to lime light last weekend, as the new yam Festival ( iri-ji ), which has remained symbol of unity holding and cementing Ndigbo bond of brotherhood, was celebrated in an atmosphere of harmony, fanfare ,funfair , pomp and pageantry in Mushin.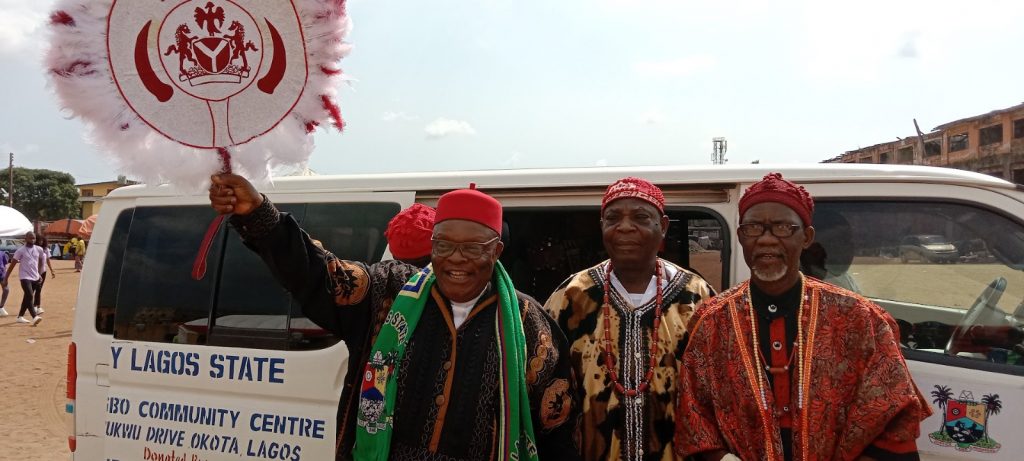 At the center of it all was the Obi Ukwu Ndigbo in Mushin and the amiable chief host, Eze Ndigbo of Mushin, Eze Peter C. Umeh , who thrilled his guests cut across diverse cultural backgrounds with captivating Igbo cultural heritage laced with sumptuous and exotic meals.
Indeed, the event was indicative that new yam Festival remains integral part of , Igbo indigenes residing in Mushin local government area of Lagos State.
Precisely on Saturday November 27th, 2021, Igbo community leaders, residents, their Yoruba host and entertaining Cultural troupes, gathered at Bishop Aggey Open Field, off Layi Oyekanni Street, opposite CKC Church, Ilasa Maja , Lagos State and celebrated New Yam Festival in remembrance of their cultural heritage.
According to Eze Umeh , who offered royal blessings while presenting and blessing the symbol breaking of Kolanuts at the occasion, said the remembrance of yam festival in Igbo land remains significant and symbol of unity among the people.
He expressed gratitude to God that made the event possible and thanked all the guests that thronged to the venue to identify and celebrate with him and his Council of Chiefs.
"You can see how this has brought us here together, and that means even when we have gone to our original home, we cannot forget our tradition".
Collaborating the above said fact, one of the Guest of honour at the event, Eze Ndigbo Lagos State, Eze Dr. Christian Uchechukwu Nwachukwu , JP, Igbo 1, who blessed the traditional kolanuts, prayed for bountiful harvest, long life and prosperity .
First Royal Father to arrive at the event venue was Eze Augustine Sunday Ojukwu, Eze Udo 11, Eze Ndigbo in Amuwo Odofin Local Government area, stated that "New yam festival marks the renewal of kinship alliances, as well as the end of one agricultural season with a harvest to express gratitude and thanksgiving to God Almighty, the society, friends and relations."
All the Traditional Leaders and Eze Ndigbos took turn in blessing the new yam , before slicing a portion which they publicly ate, to signify and kick start general consumption of yams by igbo residents in Mushin.
A roll call of Ndieze Ndigbo who graced the occasion and witnessed the traditional cutting of the yam by Eze Umeh were : Eze Gerald Njiofor of Ijegemo community, Eze Osisioma of Shomolu, Eze Omeogo of Okeafa, Eze Agu Ndigbo and Eze Jossy Egwuatu of Surulere.
As a mark of tolerance, appreciation and sign of good harmonious cohabitation with the host community, Eze Umeh honoured some dignitaries such as : the Executive Chairman of Odiolowo LCDA, Hon. Rasaq Ajala , who was given an honorary Chieftaincy title of " Onye ihie Ndigbo na amasi 1 of Odiolowo LCDA , on the account of his good performance at his LCDA.
Chief Mrs Perpetual N. Jugai , was honored with the title of Ada Ndigbo of Odiolowo LCDA for her support and promotion of Igbo culture and tradition.
While the Executive Chairman of Mushin Local Government Area, Hon. Emmanuel Bamgboye, was also honored as " Ezi Enyi dika Nwanne Ndigbo" of Mushin land, due to his performance and the numerous work ongoing at Mushin Local Government Area .
Also the PG was honored as Ohatodike , just as Chief Mrs. Gloria Amaizu, was crowned Ada Ndigbo of Mushin Land.
Indeed , the event will for long remain indelible in the mind of the guests even as Eze Umeh's members and Council of Chiefs agree that : "the New Yam festival remains a strong part of the Igbo people wherever they are in the world and have not missed the festival which is to hold the continuity of their ancestral root to generations unborn, hence the essence of the festival is to express gratitude to the Almighty God, for life, protection, and bountiful yam harvest."
Other dignitaries present at the event were royal fathers, top politicians, notable Igbo Traders, business men and women, Like Eze Ndigbo in Ikorodu, Eze Apostle Polycap Uhegbu, Eze Sunny White Obiakor, youths and other Igbo communities residing in Lagos, and neighbouring States.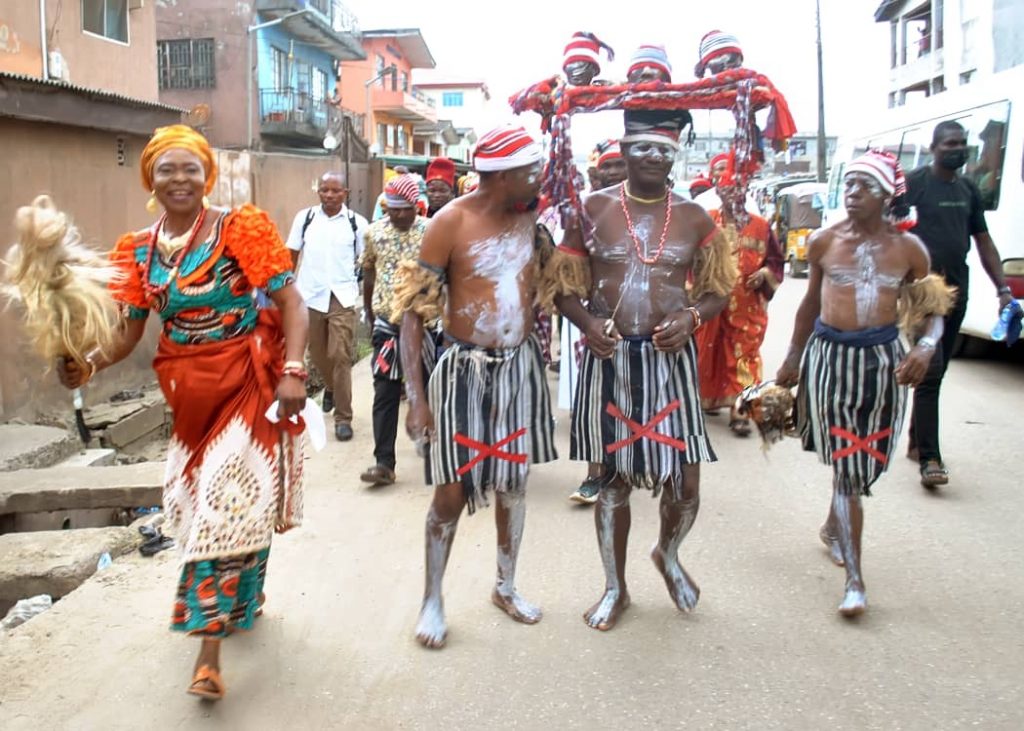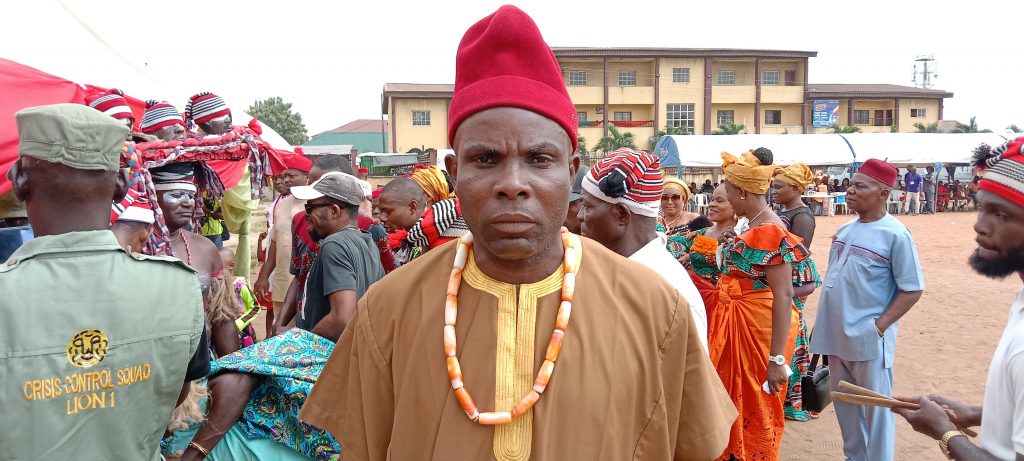 The event witnessed colourful cultural displays by various women and youth associations in Igbo community in Mushin Lagos, including exhibition of Igbo dishes and Yam eating among others.