MALICIOUS INVESTIGATION : Chairmanship Aspirant Cries Foul, Beg IGP To Save Him From Police Intimidation, Brutality By Inter-Pol , Cyber-Crime FIB-CCB Unit ,Area 10 Abuja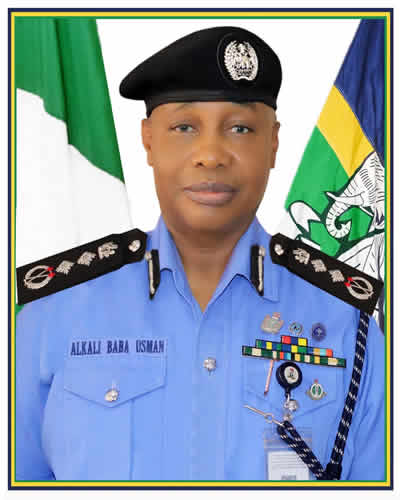 … Fingers Minister Of Interior ,Fatiu Jimoh Salisu for his Ordeal

A Chieftain of All Progressive Congress (APC) in lagos, Honourable Oluwatosin Onamade , has cried foul over his alleged unlawful arrest, detention and brutality, meted out to him by police operatives attached to the Inspector General of Police, IGP Akali Baba Sule.
Honourable Onamade,  who is also a Director at the  Western Funeral Home  Limited ,  has therefore called on the  Police Boss to intervene and save him from the  ongoing plot by his enemies to terminate his life using police officers from AIG Inter- Pol and Cyber – Crime FIB CCB Units,  Area 10, Abuja.
The Politician, who spoke with our Correspondent from his sick bed at the intensive/emergency section of the Lagos State University Teaching hospital, after his alleged brutality in the hands of the Police officers, narrated how some police officers unlawfully arrested, detained, and forced him to write statements against his will.
According to Onamade, who appeared distraught and traumatized, his recent ordeal is coming on the heels of the brutal murder of his Personal Assistant , an incident that happened on April 16th, 2021 , where some suspected gang groups invaded his office in Ijede area, Ikorodu, Lagos and killed one of his staff , late Mr. Ifeanyi Etunmuse Godfrey and injured several others.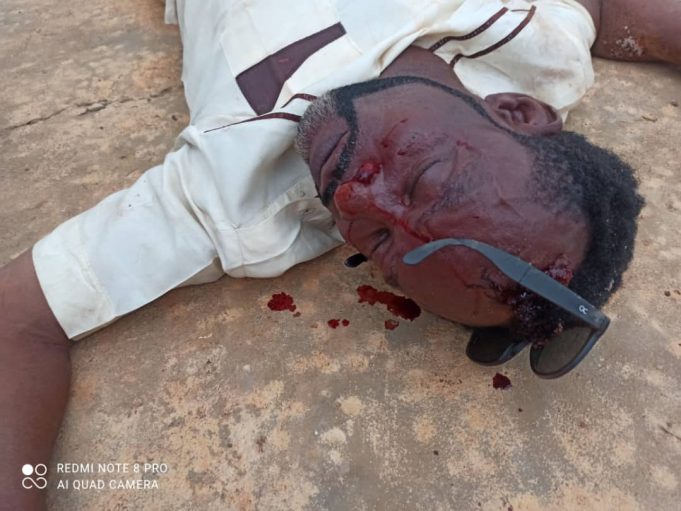 Four suspects namely ;Atunrase Sodiq Omolabi 'M' 28 years, Shittu Michael Olawale 'M' 28 years, Olaide Opeifa 'M' 40′ years, and Olanrewaju Adebiyi aka Maja 'M' 35 years, were arrested and currently standing trial at the Yaba Magistrate Court ,over the gruesome murder of the 52 years old victim, Mr. Ifeanyi Etunmuse Godfrey.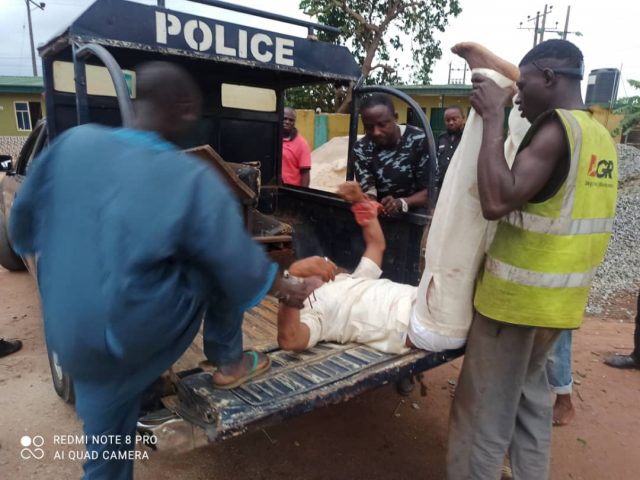 However, the police investigating team from the AIG Alagbon office, led by one DSP Bologi, Onamade said , compromised and left out the sponsor and master mind of the murder from the charge sheet sent to the court, after allegedly collecting money.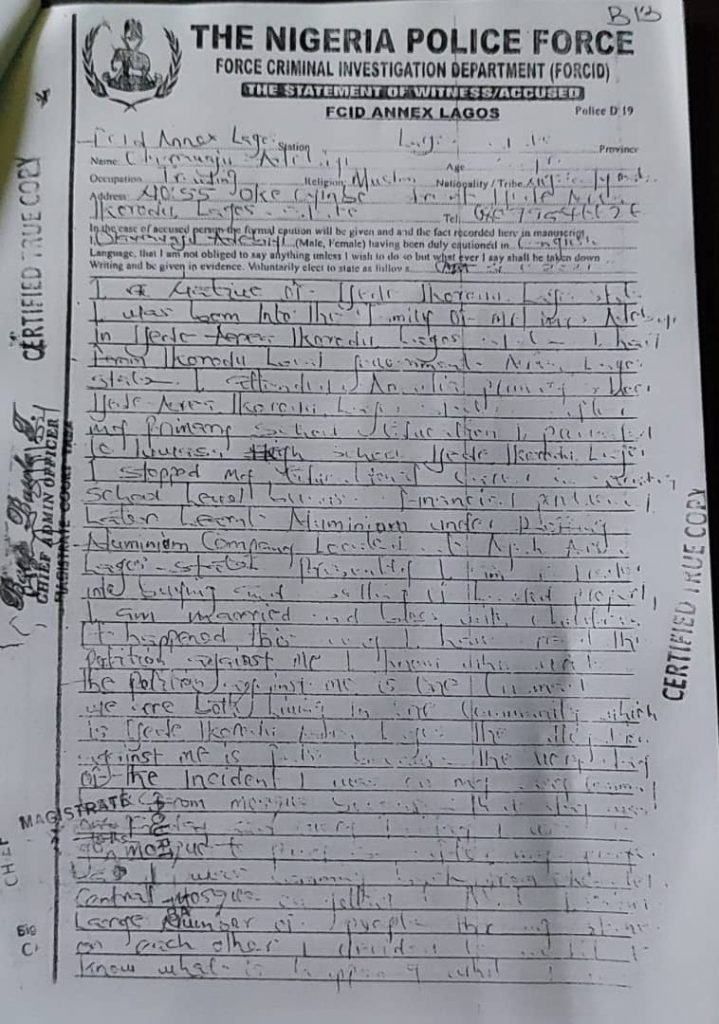 Unrelenting, Onamade said he has been disturbing and insisting that the master mind of the crime be prosecuted, but this, he alleged did not go down well with the Police officers and the affected persons, who he said ganged up to frame him up on some trump up charges.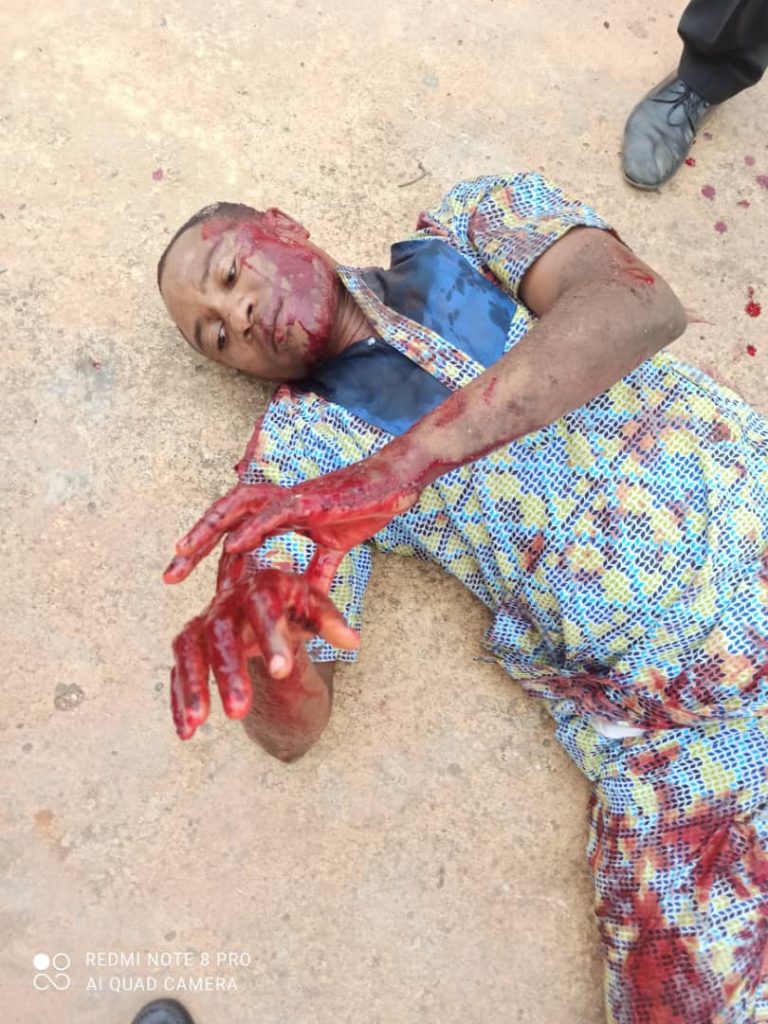 "Though the case is still pending in court, the recent unlawful arrest by the Police shows that my life is no longer safe as my oppressors are doing everything possible to thwart the court process by instigating the men of the force against me," he said.
Narrating his ordeal, he explained that it all happened when he went to the office of the Deputy Inspector General of Police,in Lagos, over an application he earlier submitted about investigations on the murder case.
In his words : "It happened on September 20, 2021, while I was at the DIG's office in Lagos, I saw a man pointing at me from another direction saying "this is the man". Next thing I realized was that four police officers came to me saying "you are under arrest".
"I asked them for what reason,and they said it was on the order of the Inspector General of Police through AIG Interpol". I asked what business I have with Interpol, They showed me a paper and asked what is my name,i told them is Hon.Onamade Oluwatosin, they immediately added my name on it and said that is the warrant of arrest, but I was not allowed to read its content".
"I told them this is an illegal arrest that I would not follow them, then they dragged me and took me straight to the presence of the DC Interpol at Alagbon".
"The DC however said there was nothing he could do since they came from Abuja. Then they dragged me straight into their vehicle,collected my phones move straight to airport."
"When we got to Abuja, I was taken to one Newton Hotel in Abuja, they kept me for over One Hour there. I started seeing the faces of the Police men that have been molesting me all along. Then one SP Lawal came and took me to Area 10 Command where I was detained that same Thursday without any explanation."
"I did not see any of them again till the following day at about 3:35 in the afternoon. At that time, they brought me out of the cell and took me to the Interpol Office Headquarters. They informed me that I was arrested based on a petition from one Aregbesola. I didn't realize they were referring to the Minister of Interior, later again, they said it was one Honourable Fatiu that initiated the petition. So I challenged them to go straight to the point and tell me on whose authority they were doing all these."
"So they brought out an alleged petition raised against me by one Fatiu Jimoh Salisu with the subject "Defamation of Character"." I told them this is a blatant lie against my personality and questioned why I should be brought here in the first place"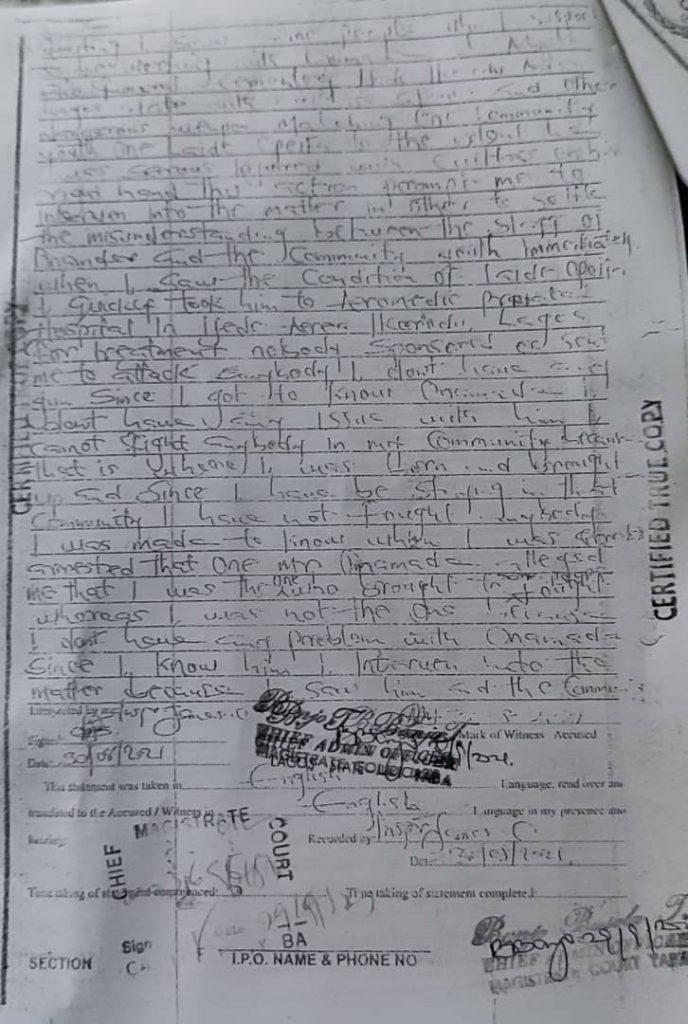 "The officers brought out a document asking me to append my signature on it before I would be allowed to go, but I insisted on seeing my lawyer before doing that. They initially objected, but later allowed me to call my lawyer at 5 pm."
"When my lawyer came, they denied him access to me but told him the only condition for which I would be released was if I could produce surety and also a person that would stand for me to a tune of five million Naira, and a level 17 public servant. After much argument, my lawyer asked me to sign it which I later did, hoping they would release me, but 1 was ordered back to the cell and locked up till on Sunday.
"They brought me out from the cell again on Sunday afternoon, brought out a paper, and told me to write a statement explaining what I knew about the alleged Fatiu petition on Defamation of Character. I wrote in the statement that I was wrongly accused and unlawfully arrested. One CSP Omaka Udodiwa, after going through the petition, objected to the actions of the officers and advised that they released me on bail immediately. At that time, my lawyer was mounting pressure on them to release me too, but I noticed that an officer was speaking to someone on phone, a few minutes later, another set of police officers came and said I was under arrest again based on a petition from the Minister of Interior Rauf Aregbesola."
"They took me to the cyber-crime unit in FIB CCB in Area 10. They kept me there till about 8 pm, then brought out and handed me a petition written with a letterhead paper of the Minister of Interior, Ogbeni Rauf Aregbesola. The petitioner instructed that the officers investigate me thoroughly over the allegation of Defamation of the Character of the same Fatiu Salisu. I told them this is the same petition for which I was arrested, detained, and tortured at Interpol for over 5 days now, how can two different units within the same command be investigating the same allegation?
"They gave me a paper to write another statement, and I narrated my unlawful detention and allegation in the statement. I was ordered to be detained again till Tuesday amidst serious inhuman treatment. "I was harassed, tortured during my detention to the point that I started vomiting blood. I was taken to a doctor within the premises who advised they take me to a General hospital before then i was already in a critical condition.
"Rather than heed the doctor's advice, they deliberated over two hours amongst themselves then took me back to Interpol to quickly grant me bail thinking I was about to give up the ghost. They gave me the same condition that I find a surety to a sum of 5 Million Naira and a level 17 public servant. As God would have it, I was able to meet the conditions.
"They instructed me to report back the next day despite my failing health. They seized two phones before releasing me at 8pm. That same evening while I was being taken to the hospital, I sighted the same Jimoh Salisu walking towards the police command. That was when I realized Fatiu had been the one sponsoring the illegal activities of the officers.
"I went back to Interpol the following day hoping to retrieve my phones. They told me to wait that the AIG wanted to see me unknown to me that it was another hatched plot. I was taken to the office of the DC where I was faced with series of questions. They forced me to write statements admitting that I truly was guilty of the allegations by Fatiu about Defamation of Character. They forced me to counter all the statements I had sworn an affidavit for and written concerning the ongoing murder case which is pending in court.
"It was a hell of an experience for me especially with my failing health that I had no other choice than to be obeying the order of the officers and wrote the statements according to their dictates.I came back to Lagos the following day and quickly sought the attention of a doctor at the Lagos State Teaching Hospital. My phones are still with the officers till we speak.                     
                                                                         *Read Onamade's Account *                                                                                 
"I am Mr Oluwatosin Onamade, narrating traumatic encounter with alleged assassins, who killed one of my staff members and also matched my blood brother to coma in my office premises on the 16th April, 2021.
My name is Oluwatosin Onamade. I am a native of Oke Eletu community in the Ijede Local Council Development Area, Ikorodu Local Government Area of Lagos State. I contested for the post of chairman of Ijede LCDA under the All Progressives Congress in the last primary party election.On Friday, April 16, I came back to the office (Western Funeral Home Limited) and unknown to me, all those thugs / Cultists, Atunrase Sodiq Owolabi, Shittu Micheal Olawale, Olaide Opeifa, Olanrewaju Adesanya Adebiyi A.K.A. Maja and others sponsored by someone were lying in ambush around my office. When I arrived at the office, I didn't know they had surrounded the entire perimeter of my office. I entered and I asked somebody to go and get me food.There is a closed-circuit television camera in that place and as I was watching the monitor, I asked myself, 'What is going on? Who are those people that are gathering all over the place?' All of a sudden, some of the gang members arrived in a RAV4 Toyota Silver utility vehicle, they parked in front of my office and destroyed my political big banner outside of the wall premises, damaged all the fence lights and started shooting indiscriminately, my brother and staffs lock the entrance gate and I called police immediately.I didn't know these people had come to the office with an assignment to kill me.My brother, Oluwafemi Onamade who was in the second office, resisted their attempts to get in and they left. Once they left, I came out to examine the damage. I started calling the police but no policeman showed up, even though they were not far from my location.Then the thugs came back and immediately they saw me, they said, 'So, he was inside.' They then forced their way in. In the process, they began to hack my brother with a machete. They even wanted to cut his hand off.They killed one of my staff members, Mr Ifeanyi Godfrey Etunmuse Tony, who was also my personal assistant, they butchered him, shot him in the head and threw his body in an empty vault in the office where he worked in a funeral home.They shot me but I escaped and dodged and hid myself. They were shouting, 'This man is escaping again; we are going to find him and kill him.'  It was so barbaric; it was something I could never have imagined. I thought my brother was dead already because he went into a coma. But we thank God that he came back to life.But these people came back the 3rd day, heard that the CCTV had captured them; they came to my house to try to steal the footage. I was standing next to the gate when all of a sudden, they showed up and began to shoot in my direction. I managed to escape. Immediately, I called the police and explained everything to them. Right now, my life is in danger.When the police in Ijede came for the rescue operation, they took the body to the mortuary in Ikorodu and they also took my brother to the general hospital in Ijede for treatment. When they got a hint that those guys were planning to come and finish the job by killing him (my brother) they transferred him to the General Hospital, Ikorodu.Although the matter is pending at the DPP at the moment, my life is being threatened especially due to undue intrusion from some high-ranking officers within the police force. My recent unlawful arrest, abduction in Lagos by some police officers who claimed to be acting under the instruction from the Inspector General of Police is of great concern to me. It happened on September 16, 2021, while I was at the AIG's office in Alagbon, Lagos, I saw a man pointing at me from another direction saying "this is the man". Next thing I realized was that four police officers came to me saying "you are under arrest"." I asked them for what reason, and they said it was on the order of the Inspector General of Police through AIG Interpol". I asked what business I had with Interpol, They showed me a paper with my name on it saying that is the warrant of arrest, but I was not allowed to read its content. I told them this is an illegal arrest that I would not follow them, then they dragged me and took me straight to the presence of the DC Interpol at Alagbon. The DC however said there was nothing he could do since they came from Abuja. Then they dragged me straight into their vehicle, seized my phones maltreated me, and took me straight to the airport to Abuja.When we got to Abuja, I was taken to one Newton Hotel in Abuja where they kept me for over One Hour. I started seeing the faces of the Polices men that have been molesting me all along. One SP Lawal and inspector Popoola Wakeel came and took me to Area 10 Command where they detained me that same Thursday without any explanation.I did not see any of them again till the following day at about 3:35 in the afternoon. At that time, they brought me out of the cell and took me to the Interpol Office Headquarters. They informed me I was arrested based on a petition from one Aregbesola. I didn't realize they were referring to the Minister of Interior, later again, they said it was one Honourable Fatiu that initiated the petition. So I challenged them to go straight to the point and tell me on whose authority they were doing all these. So they brought out an alleged petition raised against me by one Fatiu Jimoh Salisu with the subject "Defamation of Character"." I told them this is a blatant lie against my personality and questioned why I should be brought here in the first placeThe officers brought out a document asking me to append my signature on it before I would be allowed to go, but I insisted on seeing my lawyer before doing that. They initially objected, but later allowed me to call my lawyer at 5 pm.When my lawyer came, they denied him access to me but told him the only condition for which I would be released was if I could produce surety who would stand for me to a tune of five million Naira, and a level 17 public servant. After much argument, my lawyer asked me to sign it which I later did, hoping they would release me, but 1 was ordered back to the cell and locked up till on Monday.They brought me out from the cell again on Monday afternoon, brought out a paper, and told me to write a statement explaining what I knew about the alleged Fatiu petition bothering on Defamation of Character. I wrote in the statement that I was wrongly accused and unlawfully arrested. One CSP Omaka Udodinwa, after going through the petition, objected to the actions of the officers and advised that they released me on bail immediately. At that time, my lawyer was mounting pressure on them to release me too, but I noticed observed an officer speaking to someone on phone, few minutes later, another set of police officers came and said I was under arrest again based on a petition from the Minister of Interior Rauf Aregbesola.They took me to the cyber-crime unit in FIB CCB in Area 10. They kept me there till about 8 pm, then brought out and handed me a petition written with a letterhead paper of the Minister of Interior, Ogbeni Rauf Aregbesola. The petitioner instructed that the officers investigate me thoroughly over the allegation of Defamation of the Character of the same Fatiu Salisu. I told them this is the same petition for which I was arrested, detained, and tortured at Interpol for over 5 days now, how can two different units within the same command be investigating the same allegation?They gave me a paper to write another statement, and I narrated my unlawful detention and allegation in the statement. I was ordered to be detained again on Tuesday amidst serious inhuman treatment.I was harassed, tortured during my detention to the point that I started vomiting blood. I was taken to a doctor within the premises who advised they took me to General hospital before I was already in a critical condition.Rather than heed the doctor's advice, they deliberated over two hours amongst themselves, then took me back to Interpol to quickly grant me bail thinking I was about to give up the ghost. They gave me the same condition that I find a surety to the sum of 5million naira and a level 17 public servant. As God would have it, I was able to meet the conditions. They instructed me to report back the next day despite my failing health. They seized two phones before releasing me at 8pm. That same evening while I was being taken to the hospital, I sighted the same Jimoh Salisu walking towards the police command. That was when I realized Fatiu had been the one sponsoring the illegal activities of the officers.I went back to Interpol the following day hoping to retrieve my phones. They told me to wait that the AIG wanted to see me unknown to me that it was another hatched plot. I was taken to the office of the DC where I was faced with series of questions. They forced me to write statements admitting that I truly was guilty of the allegations by Fatiu about Defamation of Character. They forced me to counter all the statements I had sworn an affidavit for and written concern the ongoing murder case which is pending in court. It was a hell of an experience for me especially with my failing health that I had no choice than to the order of the officers and wrote the statements according to their dictates.I came back to Lagos the following day and quickly sought the attention of a doctor at the Lagos State Teaching Hospital. My phones are still with the officers till we speak."