Lagos CP Parades 42 Cult Suspects,  Recovers 10 Firearms, Move Against Arms Fabricators, Vows Not To Go After Innocent Youths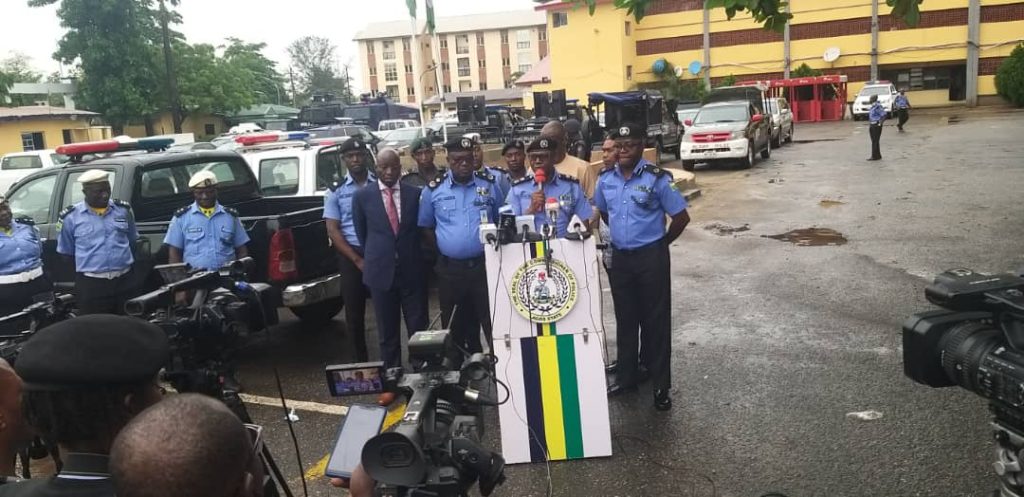 The Lagos State Commissioner of Police,  CP Idowu Owohunwa , has recorded a huge success in his avowed determination to combat crime and criminality in the state.   

With positive yields from his action plan, no fewer than 42 suspected cultists have been arrested within two weeks by operatives of the Special Operation.
While ten firearms which include six locally made short guns, three locally semi- automated pistols and one English made pistol, three battle Axes, three cutlasses, three daggers, three knives, thirteen live cartridges and  multiple charms were recovered from the suspects.
CP Idowu made the disclosure while parading the suspects on Wednesday at the  State Command Headquarters in Ikeja.
He revealed that the suspects were arrested at different special operations  carried out in Ijora, Orile, Ebute-meta and  ikorodu areas of the state.
He  therefore, warned those who are engaged in cultism and violent criminal activities in the state to desist and opt for a legitimate means of livelihood or risk the wrath of the law.
He also disclosed that the command will deploy all operational assets that will ensure that the command sustain the battle against cultism because the battle to end the illicit group in the state has started.
The CP stated that in line with the promise he made to Lagosians when he assumed office and with the support of the Inspector General of Police, he formed and equipped special different special units.
The idea he added, is a new strategic plan aimed at  decentralizing operations of the Special Operations to move them closer to the grass roots, the places where we have been getting reports  on cultism activities. 
"We sent them to our area commands, equip them and charge them to operate ultimately, not just to identify these cultists but to undertake intelligence operations such that the battle will be taken to safe havens of these so-called cultists.
"To support their operations, we also deployed unique intelligence because the orientation is that we do not wait for these cult to strike, we want to remain steps ahead of them in order to restore order within the internal security forum of Lagos State.
" I am delighted that through the courageous and coordinated activities of these officers deployed on these special operations , within the first two weeks, we have made very significant breakthroughs which worthy of notification.
In this regards. In the course of this anti-cultism operations, we have mopped up and arrested  a total of  forty-two (42) cultists in operations carried out in Ijora, Orile, Ebute-meta and  ikorodu.
" In the course of this operations, a total of ten firearms of various descriptions were recovered from the cultists, these includes 6 locally made short guns, three locally semi- automated pistols and one English made pistol. Three battle Axes, three cutlasses, three daggers, three knives, thirteen live cartridges, multiple charms."
" I am therefore, warning the cultists that in line of the promises I made to Lagosians, we will deploy all our operational assets and we will provide the leadership support that will ensure that the special unit of the command sustain this battle against this cultists who appeared to be determined to threaten the internal security of Lagos, our value for peace and our wish for a stable secured state.
The Lagos State Command under my watch will deny them the access in a very forceful way. I am also reassuring Lagosians that the battle to rid Lagos State of cultism and violent criminals has started and we will not relent until we restore order across the state. So the cultists and every group that operates on whatever's guise should take this as clear or firm warning. They have an option of changing for better and get a legitimate means of livelihood or you will have the command and the law to contend with.
"We cannot continue to allow miscreants who are increasingly arming themselves  in senseless warfare under the guise of cultism and inflicting pains on innocent citizens or those who they consider as rival, we can not sit back and allow this to continue, so we seek the corporation of the citizens by way of information and corporations with us.
" I implore them to be proactive by giving intelligence report, we must present a common front to defeat this common enemy called cultists," he said.
Owohunwa further said that a  worrisome component from preliminary investigation in terms of the activities of these cultists is that it appears some of their supporters or network has developed capacity to fabricate semi-automatic and automatic short guns and some of them are looking exactly like foreign made pistols.
"So our investigation are not only focused on members of these network but to also get to the root of the fabricators of these dangerous weapons, that is the only way we can make mop up and make a clear statement that indeed, we have effectively foiled the current attempt by these cultists.
 "This battle is a common battle , we need all citizens to come on board; and for us at the Command, we have all it takes to sustain this battle," he declared.