Imo Jailbreak Fleeing Inmate Back In Police Custody , Arrested Alongside 4- Other Daredevil kidnapping Syndicate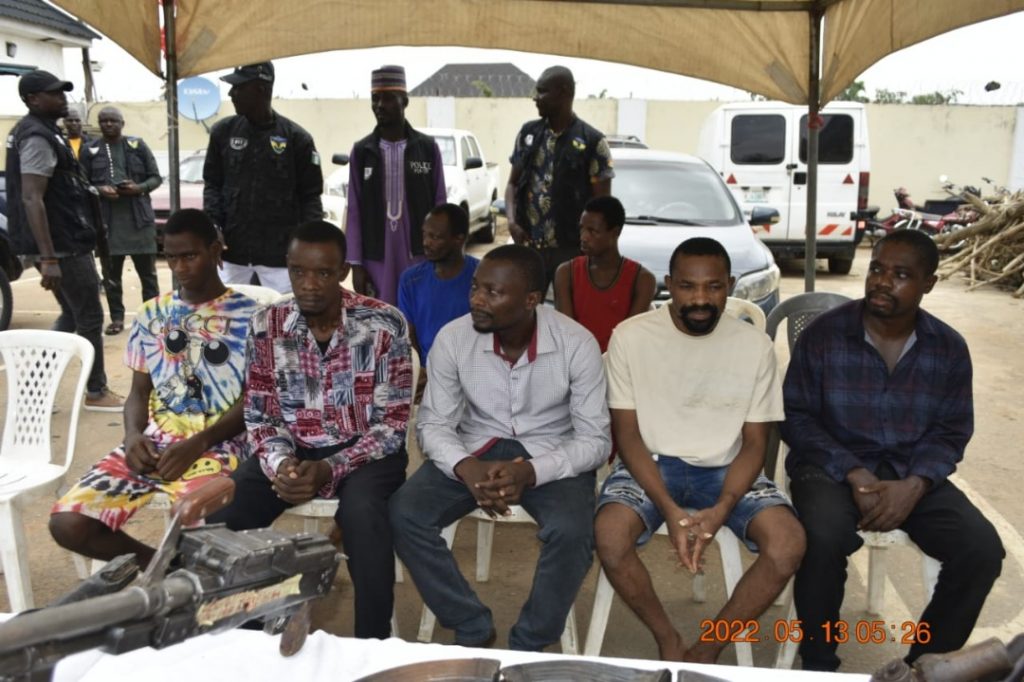 A fleeing Prison inmate Okechukwu Edison, who escaped from Owerri correctional center during the Imo state Jail break , has unwillingly returned to police detention facility, after he was nabbed along side a Daredevil 5-man kidnapping syndicates .

Our Correspondent garthered that Edison was arrested when the Police High Command busted a notorious 5- Man gang said to be terrorizing Rivers State and the South East area.
The operation was said to have been carried out by Operatives of the FIB-Intelligence Response Team (IRT) commanded by DCP Tunji Disu.
While were parading the suspects, the Inspector General of Police, IGP Usman Akali Baba, , who was represented by the police Image Manager , CSP Muyiwa Adejobi, identified them as : 31 years old Chima Nwankwo, of Osisioma Ngwa LGA of Abia State; Stanley Chukwunyere, 35, of Isiala Mbano LGA of Imo State; Okechukwu Edison, 40, of Emohua LGA of Rivers State and Justice Nlaa, 18, of Ogoni LGA of Rivers State.
Police confirmed that all the suspects have confessed to specializing in kidnapping for ransom.
Leader of the gang, Edison, narrated their mode of operation to newsmen at the headquarters of IRT in Guzape, Abuja. He said : "I have been in kidnapping business since 2009. I was arrested by the police in 2012 for kidnapping and was sent to jail. I was among the prison inmates that ran away from jail during the attack on Imo State prison.
"I went back to the business. It was one Okechukwu Nwankwo that linked me with one Sunny to do the kidnapping job for him. Sunny and Nwankwo has escaped." Explaining, CSP Adejobi, said their victim, one Nkechi reported her ordeal to the police after she was released from the kidnappers den.
"She was kidnapped in front of her shop, behind Shell petroleum at Rumudara in Obiakpor LGA of Rivers State.
"The kidnappers had come under the guise of buying goods from her and forced her into their Lexus 470 Car and drove away to an unknown destination.
"They were said to be well armed with AK-47 rifles and they kept her in an uncompleted building for four days and released her after N1.5million ransom was paid.
Following the lead, "Operatives of IRT put their shoulders to the Wheel and arrested them through credible intelligence." Adejobi said.