ILLEGAL OIL BUNKERING : Rivers NSCDC Arrest 4 Suspects, Seize 4 Vehicles, 2 Trucks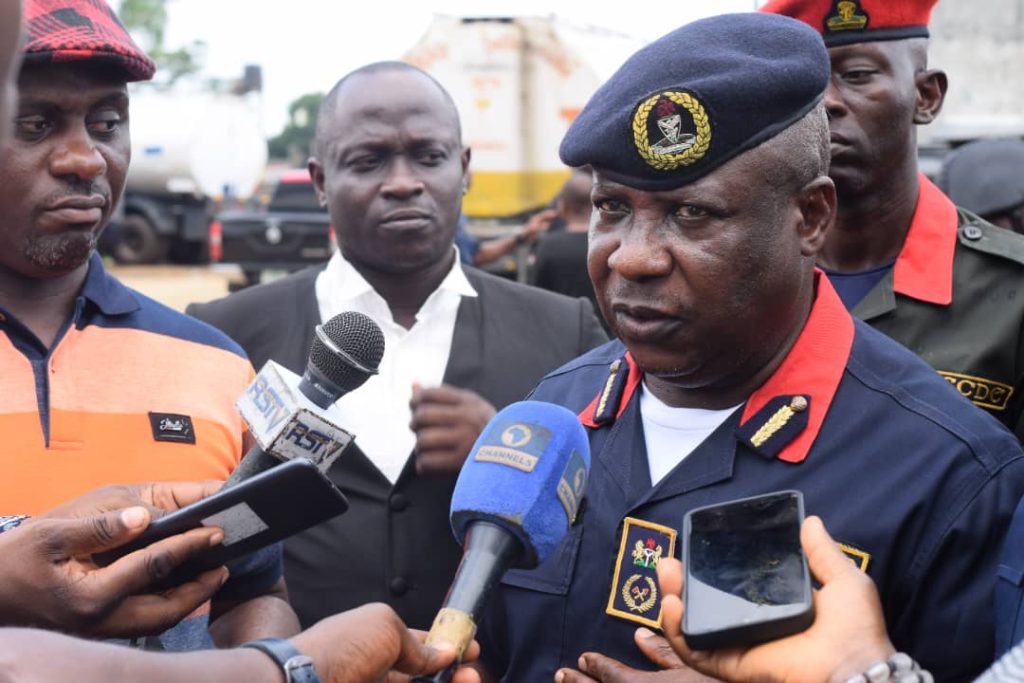 In it's  renewed vigour to stamp out illegal oil bunkering activities in Rivers State, the Nigeria Security And Civil Defence Corps, NSCDC, has arrested 4 Suspects for their illegal dealings in petroleum products.

This feat was achieved through concerted effort to nip in the bud the activities of those sabotaging the economy of the nation through their involvement in vandalism of oil pipelines, operations of illegal refineries and oil theft by the NSCDC Rivers State Commandant Michael Besong Ogar .
According to Commandant Ogar, " the Corps remains the lead agency in Safeguarding all Critical National Assets and Infrastructures in the nation as it has redoubled effort to tackle the menace of illegal oil bunkering activities both on land and across the waterways in Rivers State.
He Said thus : "Our commitment to fighting illegal oil bunkering activities in Rivers State remains sacrosanct; we have a strong synergy with Sisters Security Agencies as we jointly engage in the war against economic saboteurs engaging in such unscrupulous businesses. We have also had situations where Suspects arrested in connection with oil theft were handed over to us by Sister Security Agencies based on the fact that the NSCDC has the Power to prosecute offenders in the Court of competent jurisdiction".
Ogar , hinted that the arrest of the suspects were carried out in different locations across the State.
He commended the Antivandal land patrol team for the arrest of 3 Suspects named: Amadi Goodluck (M) 25years, Odogwu Shedrack (M) 19 years and Ovunda Emmanuel (M) 20years. 
They were arrested in a Black Sequoia Jeep with number plate LAGOS SMK 538 AX at Obelle- Ibaa Road in Emuoha Local Government Area of Rivers State while in conveyance of 1250 litres of Crude oil concealed in cellophane bags.
In a related development, the Command's Public Relations Officer , PRO DSC Olufemi Ayodele , in a press statement Stated that a 36 years old male suspect Chibuike Alamezie , was also arrested while conveying about 10 kegs of Automotive Gas Oil (AGO) being 25lires each in a Black Toyota Camry Car: LAGOS PZ 192 AAA along Trans Amadi Industrial Area in Port Harcourt.
"During routine patrol a white Mitsubishi L300 model Bus with registration number: RIVERS XA 522 SKN was also impounded while in conveyance of about 1,000 litres of Crude oil. The suspects however took to their heels upon sighting our Personnel.
"Following a tip off our Antivandal Squad also impounded a Red Volkswagen Car with registration number RIVERS AP 43 DBU at Ndele axis of East/West road in Rivers State. The vehicle was abandoned with 1,200 litres of Dual Purpose Kerosene (DPK) while the suspects took off for the fear of being arrested.
"The Command helmsman further relayed that 2 heavy duty MACK TRUCKS with about 45,000 litres each laden with Crude oil totalling 90,000 litres were impounded by the Antivandal border Patrol along Kira/Sakpenwa section of East/West road in Tai Local Government Area of Rivers State.
He affirmed that the Command with not relent in her dogged fight maintaining that prompt Intelligence sharing with the Security Agencies most especially the NSCDC would lead to the arrests of those perpetrating the evil act.
"Let me at this juncture say that the Command under my watch is always ready to collaborate with all Stakeholders just as we have the Executive Director of Youth Environmental and Advocacy Center, Fyneface Dumnamene present with us today as a form of synergy in the fight against oil theft".
"Our stand against burning of exhibits recovered from suspects remain unchanged, the NSCDC condemns such acts; this is because the environment must be free from all activities leading to air, aquatic and soil pollution.
He therefore called for more cooperations from the Traditional Institutions, Community Youths, Civil Society Organizations, Non Governmental organization who are true advocates against environmental degradation, pollution and health hazards generated by illegal dealings in petroleum products in Rivers State even as he reiterate that all "suspects arrested would be charged to Court as we seek for the forfeitures of impounded exhibits and proceeds remitted into the federal government coffer"