Group Faults Online Report Against FCIID Officer ,DSP Cordelia Nwawe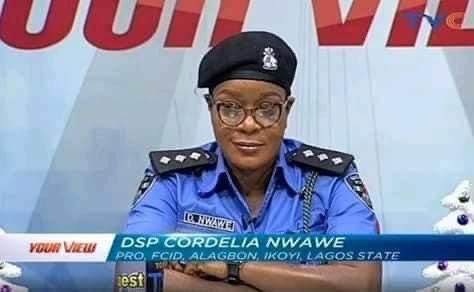 Criticisms have continued to trail a recent damaging online media report against former Akwa Ibom and  Sokoto States Spokeswoman, DSP Cordelia Nwawe, now attached to the Force Criminal Investigation Department, FCID, Alagbon Close, Lagos.

Mark Chidozie, an Activist and member of the Group, who vouched  on the integrity of DSP Nwawe, was of the views that the said online report was  sponsored by suspected fraudsters ,with the sole aim of  'cowing ' the police and frustrating on going  investigation against some alleged cyber criminals nabbed by operatives at the  FCID.
Some Police officers , colleagues of DSP Nwawe  and other Concerned members of the public,  were also said to have disregarded the publication and dispelled the rumour over allegation that   the woman police officer extorted money from  suspected fraudsters at gun point.
It would be recalled that there was a  report that went viral , by an online news platform, allegeding   that " a woman police, DSP Cordelia Nwawe, serving at Force Criminal Investigation and Intelligence  Department (FCIID),Alagbon,Lagos, extorted money from criminal suspects at gun point and collected from them, Crypto currency."
However,  discrete investigation in FCIID, Alagbon has revealed that the allegation was maliciously fabricated to tarnish the image of the vintage officer, whose track record in police public relations has remained sterling. 
It was learnt that : "The suspects in question are being investigated for Cyber crime administrative identify  fraud. They were arrested following a petition to FCIID and they made confessional Statement on how they were using other people's photographs to swindle people of their hard earned money.  Case files were opened for them. After their confessions, they were granted bail and released to  reasonable sureties.
Trouble was said to have started when the suspects allegedly refused to show up on appointment days and when the police called them to honour the invitation, the suspects ran to the media to  thwart Investigation.
"They nearly succeeded as members of the public seem to believe the suspects who have swindled victims of several millions of money. Many of their victims have even committed suicide, so many are indepted to banks and other financial institutions". 
Another Senior Police officer who spoke on the grounds of  anonymity,  dismissed the media report on DSP Cordelia Nwawe with a wave of hands and  said :
"I am surprised that some Journalists no longer carry out Investigation and have refused to hear  the other sides of the story. Why should a Journalist be used by suspected criminals to tarnish the image of DSP Nwawe, an image maker per excellence. She is in charge of a Department and it is not possible for her to carry arms and be threatening criminals to bring money. I have personally investigated her and anticedent and discovered that she has never carried arms even for herself, excerpt during police training, not to talk of threatening  suspects when she has team leader and Investigating police officer. But I want to reassure you that DSP Cordelia Nwawe has  never signed a police gun for her  use since she became a cop since  2012   till date.She does  not have any crypto currency wallet to her name, so how did she collect the N22 million through crypto currency?She is  not an officer who is stationed to effect arrest on the road.The matter that was investigated, not a personal matter. The  matter  was directed to Nwawe  and her  team via a petition approved by the The then AIG Dasuki Galadanchi. The woman police  endorsed the voluntary statements of the suspects who confessed to the crime on  police  documents as statements under caution . The good thing is that there are also videos of the suspects  confessional statements". 
Chidozie also  said  that he was miffed and shocked when he read  the damaging story on a super Cop.
" I have known Nwawe since she was the Police Public Relations (PPRO), Akwa Ibom State , Sokoto Police Commands and FCIID Alagbon. I have known her to be a clean officer who used to deliver lecture to her subordinates against human rights violation. How do you expect a PPRO to carry arms and be threatening suspects. It doesn't sound nice in the ear. To show that the reporter is sponsored and mischievous, how did they get the Force number when she does not wear police force numbers on her shirts as police rank and file, so this is purely the mischief of persons  who want to redicle her  achievements in the force.Again, Crypto currency is not a legal tender in Nigeria so I do not know how the woman that does  not have  a crypto currency wallet could have held any one at gun point to forcefully collect 22 million worth of Bitcoin. She has  Investigated fruad by alleged criminals and  handed over some of  them to the  EFCC for  further investigation. The Suspects were granted bail and were instructed to have a reporting scheduled appointment at the FCIID Alagbon . I learnt that the  videos of suspects  are  available .I believe convincingly that the suspects were set out to frustrate investigation by using the media to destroy investigation and cowing  the police", he concluded