GLORIOUS DEPARTURE  : Tears,  Honour, Celebration Galore,  As God's Shepherd,  Man Of Integrity, Reverend Alphonso Obumsilu Ireoba Transists To Glory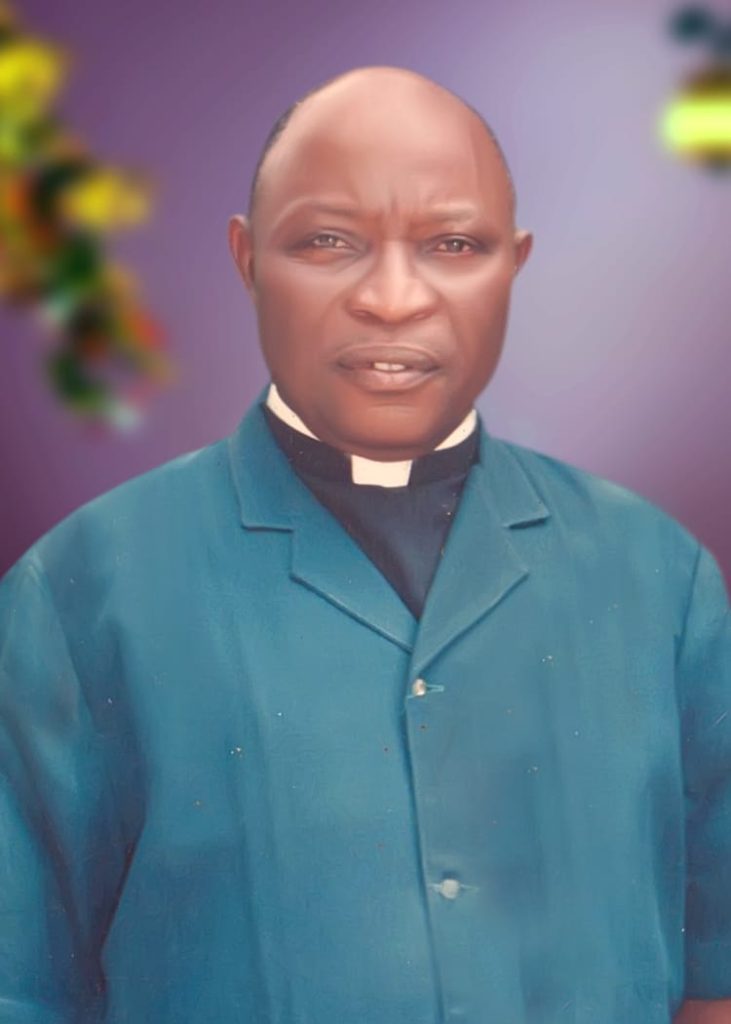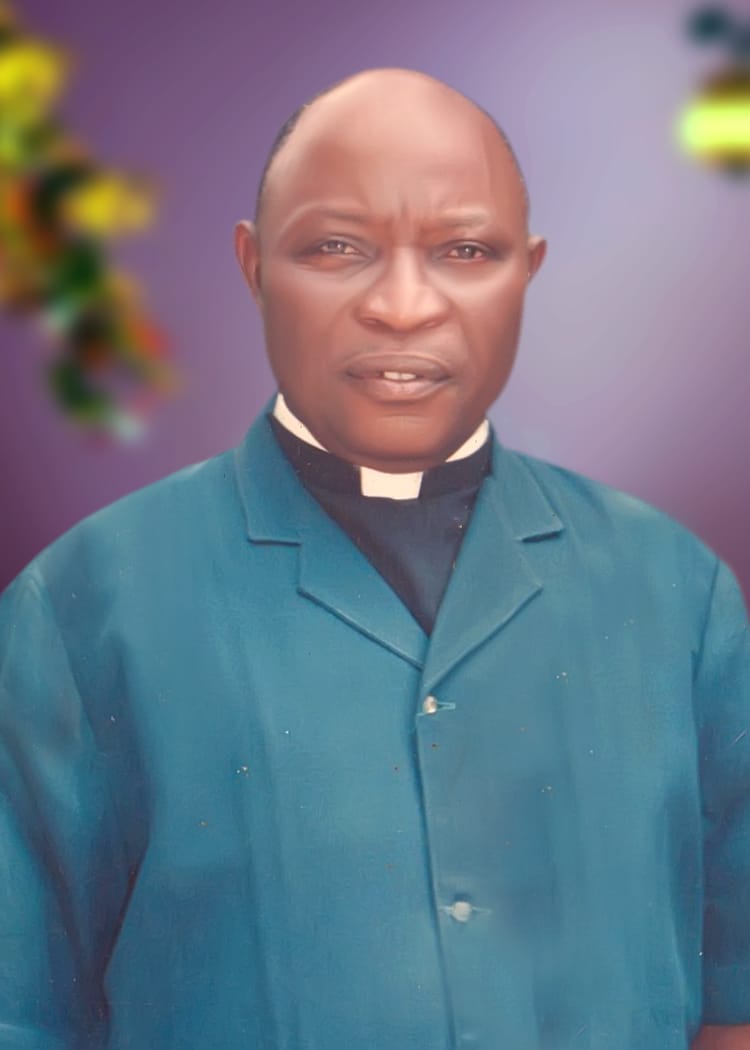 There is always a time in the affairs of men and that time has come for the man of integrity, Reverend Alphonso Obumsilu Ireoba, popularly known as"Nwaturu Chukwu", who Transited to glory on Tuesday August 9th, 2022, at a fulfilled age of 75 years.

Indeed, death is said to be a necessary end, that must come when it will come but for the Eze Ireoba's family, it was with mixed feelings that they announced the death of their beloved father. Mixed feelings in the sense of their sadness for the lost and happy because their beloved father lived a fulfilled life in the Lord.
Fondly called Eze Odera , the Shepherd of God was born 28th of November 1947 to late Mr. Aaron Akachukwu Ireoba and Madam Helen Mgbolinnuka Ireoba of Umuakanam kindred in Etiti village, Akwaihedi, Nnewi South local government Area , Anambra State.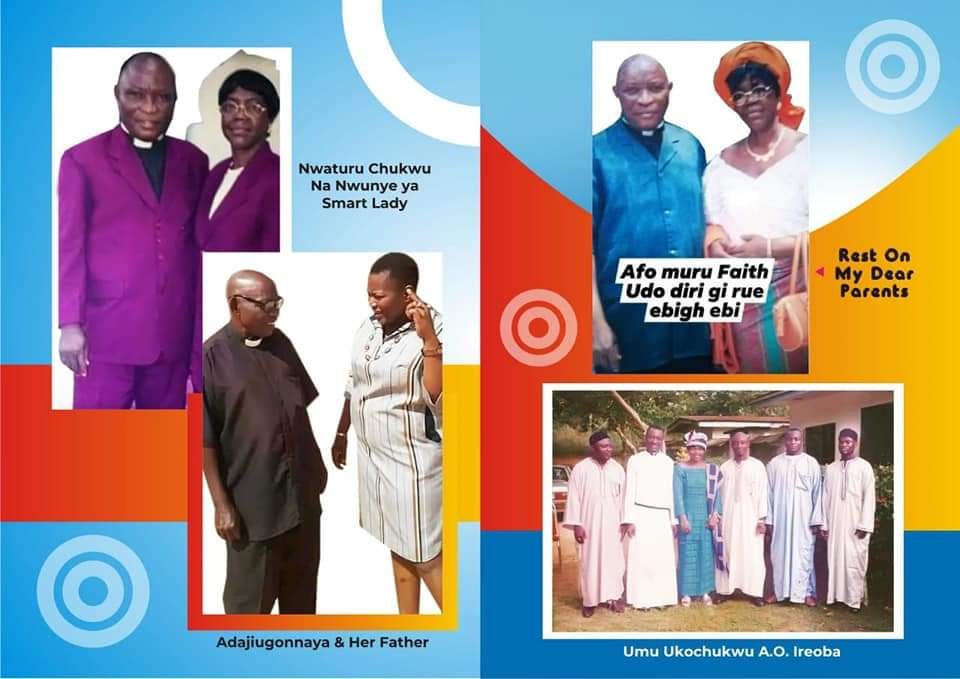 Announcing the glorious home call and demise of their father, Grand father, husband, great grand father and Son, Reverend Alphonso Obumsilu Ireoba, his Family in a statement signed by his sons, Chief Ugochukwu Ireoba and Venerable Dr. Princewill Ireoba, which was made available to Journalists , they said that their father ,a devout Christian , will be buried on Thursday, December 8th, 2022 , after lying in state and burial service at Immanuel Anglican church, while on Wednesday, December 7th,2022.there would be a service of songs at his residence in Akwaihedi.
According to the funeral arrangements, Tuesday December 6th, 2022, there will be a service of songs by 5pm at St Christopher Anglican church, Ndiakwu, Otolo ,Nnewi.
On Wednesday December 7th, 2022, there will be service of songs at Etiti village, Akwaihedi . However, December 8th, 2022, by 7am, there will be lying in state at his home in Etiti village , while at 10 am , burial service at Immanuel Anglican church will commence, after which interment follows.
The family expects that condolence visits will commence at 1pm at his residence, while on Friday December 9th, 2022, condolences will continue until Sunday December 11th, 2022, when there will be an outing service by 8am at Church Of the Holy Spirit, Akwaihedi .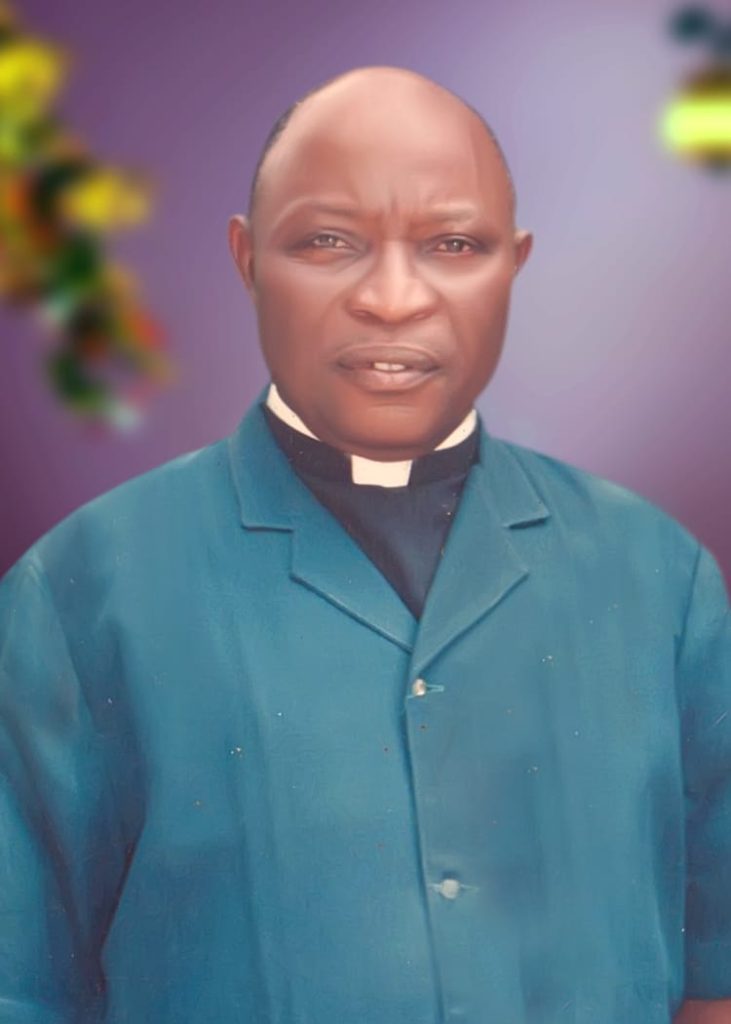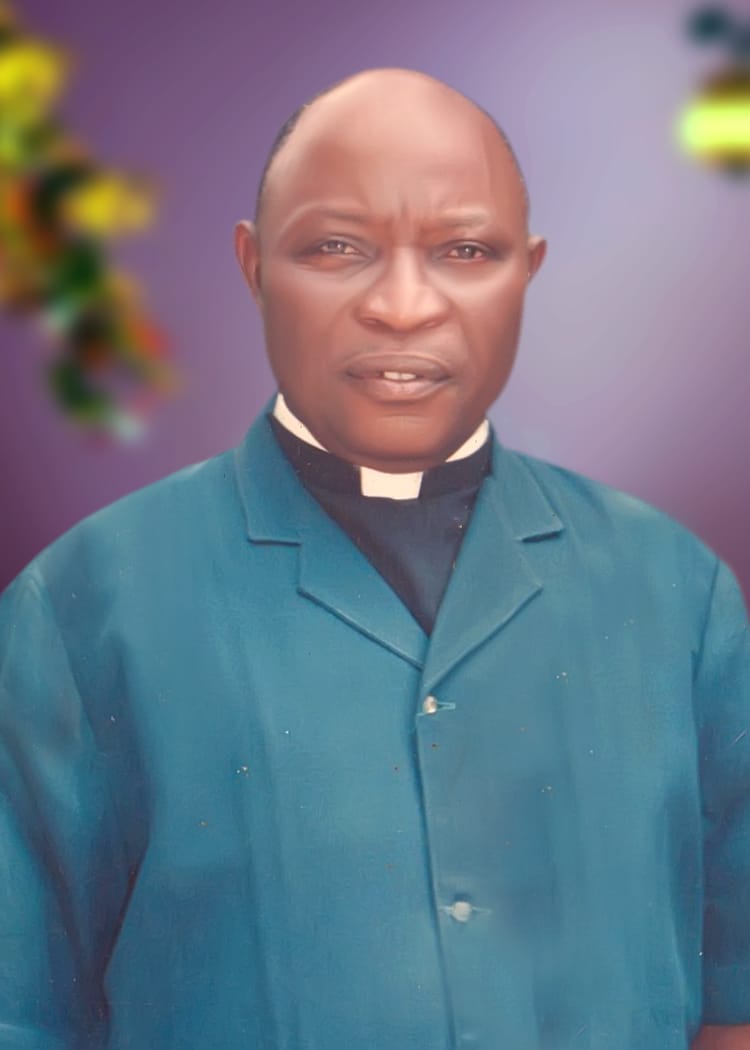 Speaking concerning her father's death, his daughter, Dame Faith Adajiugonnaya Ndidiamaka Chukwuma, nee Ireoba, a notable double award Winner, ambassador and distributor of Jigsimur Zdex International Company product, said thus ," Our father will be greatly missed .A virtuous , talented and God fearing man whose good character was greatly appreciated and attracted people".
In the biography of their late father, the family stated " In total submission to the will of the Almighty God, we regret to announce the death of Our Beloved Father and Reverend ALPHONSO IREOBA who transitioned to Glory on the Tuesday 9th of August 2022."
" Rev. Alphonso Obumsilu Ireoba, also known as Nwaturu Chukwu and Eze Odera was born on 28th November 1947 to the Late Mr Aaron Akachukwu Ireoba and Mrs Helen Mgbolinnuka Ireoba of Umuakanam kindred in Etiti Village Akwaihedi, Nnewi South .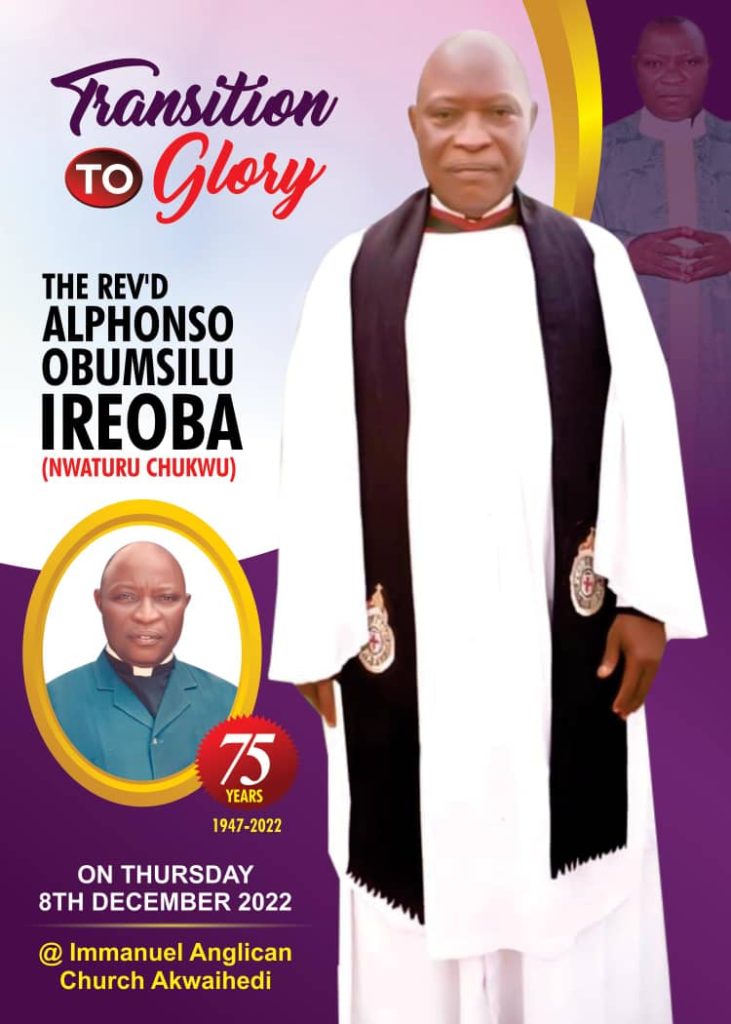 "He had his Primary School at C.M.S School Akwaihedi and St Peter's C.M.S School Ogbete, Enugu between 1954 and 1962. He got admission to two secondary schools, but could not proceed due to a financial crisis that entangled his father. But due to determination, he later obtained his GCE O' Level with the help of Pacific Correspondence College Onitsha, to which he register.
"After his Primary School, Revd Alphonso trained as a Panel Beater, Welder and Spray Painter at Cape to Cairo Technical Centre, then at No. 1 Ogui Road, Enugu from 1964 to 1967. The end of his training in 1967 met the outbreak of the Nigeria-Biafra war and he joined the Biafran Army of 18th and 29th Battalion."
"After the civil war, he got traditionally married to then Miss Edith Ijeoma Ezeani (of blessed memory) of Umu Okpalanze, Etiti Village, Akwaihedi on 16th February, 1970 and they wedded on 2nd May 1970".
"The marriage is blessed with six surviving children, Chief ThankGod Ugochukwu Ireoba, The Ven. Dr Princewill Onyinyechukwu Ireoba, Dame Faith Ndidiamaka Chukwuma, Mr Godslove Nzubechukwu Ireoba and twins Mr David Chukwuebuka Ireoba and Jonathan Chukwunonso Ireoba".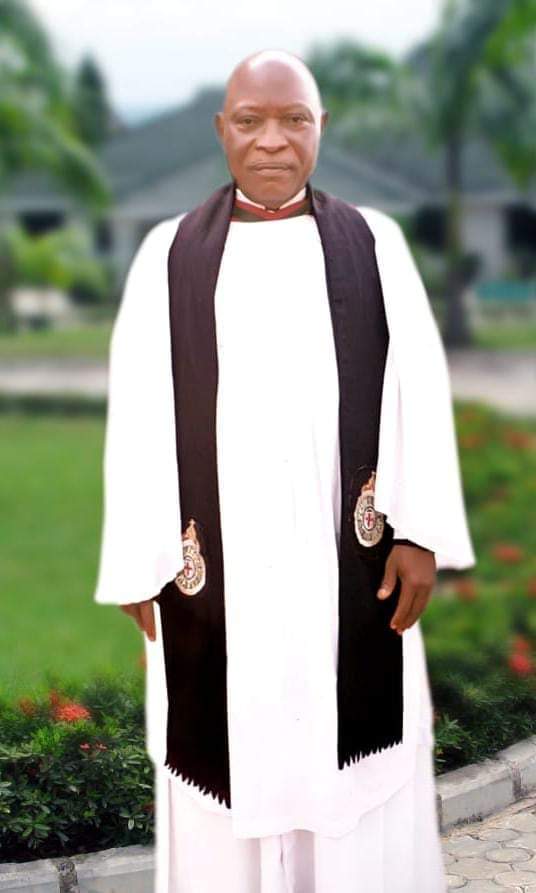 "Rev Alphonso's Divine Call for ministry in His Vineyard started manifesting very early in his life, as well as all through the phases of his life, until he officially enlisted, with his newly married wife, as a Church Teacher in the Diocese on the Niger in 1971 and later got ordained in Ihiala in 1971. He was trained and commissioned Grade 1 Catechist on 12th December 1975 by the Bishop on the Niger."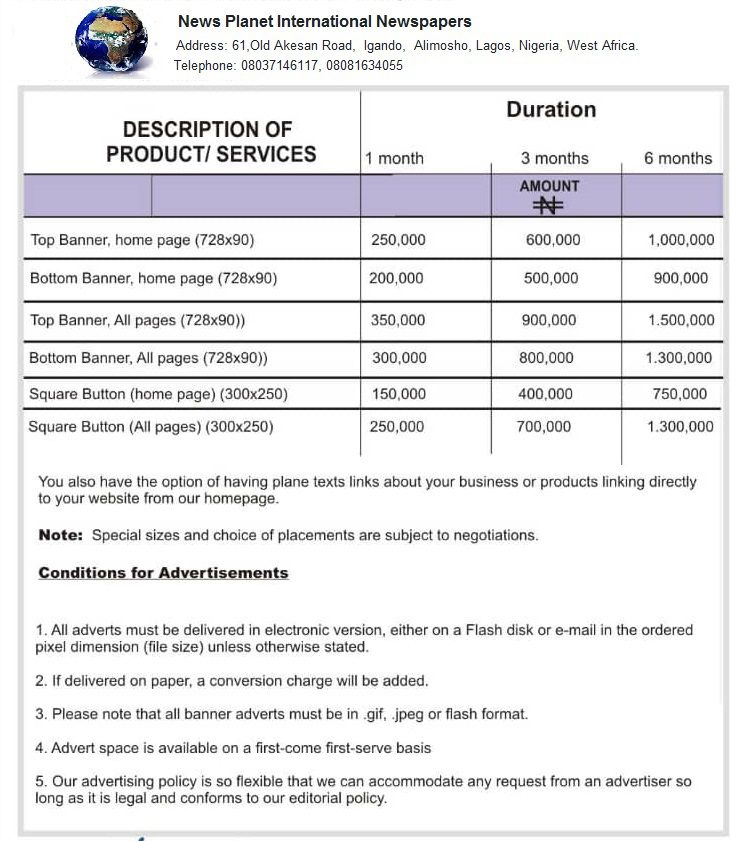 "He served as a commissioned Catechist in St Christopher's Church Ndiakwu Otolo Nnewi (1976 – 1983); St John's Church Orsumoghu (1983-1988); Immanuel Church Ekwulimili (1988 -1990) and All Saints Church Amakwa Ozubulu (1990-1991).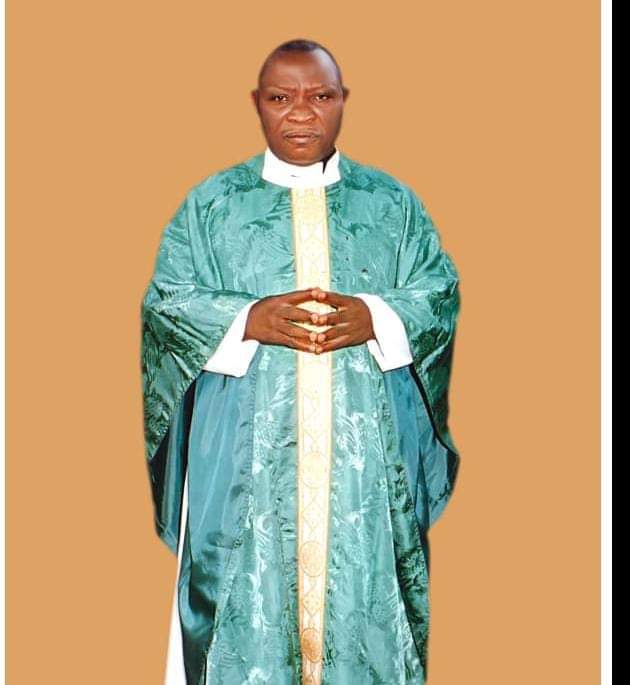 "While at Ekwulimili in 1988, he had a vision of a man telling him: "Nwaturu Chukwu, Be prepared, the reward for good work is more work". As he wondered the meaning of the dream, he received a letter from the Bishop on the Niger, The Rt Rev. Dr J. A. Onyemelukwe selecting him with others for an in-service Ordination Course. The Course immediately took off, and after more than three years, he was ordained Deacon on 7th July 1991 and priested after 1 year in July 1992, both by the Rt Rev. Dr J. A. Onyemelukwe at All Saints Cathedral Onitsha."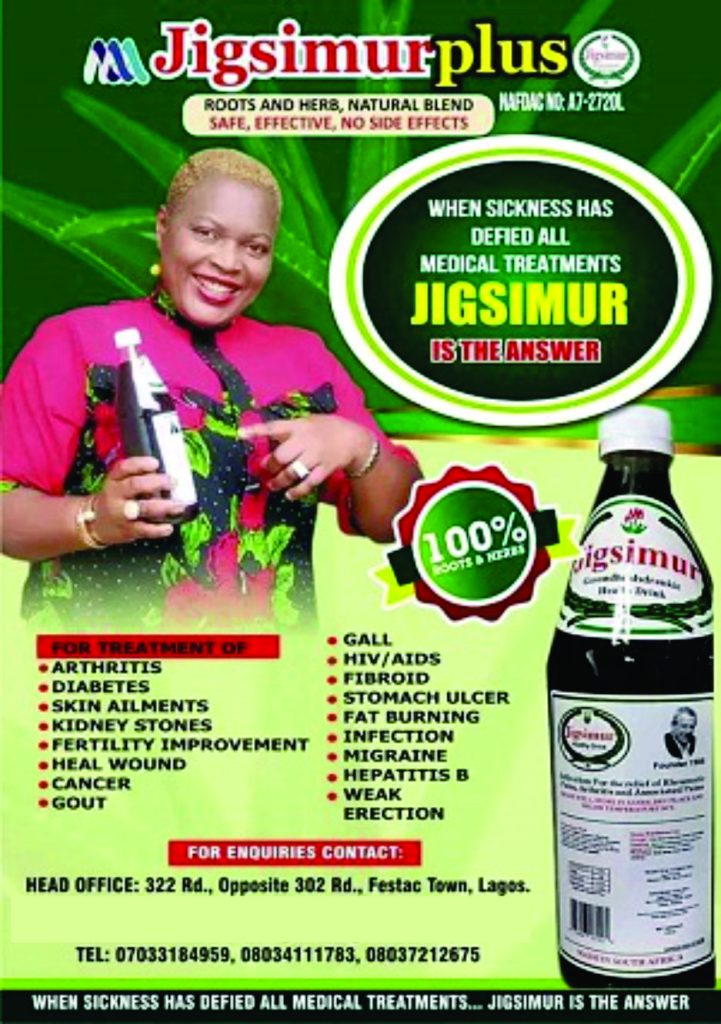 "After Ordination, he served in All Saints Church Amakwa Ozubulu (1991-1994); St John's Ukpor District (1994-1997); St James Parish Azigbo (1997-1999); St Mark's Parish Umudala Ihiala (1999-2002); St Andrew's Parish Lilu (2002-2005); St Mary's Parish Umuohi Okija (2005- 2007); St Jude's Church Oraifite (2007 – 2009) and St Andrew's D.C.C. Nnewi (2009-2012), when he retired at the age of 65 in 2012."