Don't Use Rumors To Judge All Igbos In Lagos, Says Joe Igbokwe, As Ndigbo In APC Decries Discrimination By Party Stakeholders, Calls For Vote Without Sentiments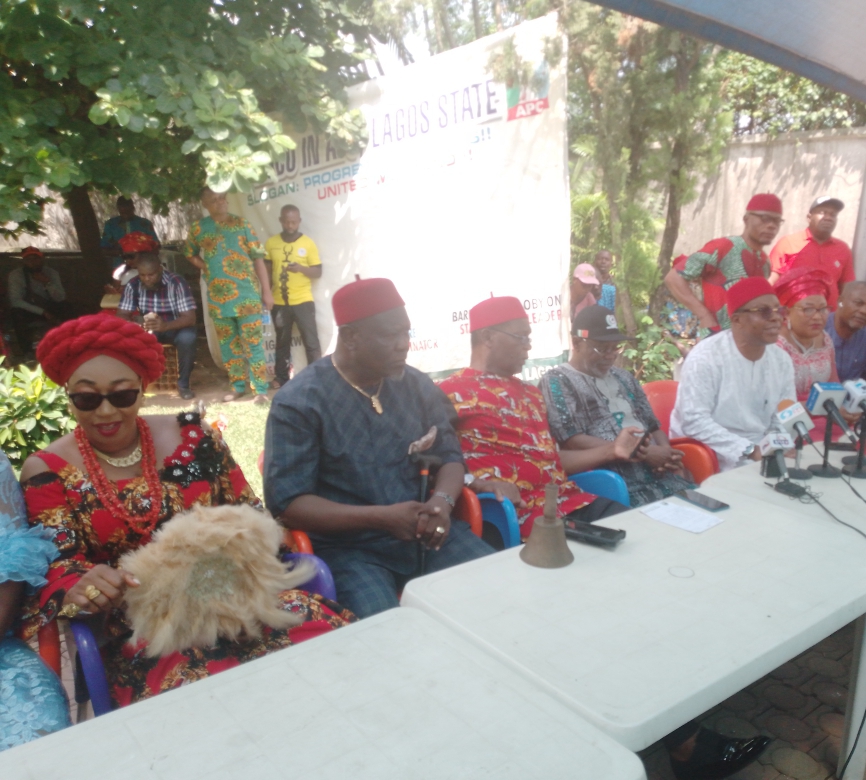 As the 2023 General Elections draws closer , Igbos in APC Lagos State chapter, says they would remain patriotic and committed members of the party come what may and vowed to vote for the party's presidential candidate, Asiwaju Bola Ahmed Tinubu.

They however appealed to their Yoruba host to avoid myopic attitude of using whatever offense committed by one Igbo person to condemn and attack all Igbos resident in Lagos.
This statement was made by Engineer Joe Igbokwe,who was speaking as the Apex Leader of the group under the aegis of Ndigbo in the All Progressive Congress, APC .
"We are restating here that we are APC and we are going to vote APC. No doubt Igbos live in Lagos,there is no state in Nigeria that Igbos have numerical strength as in Lagos and our host community must note this. We have serious and monumental businesses in Lagos," Igbokwe Stated.
Indeed, it was a gathering of state leaders, Faithfuls and stalwarts of APC members of Igbo extraction in Lagos, including Chief Oliver Akubueze, Former Ohanaeze Ndigbo president and Board of Trustee ,BOT member of the group.
The group who seized the opportunity to call on its entire members across the country to let their votes count by voting for the party's candidates , not based on ethnicity and tribe, affirmed that when there is love amongst party members,there is growth.                                       
They  admonished it's members not to be sentimental and vote for candidates of  their party irrespective of where the person comes from.                                                     
Speaking further at a press briefing in Ikeja, Lagos  last Tuesday ,  Engineer  Igbokwe, appealed to his members to be at peace with other tribes, especially Northern Nigeria.
According to Igbokwe, who is the Special Adviser on Drainage to the Lagos State Governor, Babajide Sanwo Olu, he   harped on the need for his members to work with other tribes, in order to earn their cooperation, adding that " having  dialogue and face to face conversation is the only way to promote peace amongst party members". 
Igbokwe who frowned at blanet condemnation,  criticism and attacks on  all Igbos resident in Lagos, expressed dissatisfaction over recent utterances by some Yoruba host. 
He said : " if somebody commits an offense or making a statement somewhere, and that person is an Igbo person, don't use it to judge millions of Igbo persons in Lagos. Establish your facts, it makes some of us weak and develop cold feet . We were there in AD, AC, ACN, APC and you are still looking at me or doubting, it doesn't make any sense." 
Coordinator of the group, Eze Uche Dimgba, enjoined members to get their Permanent Voters Cards, PVC, in other to make their votes count by casting their votes. 
He noted that the rumors of Igbos locking up their shops to get their PVC,  does not mean that they are voting for candidates from Igbo extraction only.
" The INEC has been promising everybody that the votes will count this time around and it got the interest of the Youths who wants to vote and there are youths everywhere, even the Yoruba youths are doing the same, not only Igbo youths, including  the Arewa youths too, so there are rumors everywhere, you can't just use one rumor to particularize a particular tribe, Eze Dimgba Stated". 
Eze  Dimgba who is also known as Okpetemba, called on APC Leaders in Lagos to give Ndigbo the right recognition they deserves, adding that all party members are one and united.
He said that their group has instituted an award prize of N1 Million Naira for the local government Areas that records the highest numbers of PVC.
Contributing, Barrister Uche Ubochi, whose wife is the Vice Chairman of Ojo Local Government Areas, advised the host community to note that "this is the time of evangelism and not the time of hate speech, harassment and intimidation of Ndigbo in Lagos".
Collaborating, Barrister Oby Onu,  promised to galvanize the support of the Igbo women  in APC to vote for the party.