Denton Division Agog,  As Crime Fighter, Human Right Inclined Police DPO, CSP Joseph    


It was a unique celebration amongst serving police officers in Denton Division , which people who witnessed the glamour,  likened it to a public show of love and commendation for the visible gallantry and policing with human face strategy,  by a police officer , who with his policing style and efforts convinced residents that police is truly your friend  

Indeed so touching was the celebration and jubilation  by family, friends, colleagues and even subordinates,  as streams of  congratulatory wishes continued to flow after the thursday,  November 24,2022,  Security and Award event where he was honored.                       
Eye witnesses testified that  police officers , residents, friends and well wishers jointly felicitated with the simple looking man , known as an astute crime fighter, human rights compliant security expert,  amiable, kind hearted, calm,  easy going police officer,  who many residents also credit with enduring peace at his Ebute Metta, Yaba area, which is his area of jurisdiction.                                          
The celebrant is no other person than Chief Superintendent Of Police , CSP Joseph Egwuonwu, Divisional Police Officer,  DPO Denton Division , Under the Lagos State Police command , an internationally acknowledged police man , whose passion for crime fighting, human security and safety development is second to none .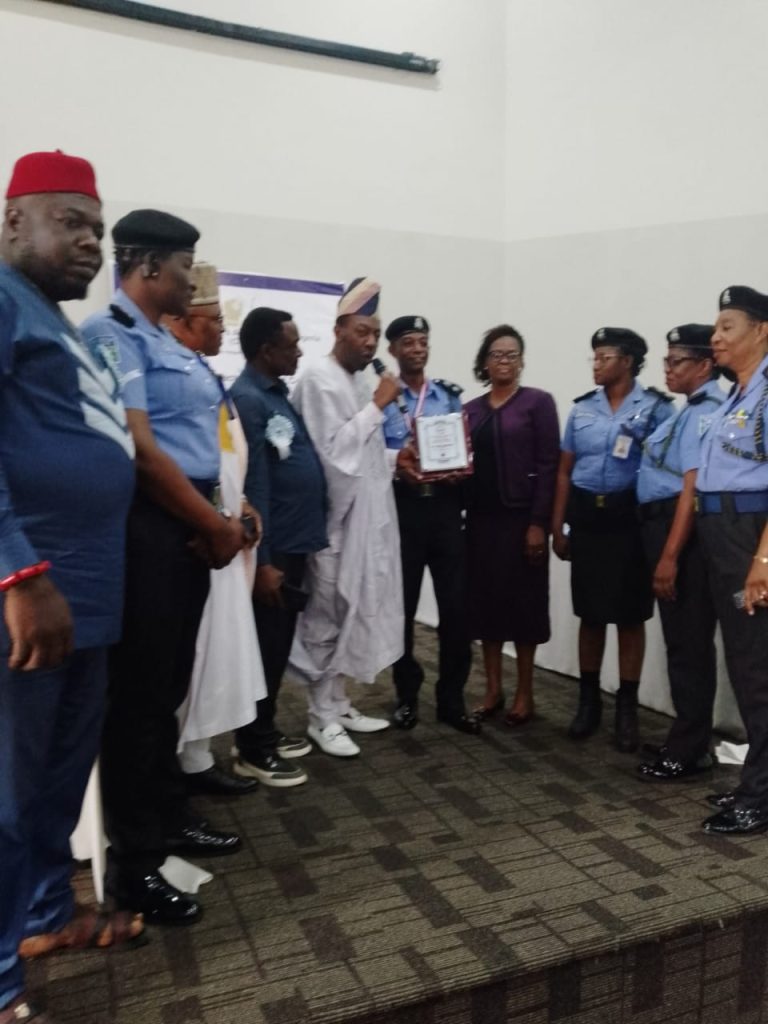 CSP  Egwuonwu, a quiet achiever , whose  professional efficiency, security and safety strides have long been affirmed and celebrated by the international community,  was yet again  rewarded with a prestigious and meritorious service award by the Crime Reporters Association Of Nigeria, CRAN.                                                             
For the easy going  Police Officer, CSP Joseph Egwuonwu,  who received the Coveted CRAN  achievers  award as human rights inclined police officer, " Dedication to his police duties , helping people in need and creating an environmentally friendly police station , has been his watchwords . 
CSP Joseph Egwuonwu, who could not hide his excitement over the award, was revealed to be a community policing officer of Lagos State Police command, who with his wealth of knowledge and training within and outside the country, has been able to distinguish himself as a professional carrier senior police officer of international repute within the shortest period of time he was deployed to Denton Division in Ebute Metta area in Lagos,where he serve presently. 
He is a fellow of the institute of Criminological Studies and Security Management,  ICSSN, Member of the international Association of Chiefs of Police , IACP , Member of United Nations African Union Missions in Darfur , UNAMID,  Certified Conflicts and Peace Manager by center of excellence for stability police, Italy,(COESPU Italy) . 
For this calm headed  police officer, It is also on record that he is presently undergoing his master's degree program at Obafemi Awolowo University, OAU,Ile Ife, Nigeria,  where he is majoring in public Administration, he has a post graduate degree in conflicts and peace studies from same OAU. He however had his first degree in Education from the University of Ado Ekiti, An Advanced Operational Management Diploma from University of Lagos, Nigeria. A member of Guangdong police college for police reform, Republic of China. A member of peace operations training institute USA. He a certified expert, specialist in cooperate and Industrial security ,(SCIS, Unilag).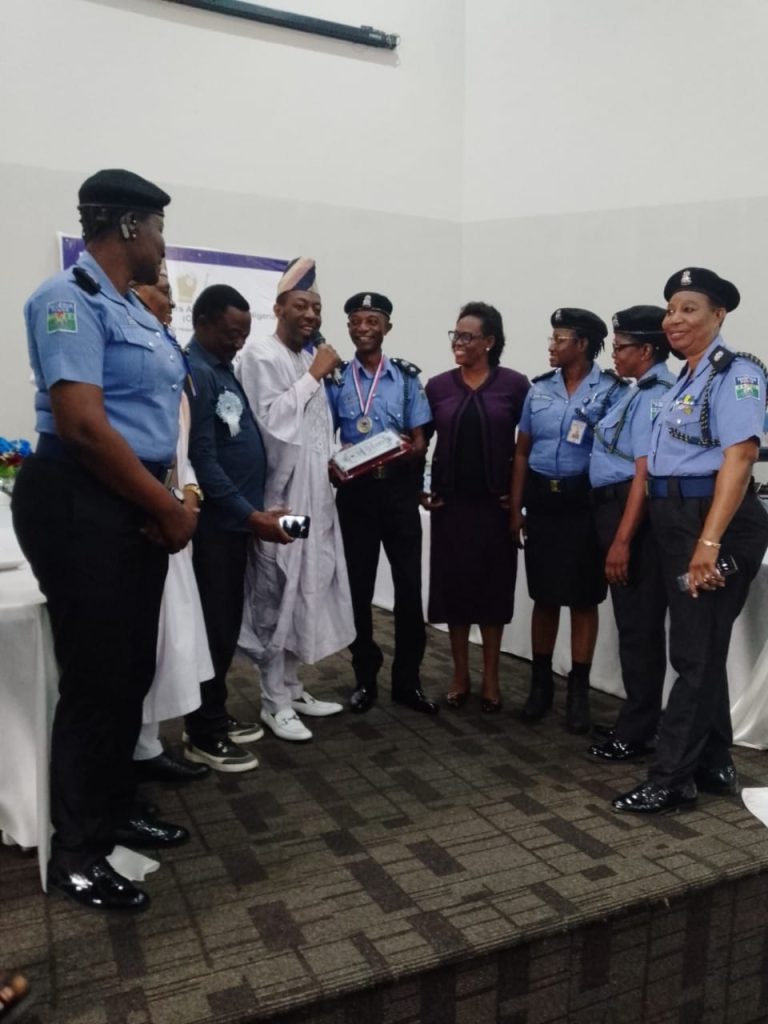 infact, his working experiences actually exposed him internationally, as such he fully developed himself educationally and professionally within his United Nations working environment in the United Kingdoms and Republic of China RPC, to mention but few.                                               
Egwuonwu's  greatness  is not in how much wealth he acquired but in his integrity and  ability to affect those around him positively. 
"So, achievements generally could not necessarily be achievements in terms of material things. "
His educational and professional certificates are so numerous, such as trainings in  peace operation training institute; introduction to united nations system international humanitarian law and of conflict; Integrated Induction training certificate, in Darfur UNAMID, Sudan; UN prevention of harassment; Sexual harassment and Abuse of authority in work place; peace keeping and international Conflict management; United Nations police restoring civil order following hostilities; logistical support to UN peace keeping operations ; Principles of peace support operations; Human Rights course, advanced security in the field ; Certificate on crime prevention and control for officials from ministry of public security of the PR China and Community policing Developer. 
Through his various postings, CSP Egwuonwu  have impacted some many people in life and have  changed situations around him . Truly These are areas where one needs to perform well before he is called an achiever. 
In his call for duty, Egwuonwu has  worked in different organizations such as : Officer in Charge of Police Secret Registry; Administration Officer ; Staff Officer Junior ; Operations officer ; officer in charge of confidential inspectorate; operations/Administration ;  Divisional crime officer in ikoyi division, Lagos and several other states in Nigeria.                     
He has a robust working experience within the UN , such as Coordinator Al -salaam community police center; Deputy Coordinator Al-Salaam CPC ; UN reform and restructure Elfasher, Darfur, Sudan.       
As a world class certified trainer, which has distinguish him amongst other officers, have trained thousands of police officers and many organizations. He has consistently showcased his long years of service and experience in any environment hence he is regarded the best choice trainer among his contemporary.
Egwuonwu has won many medals locally and internationally ,hence it is worthy to know that he has just been promoted to the rank of CSP and deployed as DPO Denton Division on March 31st, 2022
A dutiful active police officer who knows his job as at when due, he is a leader without equals hence Ebute Metta and environs are now enjoying peace which eluded them for long.
Before his deployment to Denton Division, CSP Egwuonwu, had performed creditably well in discharging his police duties and has demonstrated that the exact meaning of living is by using his talent to serve the Nation and leaving a lasting impression while serving and mainly a positive impact .
 One of his Motivation is happy family.  He is happily married to Mrs Joy Egwuonwu and blessed with four children : Anointed, Princewill, Praise and Victory. He loves singing,training, reading and teaching.        
Excellence, is known to be a rare quality possessed by a few in the society, an ideal that stands out the few, making them exemplary and quintessential in all facts.This is the case with CSP Egwuonwus' journey. His award recognition was on merit, little wonder his colleagues were full of Praises for his resilience, determination, destirity, doggedness and kindness.
CSP Egwuonwu is a blessing to the police force and his generation, his passion for security , crime prevention, fighting, control,and human capital development is immersurerable.