CHIEF SOLOMON OGBONNA AGUENE, AN ENEMY FROM WITHIN : THE SAD STORY OF OHANAEZE NDIGBO LAGOS AND THE MAD PRESIDENT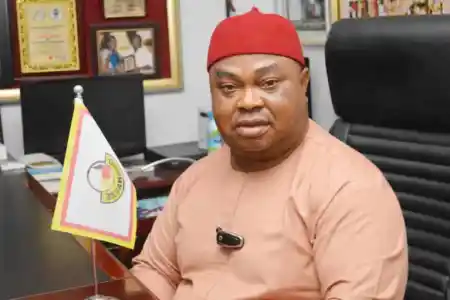 An obscene video clip have went viral across social media platforms in Nigeria which leaked from a certain carnality corner in Lagos state. The video presupposed a deliberate attempt by a motley of Igbo women under the average ages of 30 and 40 to insult the sanity of their cultural anthropology. They were seen gyrating around in a room while singing a sex explicit song in Igbo language. Their lewd chorus was "Solomon bu onye na-eleta ikè, ma O gaghi ericha anyi" (Solomon is the custodian of our genitals, though he cannot exhaust us). A classical show of erogenous rascality. It was such a scandalous outing that all who saw the video felt embarrassed. But Igbos had a nugget that "Ihe mere ede o ji béé nwui" (no smoke without fire). 

Patriotic umu Igbo who knew that what these daughters of Eve did was alien to our culture dung dip to know what prompted such fatly inglorious and stoutly 'proud' display of such exhibition. The video, to put it mildly, desecrated the honour and dignity of womanhood which the Igbo culture holds in high esteem. However it was discovered in good authority that their action was influenced by no less a person than the embattled immediate past president of Ohanaeze Ndigbo, Lagos state; Chief Solomon Ogbonna.
The infamous story of Chief Ogbonna was well known to many, because of his treacherous sharp move to perpetuate his stay in office contrary to the Ohanaeze Ndigbo bylaws.
He was elected into office in a single four year term on June 16, 2018 which was due to expire on June 16, 2022. But in a clear case of irregularity, he planned to illegitimately elongate his term beyond the due date. He dragged the hallowed Ohanaeze Ndigbo Lagos to court, to obtain a phantom court injunction for such illegitimacy.
The members of the organization were scandalized by such traitorous move, and evoked the relevant section of Ohanaeze extant bylaw to impeach him on 14th June, 2022, (i.e 48 hours to the expiration of his tenure), to avert such unconstitutionality from happening. If they had not done that, his action would have set a bad precedence in this great organization with over 50 years history.
Having upturned his brazen clandestine operations that are inimical to everything Ohanaeze stands for, Chief Solomon had kept revolting against the apex Igbo sociocultural organization in Lagos, fighting against its leadership and inciting insubordination among few members who are notoriously loyal to him. These traducers Ohanaeze have no love for Ndigbo. All they care about is their selfish interest.
Chief Solomon has been advised by current leadership of Ohanaeze in Lagos to desist from his lawless insurrection capable of truncating the peace and love that had cascaded the organization since inception, but his obstinate notoriety remained incurable. Hence, he incited the women in the viral video to record such disgraceful session in songs. He has since then been recruiting foot soldier on daily basis, who will continue to dance to his tune of wrecking havoc in Ohanaeze Lagos, and south west zone in general.
It is therefore in the best interest of the southeast zone, that Ohanaeze Ndigbo brings Chief Ogbonna to justice to curb his excesses. Igbos have enough external issues at hand to contend with, to consider having a Judas in their midst. Core values of Ndigbo revolves around virtues such as purity, chastity, marital fidelity, moral probity, diligence, fraternal love, and observance of the golden rule. All these attributes are seemingly scarce qualities in the person of Chief Solomon, and the larger society is bearing the brunt.
Let Ohanaeze tame him before he turns into the monster he has been threatening to metamorphose into. If he can brainwash married women and turn them into moonlight ladies, his next move into the psyche of our youths can only be imagined. This monster may be a final undertaker of Ohanaeze Lagos and beyond. Igbo native wisdom teaches that "Goat delivers in tethers only when committed elders are absent." Ohanaeze and all Igbo elders of thought owe this ugly development a duty. And it is incumbent on them to rehabilitate this stray sheep, and bring him back to the fold.
Ka Chineke mezie okwu
– Maazi Onyedikachi Esomone writes from Egbeda, Alimosho LGA Lagos.
See alsoPhryde news report