BROTHERS AGAINST BROTHERS : Many Injured As Fulani Herders And Hausa Traders Engage In Bloody Fight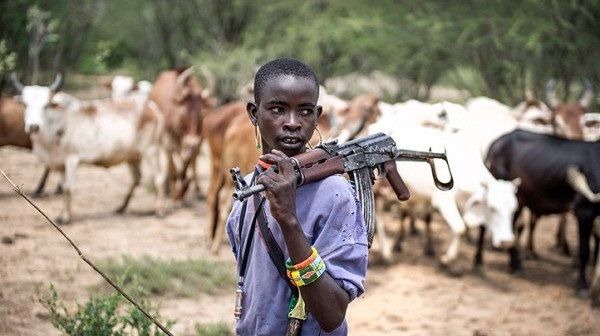 The relative peace in Sapele area of Delta State was interrupted on Monday with tension in the air when Hausa traders and Fulani herders engaged in a bloody fight, leaving at least 10 persons injured.

It was learnt that the incident occurred at the Hausa Market along the Benin – Warri Road, Amukpe, Sapele,
It was further gathered that many lives would have been lost if the police had not responded promptly as the squad led by Harrison Nwaboisi; a Chief Superintendent of Police stormed the scene to stop the fight and brought the situation to normalcy. However, the herders were said to have caused a lot of damage before the arrival of the police,
According to an eyewitness, the clash was triggered by the killing of an Hausa boy from Nassarawa who was stabbed on Sunday night when he visited the camp of some Fulani herders close to the market.
It was further learnt that the Hausas, especially those from Nassarawa mobilised and attacked the herders' settlements in the bush on Monday morning.
The Fulanis responded to the attack by fighting back, resulting in a battle that got people who are neither Hausa nor Fulani running for their lives.
Ibrahim Umoru, one of the traders in the market said the crisis started after an Hausa boy was stabbed by a Fulani man because he was found around their camp.
"Maybe he thought the boy came to steal from them, he did not ask why he was there, before attacking him". Said Umoru.
"The matter came to us this morning and we can't just sit down and watch them attack us every time, we want to tell them we are not fools," he said.
A Fulani herdsman, blamed the Hausas for the fight adding that they were peace-loving people.
The Delta State Police Public Relations Officer, Edafe Bright; a Deputy Superintendent of Police could not be reached as at press time.