BBA 2021 ELECTIONS : TRADERS INSIST ON ' OJIJI – ERIJI' , CHIEF (DR) JOHN EZEAKOR, AS THEIR NEXT ASSOCIATION PRESIDENT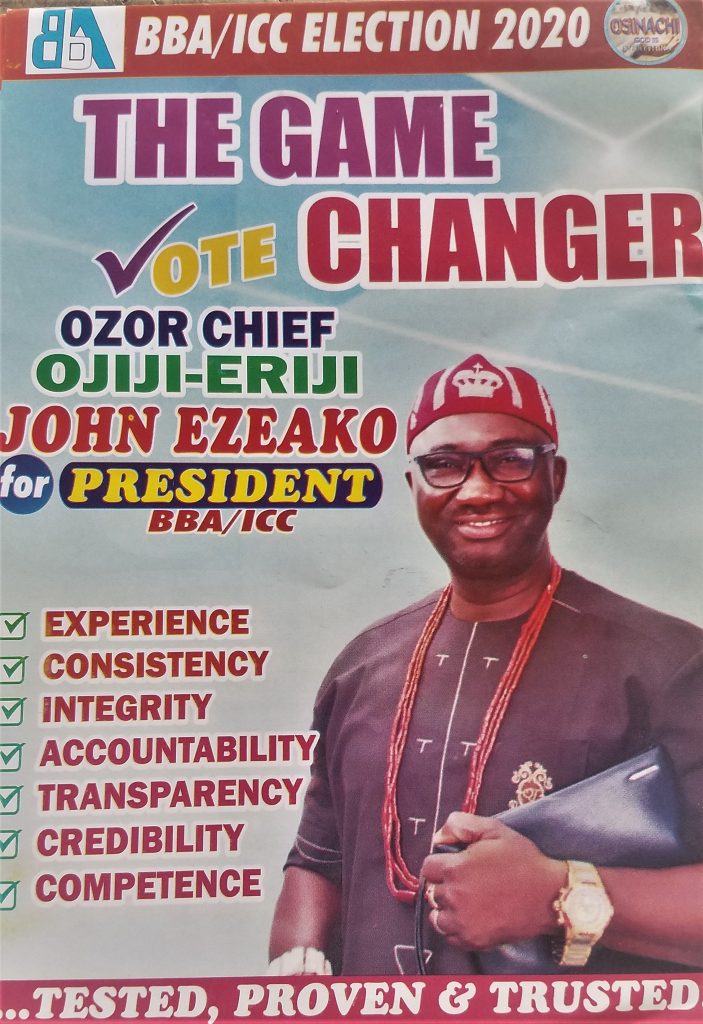 If all the credible opinion polls conducted at the Multi Billion Naira Balogun Business Association international market is x-rayed, genuine Traders doing business at the crisis ridden market, appears to have unanimously chosen High Chief (Dr.) John Ezeakor as their next Association president come July 28th, 2021 general election.

Atmosphere at the market ,our correspondent reports, is highly electrifying, after the alleged botched attempt by Chief Okey Ezeibe led opposition group, to forcefully foist an illegal leadership, thus, traders agree that they have focused their attention on getting a trusted, tested genuine trader as their leader come July 28th elections
Majority of the traders who participated in the pre- election opinion polls, favored the Election of Chief John Ezeakor candidature, as they vowed to resist any attempt to force on them an alleged candidate being fronted by Chief Arthur Eze , who they argued does not trade with them and has no stake in the affairs of the market.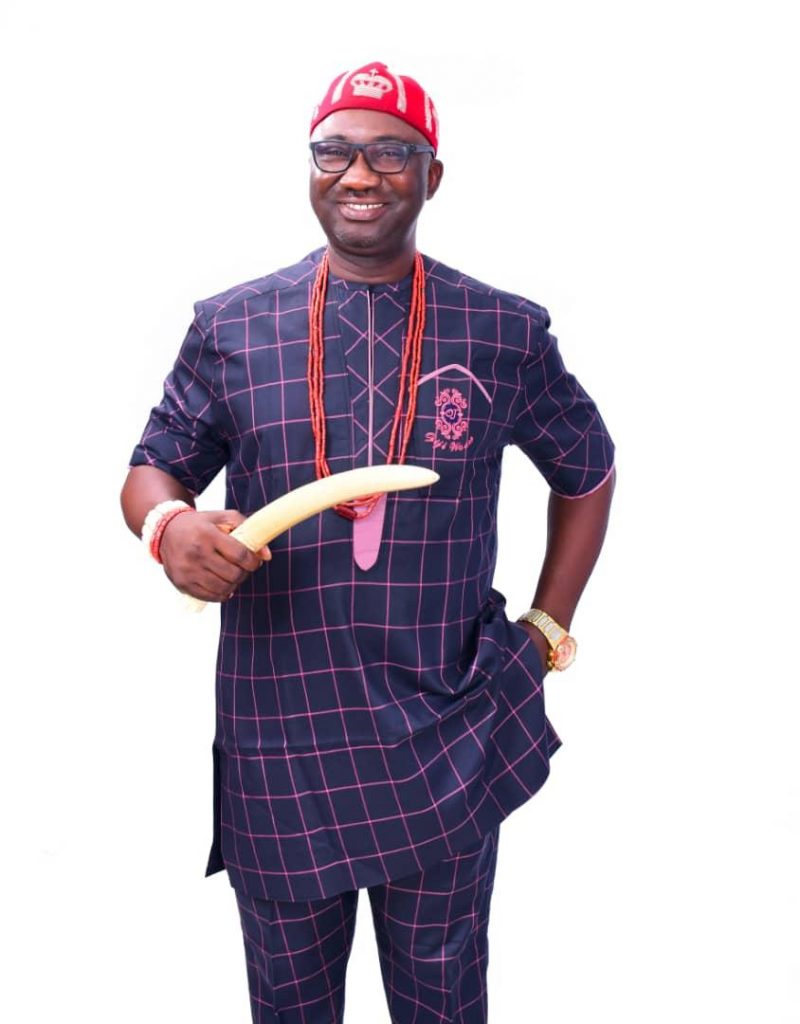 In an interview with our Correspondent, Chief Wisdom Okoye, who said that he was speaking on behalf of the larger traders block in the market stated thus : " We must stop this idea of discriminatory politics in this market. iam from Anambra State but that is not enough for me to always insist that an Anambra man must be president. Anambra State have been producing presidents from inception, starting with chief Leonard Ogbonna to okey Ezeibe down to Chief Tony Obih, it is time to allow other states like Enugu, Imo, Abia. Ebonyi etc to produce a president of our Association, because it is not Anambra state birth right. If we are condemning Hausa/ Fulani oligarchy for insisting on leading Nigeria at the detriment of other highly educated and qualified Ethnic groups, why do we Igbos discriminate against each other by always insist that Anambra State must lead and produce market president.This was exactly what led Chief Okey Ezeibe, whom we all know was not trading in the market, was allowed to come from his car dealership outside the market and hijacked the market. Now, see the results, crisis everywhere. "
According to Chief Okoye, the time has come in this market since 1990 that we relocated from Lagos island to the Trade Fair Complex, that Genuine traders should be allowed to lead us.That is why this rumour of Chief Arthur Eze,fronting a Candidate, is very annoying and must be rejected and resisted by all geniuine traders. a man , who has nothing to do with us here , this is getting me angry " Continued he : "Infact, out of the five presidential candidates, now reduced to three, due to the kangaroo election at villa park hotel ,where two loyalists of Chief Okey Ezeibe participated, ' OJI-JI ERIJI ', I mean Ozor High Chief (Dr.) John Ezeakor, is the most qualified, responsible and acceptable candidate to all geniuine traders in our Association. "
" He is a Game Changer, two term Treasurer of BBA, Experienced, credible, accountable, consistent, competent, transparent, full of integrity and a professional trader and business man with leadership acumen to the core.We don't care if he is from Enugu State or Imo, he has invested heavily in the market and we are sure that his victory will bring expected growth, improvement and peace that has eluded us and which we yearn for. I sincerely beckon on my fellow Anambra State eligible voters and other traders to work towards his victory at the polls come July 28th elections. Above all, he is our Anambra Inlaw, as his wife is our sister ", Chief Okoye stated .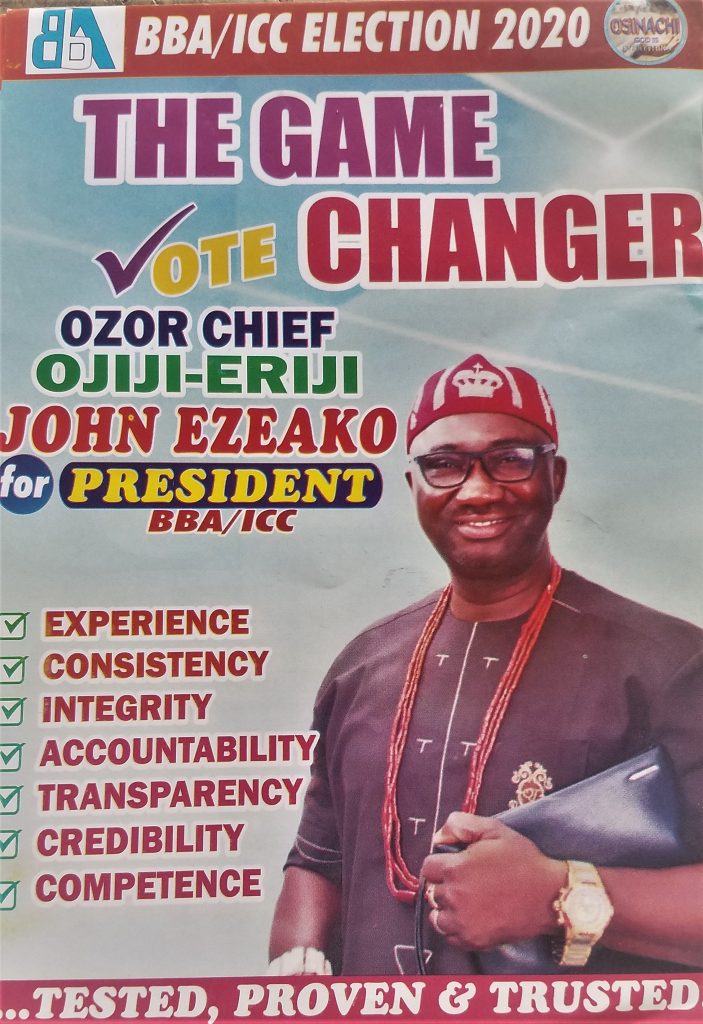 Collaborating Chief Okoye, Mr. Jackson Egwu, noted that the problem of BBA is discrimination, okey Ezeibe, Chief Alex Obi Odunukwe , a.k.a Pele, Oscar Paul ikechukwu Odogwu and others.
Egwu, who vouched for OJIJI -ERIJI Credibility, while urging traders to cast their votes for High Chief John Ezeakor, stated that his emergence in BBA Politics and Victory in the forth coming elections, would change the narratives in the market .
Speaking on his manifesto and Agenda, Chief John Ezeakor, a Soft spoken market leader, who stated that he was not a pushover in BBA politics, promised to restore peace in the market, abolish Touting, unacceptable electricity and utility tariffs, taxation and double standards.