APC Members Slam  Fake "Ohanaeze Political Forum", Over Forgery, Blackmail Discrediting Endorsement Of Asiwaju Bola Ahmed Tinubu By Ndigbo In APC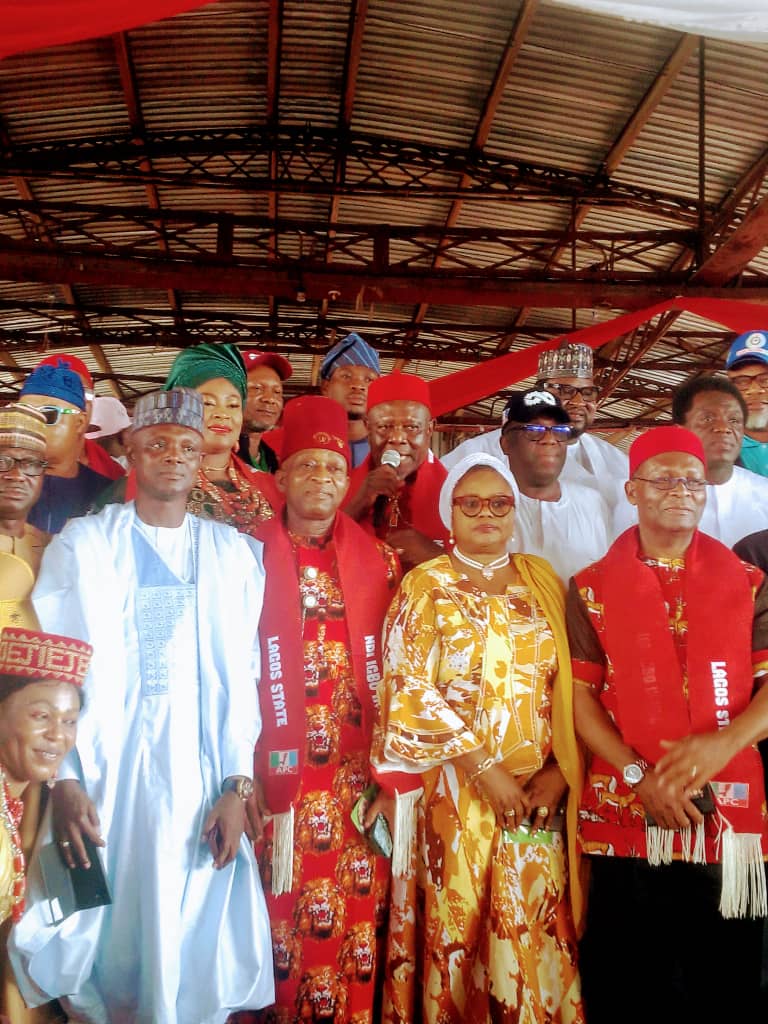 The All Progressive Congress Party, APC Faithfuls,  have lambasted the impeached former president of Ohanaeze Ndigbo, Chief Solomon Aguene and the sacked Deputy Coordinator of Ndigbo in APC, Chief Chris Ekwilo,  over alleged Forgery , circulation of a fake letter and blackmailing, aimed at discrediting the public endorsement of the party's presidential Candidate,  Asiwaju Bola Ahmed Tinubu  and the Lagos State Governor Babajide Sanwo Olu by members of Ndigbo In APC group.                                                   

Many of APC die-hards, who spoke with our correspondent, berated Aguene and Ekwilo for working against the Party in it's bid to garner massive support come 2023 elections, despite unmeritedly benefiting handsomely from the same Asiwaju Tinubu and Governor Sanwo Olu, even  frequently going cap in hands to government house, begging for financial assistance from Lagos state Governor. 
Suggesting possible reason for such ingratitude exhibited by the duo of Aguene and Ekwilo, who they said are  masquerading under the fake "Ohanaeze Ndigbo Political Forum",   An APC Chieftain, Chief Gabriel Amadi said :  " All these despicable forged letter and blackmailing social media stories are product of  desperation and greed on the part of former Ohanaeze Ndigbo president , Chief Solomon Aguene ,  Chief Chris Ekwilo and their group, especially since having been Shamed and Silenced by the resounding success of the recent Igbo political support rally for the APC presidential Candidate, Asiwaju Tinubu and the Governor Sanwo Olu . Obviously bereft of fresh political ideas to seek relevance in the party and  desperate to get recognition in APC  Lagos State , they resorted to forgery and indirectly blackmailing APC, Asiwaju Bola Ahmed Tinubu, in their failed bid to discredit the widely attended endorsement summit Organized by Ndigbo in APC, Lagos State."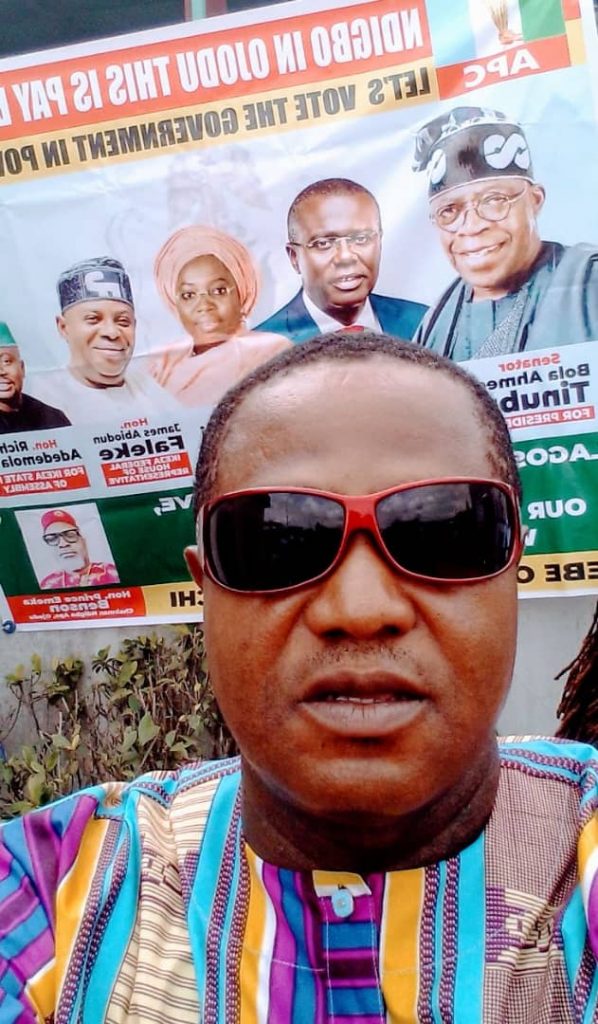 According to Ndigbo In APC leadership, "this failed plot to blackmail Asiwaju Tinubu and discredit his endorsement by Ndigbo in APC, came to limelight last week, when a poorly managed media hatchet job circulated with Forged unsigned ungrammaticaly worded letter typed in a fake computer generated Ndigbo in APC letter headed paper,  purportedly written by Engineer Joe Igbokwe and Eze Uche Dimgba and one other person, surfaced in the social media
The group while further debunking the allegation which it said was the handiwork of mischief makers within the Igbo circle, who deceptively maligned Ndigbo In APC,  as having demanded  for the sum of N26 million from Governor Sanwo Olu to organize the mega summit, Stated clearly that  "Aguene and Ekwilo Surreptitiously but Unintelligently had by their sponsored media attack accepted responsibility for circulating the forged blackmailing letter, published in an  online newspaper, where they falsely and senselessly alleged that this their forged letter was a letter written by  Uche Dimgba and Joe Igbokwe."    
 Also dismissing what it called illogical  falsehood being circulated by Aguene and Ekwilo, which was aimed at tarnishing the image of the two great Igbo leaders and Ndigbo in APC, the groups Director Media, Comrade Anyanwu Emeka Osukwu,  queried how Igbokwe and Eze Dimgba could have originated such a demand letter and addressed it to the same Igbokwe, instead of addressing it directly to  APC Chairman and the Governor,if it was meant for them.                                                                                     
Describing the story as petty , laughable,  height of stupidity,and  ignorance, Osukwu noted that the media attack was a direct affront directed at the APC State Chairman and other Executive members of the party who attended the endorsement summit,  noting that Aguene and Ekwilo's publication was an embarrassment ,  a blackmail and an indirect insult to Asiwaju Bola Ahmed Tinubu .                                    
While further debunking the falsehood, Osukwu in statement said thus : " Igbos in  APC will never beg for money to campaign for their choice candidates, as our group is endowed with wisdom to create wealth ".
"It has come to our notice of a frivolous message being circulated on social media through Gazette online authored by one Adefemola Akintade and dated October 6,2022, and other online newspapers, wherein the faceless writer stated that Ndigbo in Apc Lagos wrote a letter to governor of Lagos State,Mr Babajide Sanwo-Olu and Asiwaju Bola Ahmed Tinubu, to solicit funds for the town hall summit at the Blue roof."
He noted that his group would have chosen to ignore this false statements but for the benefit of general public who needed to understand their side of the story.
For Osukwu, "this campaign of calumny has shown again the desperation of some group of people who are there only to destroy the good job being done by Ndigbo in APC for the party on the task to massively mobilize igbo votes for our party to win 2023 elections by a landslide."
Clearing the air, he said that the document being circulated in the social media is not authentic and does not belong to his group as it was not even signed by anyone. He however noted that the group had internal memo which was addressed to Joe Igbokwe (Our Apex leader) as a budget to enable us leaders raise the money to run the program. "After which, we sat down looked at the budget raised the money between few days by ourselves and implemented our program."
"Ndigbo in APC is a serious organisation with a lot of prominent Igbo people who are into businesses in lagos and are not looking for what to get from the government but always willing and able to support the government especially Asiwaju Bola Ahmed Ahmed Tinubu,Gov Babajide Sanwo-olu and all our candidates in the 2023 election.Let the mischief makers continue sending their fake message around.It doesn't make any sense and has no impact."
Educating those he called ignorant mischief makers while Justifying it's internal fund raising mechanism for the their last held summit, Osukwu said that" Every knowledgeable person knows that there is no way you can put up that kind of ceremony without spending money. Even if it is an ordinary wedding ceremony you must spend money; much more when thousands of people were mobilized for a political event".
"The hall will not be given to you free of charge. The souvenirs,the drinks, foods and the people who sacrificed their businesses and came for the event have to be transported to and from."
Challenging the mischief makers, he vowed thus : "We are ndigbo in APC Lagos and nothing will change as we would continue to enlighten and mobilize our people for the task ahead and ensuring that we massively vote our candidates in all the elections."