ANTI – IGBO PLOTS  : Professor George Obiozor Berates Sacked Lagos Ohanaeze Ndigbo President, Says ' Solomon Ogbonna Aguene has gone Mad'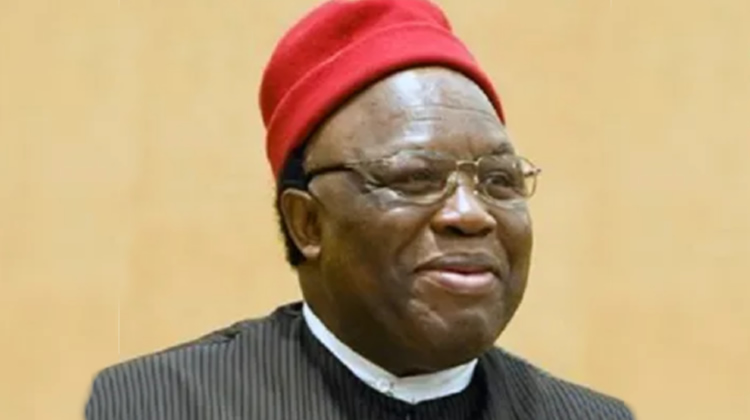 Alarmed over alleged recent utterances and some  untoward activities of the embattled impeached former president of Ohanaeze Ndigbo Lagos State, Chief Solomon Ogbonna Aguene, the National Leader and President General of Ohanaeze Ndigbo World Wide, Professor George Obiozor , has berated the anti -Igbo activities being exhibited by the recalcitrant sacked president, saying " Ogbonna has gone Mad' and should be resisted by all true Igbo sons and daughters. 

The elder statesman and erudite professor , was quoted to have enjoined Igbo  residents in Lagos, Elders, Ezes, sons and daughters,  to use all legal and constitutional means to resist such dishonorable and selfish ambition and activities of the Impeached former president,so as to redeem the Igbo image that has been dragged into mud. 
Professor  Obiozor, who had dispatched a  high powered  election monitoring team from Ohanaeze Ndigbo World Wide, Enugu headquarter, during the last polls that elected Chief Ossai Stainless Sunday , as the incumbent president of Ohanaeze Ndigbo Lagos state chapter, was quoted to had advised sacked Chief Solomon Aguene , to abide by Ohanaeze Ndigbo bye laws and constitution, and to ensure that he conducted credible election towards handing over in July, 2022. 
 The revered leader of the Pan Ndigbo socio cultural Organization,  was also said to had fore warned Aguene of the consequences of greed and selfish ambition to truncate a legitimate leadership process that had existed since 1947, which he disobeyed, leading to his impeachment.                                             
The Internationally respected Igbo national leader who sent the message to Igbo leaders in Lagos, was further reacting to sad news and reports of alleged unprovoked, deliberate falsehood, incitement , plots to cause disaffection and disunity amongst the Igbo sons and daughters resident in Lagos state, said to have been ochestrated by Chief Solomon Aguene, who was impeached by the general assembly last June 16th, 2022, over alleged abuse of power, unconstitutional and untraditional attempt to extend his tenure by procuring a  Consent Judgment fraudulently.