SCOAN BIZARRE MIRACLES : Evangelist Adeyeye Reveals How TB Joshua Walked On Water, As Synagogue Church Of All Nation Celebrates Late Prophets Post Humours Birthday In Grand Style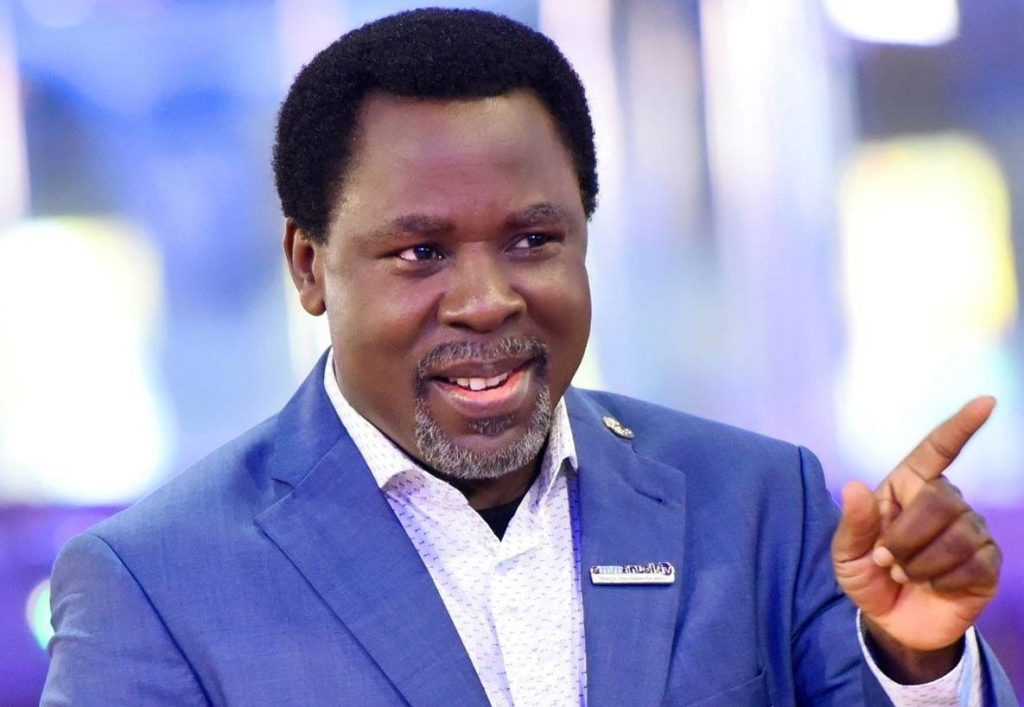 Late Prophet Temitope Balogun Joshua , represents different things to different people.                 

Infact,  some of his critics swear that the late prophet was demonic and occultic , while his followers and die hard  adherents of his brand of Christianity , profusely revered and painted him as a saint .              
Indeed, one of the leading exponents of the late Prophet TB Joshua's numerous and mind boggling miracles, known as Evangelist Adeyeye Opeyemi ,   last Sunday stretched the controversy surrounding TB Joshua's exploits in areas of Strange miracles to a new dimension, when he almost blew the minds of his audience, by announcing that he was a living witness the day TB Joshua Walked On Water as The Lord Jesus Christ did in the Bible.                                                                                                                         
Evangelist Adeyeye, who was ministering at the special post humours birthday celebration, started his sermon with the ideals of true love , which he likened his late mentor as representing the epitome of love. 
Suddenly, as he was preaching in the charged atmosphere already filled with nostalgia and reminiscence , Adeyeye   paused as if to draw the attention of his audience, and declared " I don't know if Iam permitted to say this,  Prophet TB Joshua was very humble and exhibited true love.He walked on way and told us not to tell anyone, I was one of those that saw it", he revealed.                                                                     
He Continued :  " I  saw prophet TB Joshua in a revelation, where he asked me to tell you people " to spend your money in helping the needy and less privileged and contribute towards projects that affects lives."                                                                                               
The event which commenced with songs and praises, saw the congregation dance away their troubles and sorrows to the Rythm of the melodious music.                                                                                     
Immediately Adeyeye mounted the podium, he was able to recharge and change the atmosphere in the auditorium with his message of love.                                                                                   
Still dwelling on the life, legacy of TB Joshua, Adeyeye , who preferred to be addressed as 'Love or Prophet leave it for God', poured encomium on his mentor, calling him a General who made Jesus Christ name popular and revived this generation with love.                                                                                     
While reading from the Bible book of 1 John chapter 4 verse 7-8, 1 Corrinthaians , chapter 13 verse 15, Galatians Chapter 5 verse 6, Hebrew chapter 11 verse 6, he said hatred is powerless but love is greater than faith, hence love in action,  is God at work.                                                                                             
According to him, "Prophet TB Joshua knew he would be betrayed, persecuted , ill spoken of , but he continued showing love, perceivered , forgave his critics,  because love is forgiveness and he knew they were ignorant. The most important aspect of an individual life is  love" , he said.                                                                                                                                                                                                          However, for the Synagogue Church Of All Nations , SCOAN members, Sunday June 12, 2022 would go down in the history of the Church,   as a day members  and worshippers from different parts of the world congregated to celebrate the life and legacy of Prophet Temitope Balogun Joshua who died on June 5, 2021 a week to his 58th birthday.
The Synagogue founder and prophet of his time was credited to be a global personality who took the message of love and divine healing across continents.
At Sunday birthday service were personalities from America, Europe, Asia and different African countries whose presence were a confirmation that Joshua truly impacted lives beyond the shores of Nigeria throughout his years of gospel ministration and prophetic activities.
Continuing on Preaching on the theme "THE POWER OF LOVE" during the service, Evangelist Adeyeye, (one out of the five leading Evangelist and leaders piloting the church after the late Prophet) further reinterated that Prophet TB Joshua lived a life of love and sacrificed so much for others as he believed that "life is love and love is life."
Further describing Joshua as God's friend, a marshal who tried at all times to extend the love of God to humanity irrespective of race or religion, Adeyeye enjoined Christians any where they may find themselves to always live for others by showing love as "there is nothing to compare with love." He added that where there is love, there is fullness of grace.
He emphasized that "love is the true measure of true spirituality, it stoops and does not belittle any one."
Evangelist Adeyeye disclosed that Prophet TB Joshua in his life time acknowledged the fact that he would be betrayed, castigated by people but he never relented in doing what God sent him to do by showing love and even forgiving all his critics. He loved his enemies.
In her message to the worshippers on her husband's post humours birthday, Pastor Evelyn Joshua thanked everyone all over the world for loving Prophet TB Joshua and extended the same love to her and the entire family.
According to her, the great prophet would continue to be celebrated for all he stood for, which was no other thing than showing of love to humanity.
She added that "today marks a milestone in the life of TB Joshua, our teacher, mentor, my darling who would have turned 59 years today but we take solace in the Lord that he is with the Lord. Everything we do in life is of grace. In Christ Jesus we live."
She continued: "As we celebrate Prophet TB Joshua today, let us remember his words: CARE FOR THE NEEDY wherever they are. Let us live each day as it were our last. Reach out in love, peace and justice."
She emphasized that the Synagogue Church of All Nations is open for every worshipper, adding that it is an arena of liberty.
Some highlights of the event was cutting of post humours birthday cake by one of Prophet TB Joshua's daughters who was joined by some visiting foreign men of God and others. There was distribution of DVD copies containing messages and stickers of the late Joshua to all worshippers.
The birthday service was filled with some air of excitement that in spite of the demise of the Synagogue Church Founder, worshippers were still in thousands with a lot of testimonies to show that the presence of God is still very much in place in the Church.  The congregation were in a frenzy as they sang and danced in celebration of the late man of God's birthday each time the choristers were on stage to perform.                                                                                   
On a sad note however, over 14 Journalists invited from various media houses, who were in the church auditorium before 7.30 am and grudgingly left 5.30pm, were  disappointed and stranded when the initiator of the invite and acclaimed Synagogue Church Media Coordinator known as Mr. Oladele, aka Salvador, bolted away with the transportation and entertainment money meant for the press, even as the church Elders, Leaders, pastor deserted the disappointed Journalists.