POMP, PAGEANTRY , AS MIRACLE MAN OF IGANDO , APOSTLE PASCAL GOODNESS, FETES MEMBERS, FAMILY, FRIENDS, WELL WISHERS ,AT HIS WIFE'S UNIQUE THANKSGIVING SURVIVAL SERVICE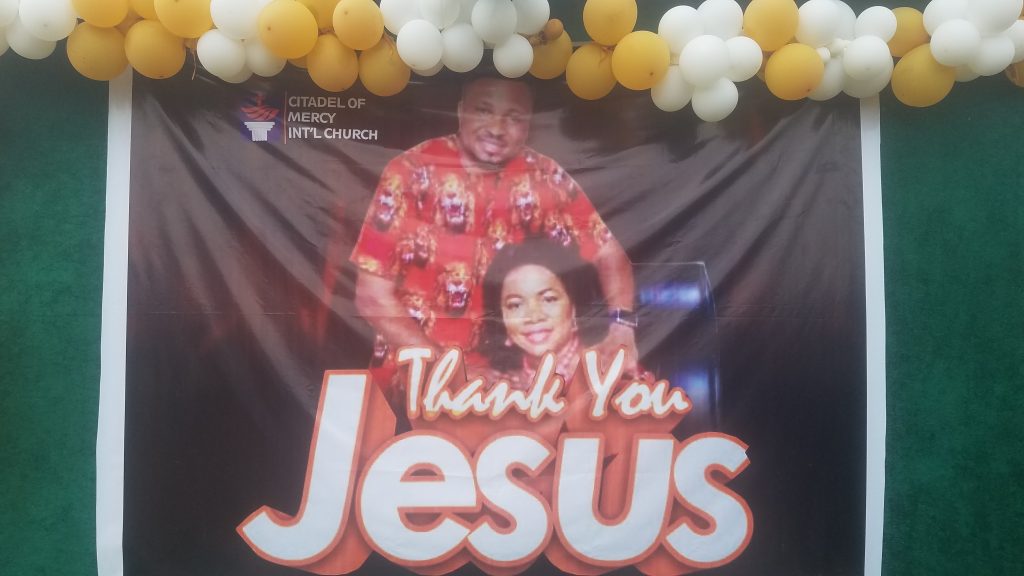 It was pomp and pageantry , Something beyond usual and every day thanksgiving , as the Miracle Man Of Igando, Popularly known as Prophet of evidence, Apostle Dr. Pascal Goodness , fetes his congregation, friends, admirers and well wishers, at his wife's Survival party and thanksgiving Service.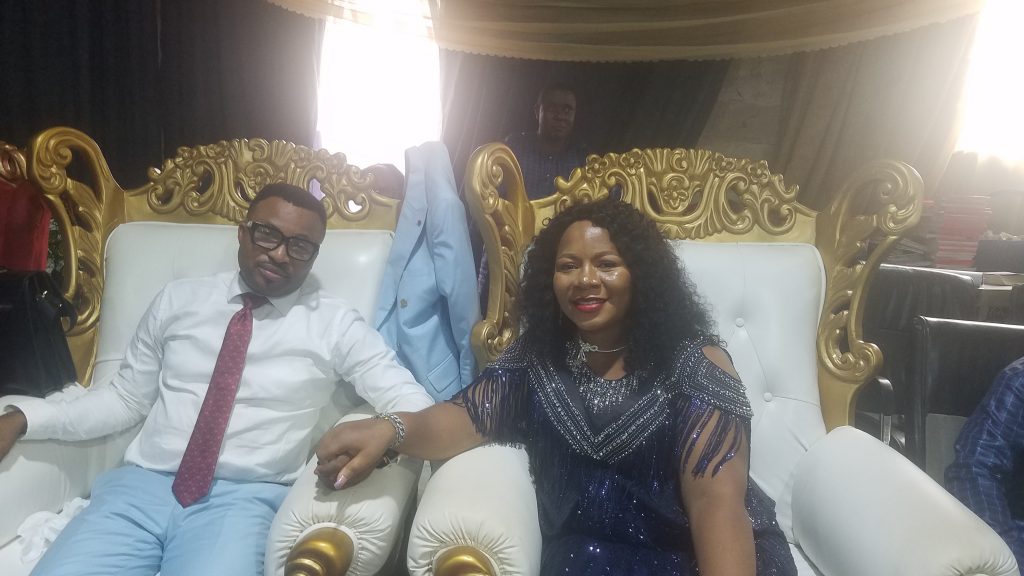 What originally was billed to be a short Service that commenced 10 am at the Citadel Of Mercy Ministry, prelude to her party , in appreciation to God that delivered his adorable wife and woman of God, Pastor Mrs Okwuchi Pascal , from the valley of the shadows of death, which came as kidney transplant operation, turned into an atmosphere of Miracles, prophesies and testimonies, as Holy Spirit took control of the large auditorium .
Under the unction of Holy Spirit , invited Guest Minister, Apostle John Tobi Stanley of Word City Apo Resettlement, Federal Capital Territory, FCT, Abuja, took charge, dishing out incisive prophecies as the Holy Spirit granted his utterances.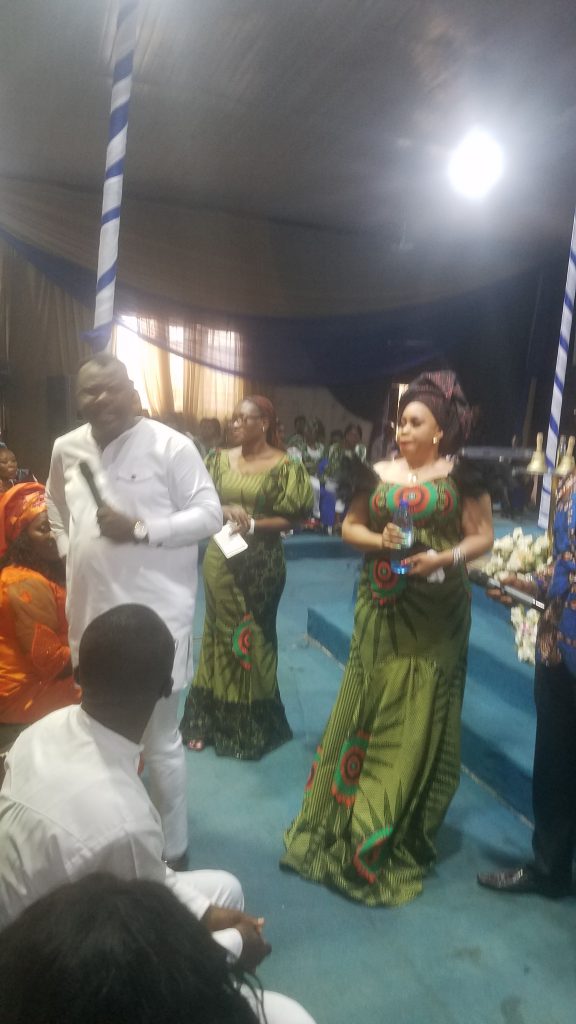 Some People who were revealed during prophecy, to be under the pangs of death ,were instantly delivered, while those on the verge of financial strangulation, were relieved.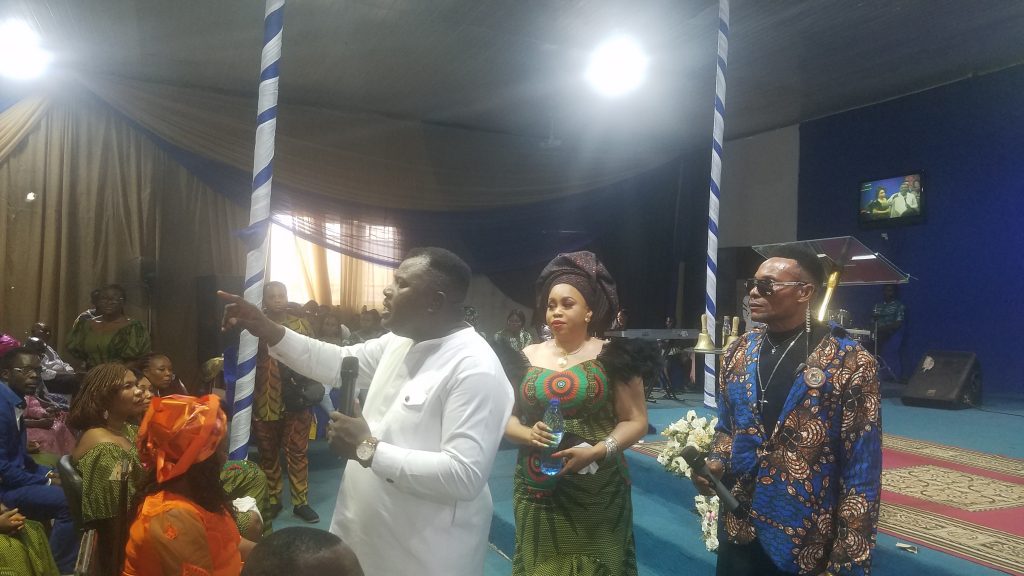 However, the flagship of all Prophet John's Prophetic ministrations, was the release of a suspected drug peddlar, whose court judgment was supposed to have been pronounced on Monday morning, October 4th, 2021 in the USA .
Indeed, with Symbolic table salt in Saucepan, prophet John after prayers, assured the suspects elder sister who brought the petition before God, that the brother in detention would be released on Monday , as the cocaine substance found on him would automatically turn into salt in the USA, thereby leading to his acquittal.
Earlier , the Congregation went hysterical as Gospel singers and church choir dished out syntilating songs to the appreciation of Guests.
True to her name Okwuchi, meaning word of God, the celebrant attracted the attention of all guests in the service as the amiable and adorable gallant woman of God was ushered in the church auditorium accompanied by her mother, children, friends, members and husband , who brought a gift of a live Cow as present to God.
Infact the exclusive but colorful ceremony witnessed the creme de la creme of the society, including some Nigerian Police Officers and Journalists.
Tributes poured in like torrents , at the venue of the occasion , as everyone extolled the virtues of the woman of substance.
As she takes the center stage, every guests appreciated her stunning flowing outfit, reminiscent of a royal ceremony, that left all in great admiration. Her gorgeous apparels it was learnt, was specifically designed for the occasion.
Indeed , the event was all full of emotions, fun, thrills and paparazzi, as one of the best adorable, kind hearted woman of God, socialite and lovable lady of substance, pulled crowd of dignitaries and bigwigs to her humble church, in rare Thanksgiving to God Almighty that spared her life after suffering from the ailment since 2003.
The occasion was in tandem with the philosophical words of a great writer, late Paul Anueyiagu , that "It is more glorious to celebrate achievers while alife, so that they will witness, than when they are dead."
Little wonder friends, families and well wishers deemed it pertinent last weekend, Sunday, being precisely October 3th, 2021, to honor the great 'lioness' of Citadel of Mercy Church, as she is fondly called by her inner circle friends and admirers.
She was celebrated in a highly electrifying carnival of some sort, where many high ranking police officers, thronged to the venue in a show of solid amity.
When Apostle Goodness took over ministration at the pulpit, a pious and heavenly atmosphere was created at the event that was still ongoing as at 6.30 pm .
Friends of Pastor Mrs Pascal remarked that ,With her remarkable quality of resilience, determination and boldness, she weathered all storms of life and surmounted trials, to become a successful mother and envy of her compatriots.
Truly, her life story of success from grass to grace, has been a turning point and reason her friends gets endeared and magnetized to her, which was evident at the event.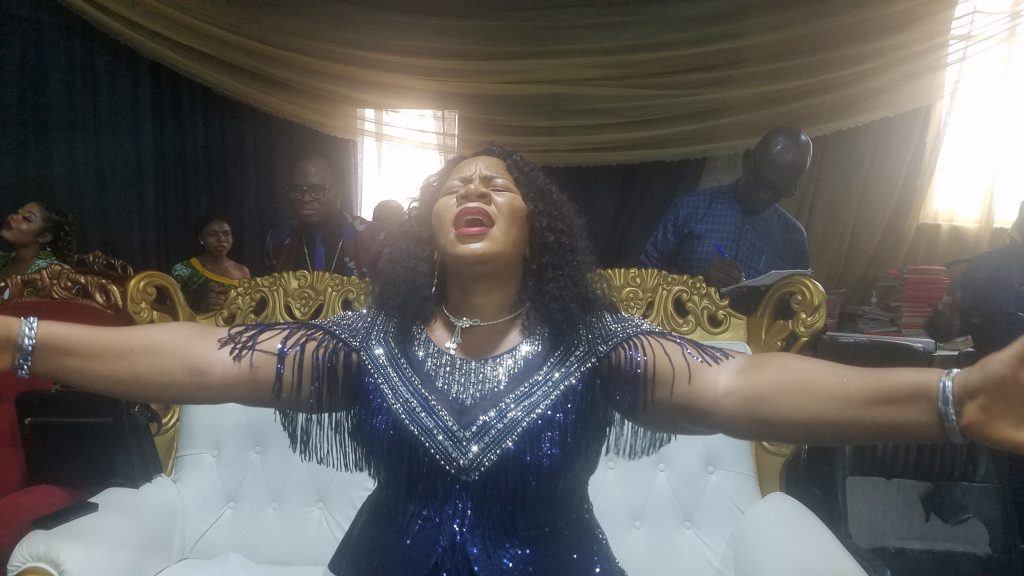 Mummy, as they fondly call her ,was said to have followed her heart when she got married years ago to her heart thromb, Apostle Pascal.
Blessed with both Male and female children, she has a life style that is rooted in Christianity, as she constantly insisted that her life and family depended on God in all their activities.
Her Church Members adjudged her as a down to earth woman, who would not contribute to anything that will cause problems and she also gladly participated in their members activities, while many other people testified of her advisory capabilities once contacted.
Speaking with Journalists, Pastor Mrs Pascal, who was full of excitement, expressed her heartfelt gratitude to God while standing with her husband and other invitees, at the green carpet spot. She also expressed her candid appreciation to her guests.
In her words : "I give God Almighty who said that I will be alive today all the glory.I thank my husband, families, friends and well wishers, who stood by me during my illness and the difficult times, especially my husband who was inside the theater with me as my backbone . "
In his own words of appreciation , Apostle Goodnews glorified God for sparing her life ."She is precious to me and special to the entire Citadel Of Mercy Church family, being a very supportive wife, hence we rallied round to celebrate her , pray and thankful to God for keeping her alife".
Most of the guests who thronged the occasion, did not only celebrate Pastor Mrs Pascal, but they joined the rest of the Church members to dance and exhibit exotic dance steps in appreciation of God's Mercy .
For instance, the Celebrants Mother, known popularly as Mama Okwuchi , praised her daughter and husband ." she is lovely, friendly, always willing to help , taking your problems as hers. "
Supernumerary ACP stated thus: " its important that this event is given a limelight because she survived turbulent period .We thank God for her survival .she is open minded, examplary , dedicated and hardworking and that is why iam here today with my family "
While Others like the Parish Pastor of Citadel International Church, Reverend Nelson Samuel and his Assistant , Pastor Benjamin Obiora, thanked God for her life and prayed God to continue to keep her healthy.
However, Some of church choir members caused a stir, as they accompanied the celebrant as her entourage to the pulpit, exhibiting their latest dance styles to the admiration of other guests.
Indeed, it was a big bash, food and drinks of various descriptions were not in short supply , as the ever smiling celebrant ensured that every guest had enough to eat and drink .