Oriade LCDA Ezeship Contest Finally Ends, As Ohanaeze Ndigbo Issues Certificate Of Recognition To Eze Emmanuel Chukwu Akalika Madu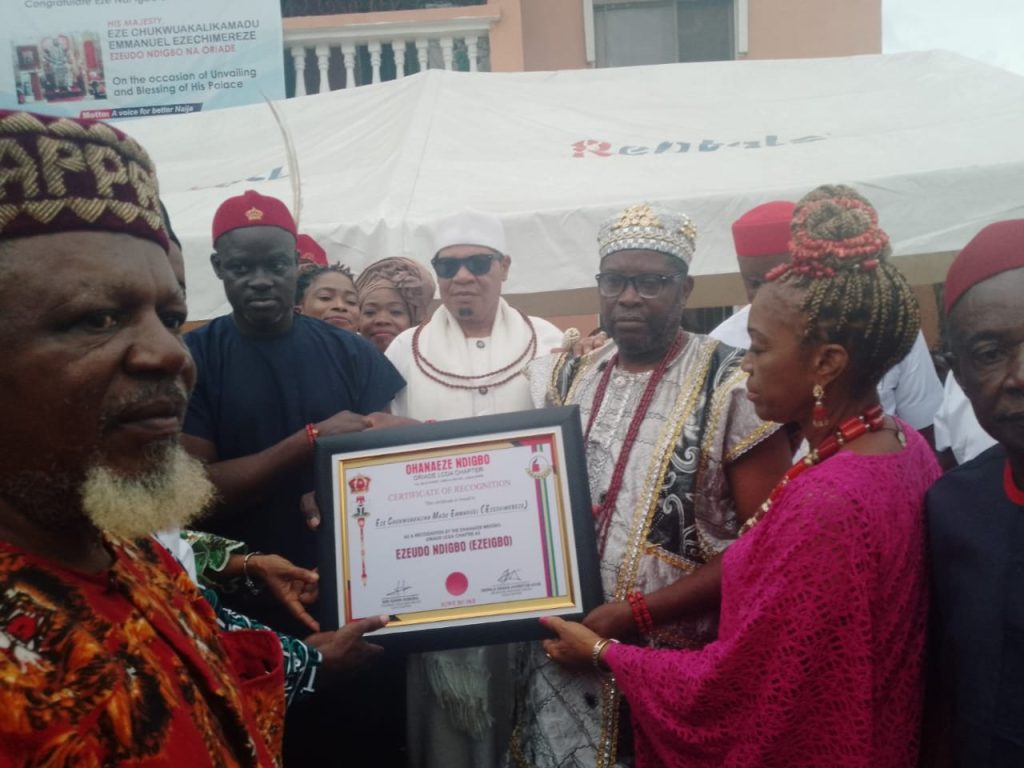 The hitherto raging controversy surrounding Eze Ndigbo Title in Oriade LCDA, has finally been put to rest.

News Planet International reports that the much needed peace and resolution of the Ezeship tussle was achieved last Sunday, May 14th, 2023, with the certification of the authentic Eze, who is titled "Eze Udo, Eze Chimereze Emmanuel Chukwuakalikamadu, as Eze Ndigbo in Oriade LCDA.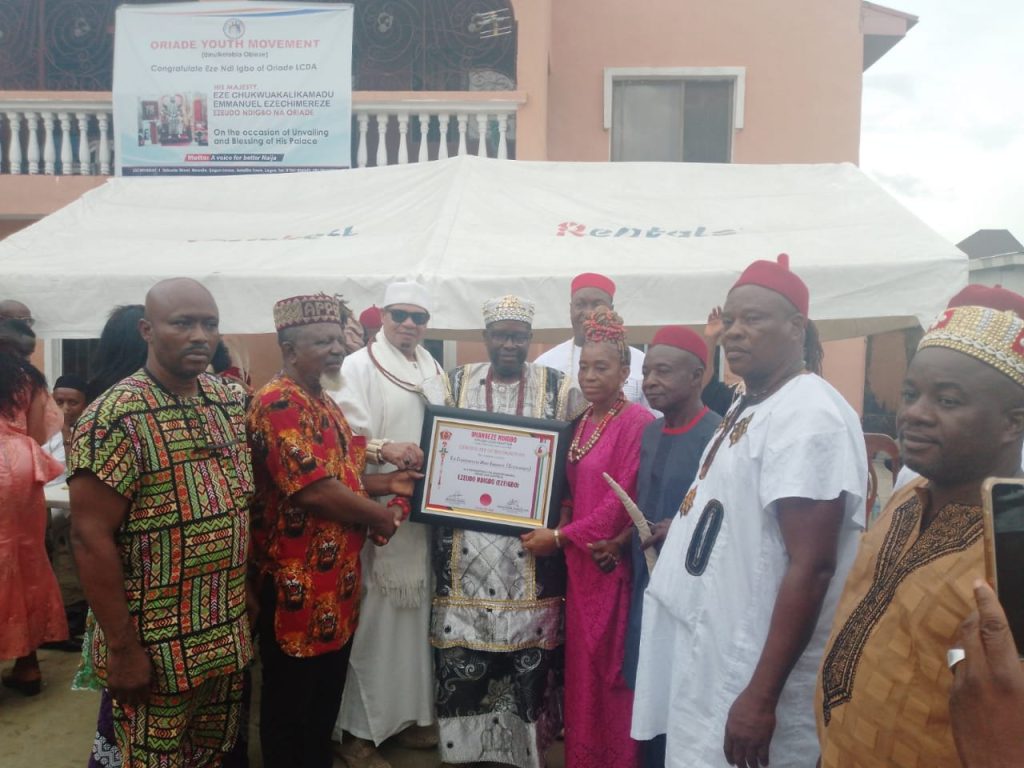 According to our correspondent, the certificate of recognition was handed over to the Eze by the Pan Igbo Social – Cultural Organization, Ohanaeze Ndigbo Lagos State, Oriade LCDA Chapter.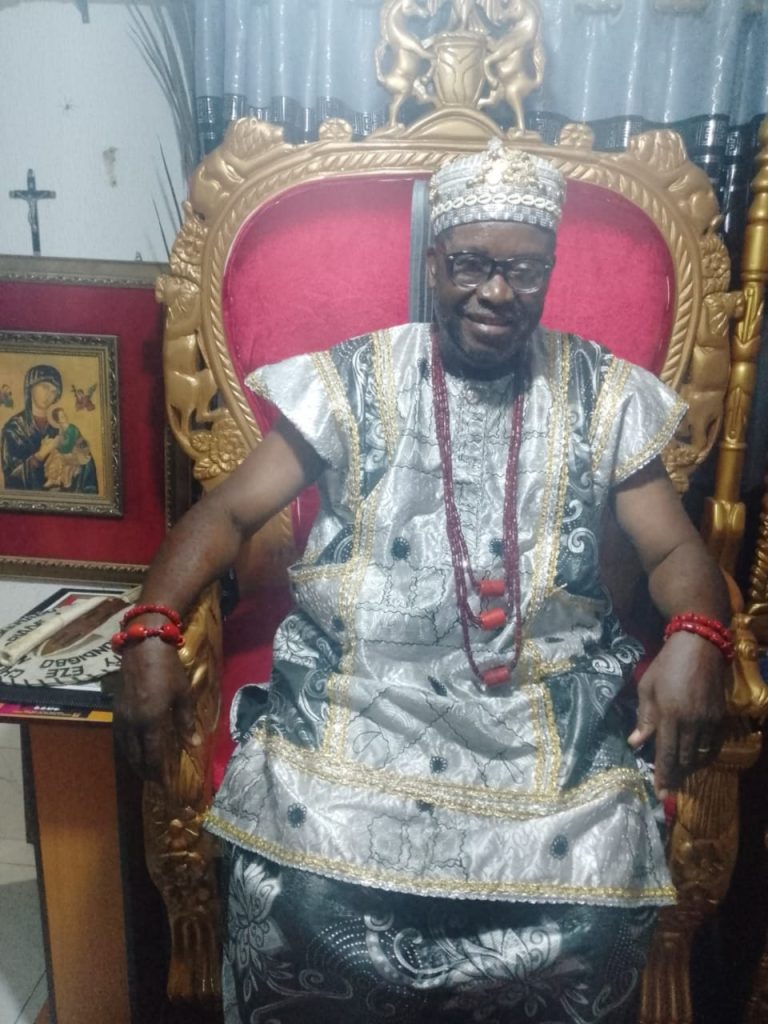 At the colourful event to support and congratulate the victorious Eze Chimereze Emmanuel Chukwuakalikamadu, was the Emeritus President of Ohanaeze Ndigbo Lagos State, Barrister Fabian Onwuhalu, One of the oldest Eze Ndigbo in Lagos, Eze Dr. Chigbuo Elui, Eze Ndigbo of Amuwo Odofin Federal Constituency , Deputy Chairman, Supreme Council of Ndieze Ndigbo, Eze Ndigbo in Shasha, Eze Vincent Iwobi, Eze Riverine, King Maker, Ochiagha Ikechukwu Mark Onyemaechi, Executive members of Oriade LCDA Chapter of Ohanaeze Ndigbo and cabinet members of Eze Chimereze amongst other guests and dignitaries.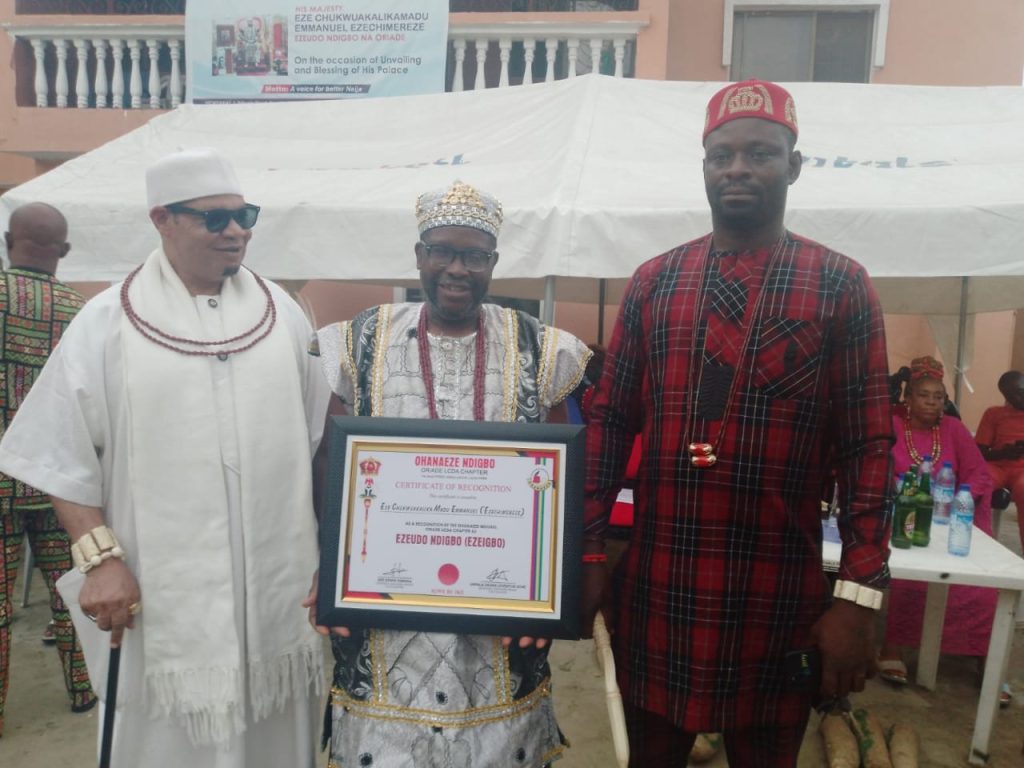 Presenting the beautiful Certificate of Recognition to Eze Chimereze, was the Oriade LCDA Chapter Chairman of the Ohanaeze Ndigbo Lagos State , Nze Edwin Egbuka, popularly known as " Eze Ezieokwu", who used the occasion to praise the Eze for his peaceful disposition, patience, credibility , leadership qualities and contributions to Igbo residents in Oriade LCDA .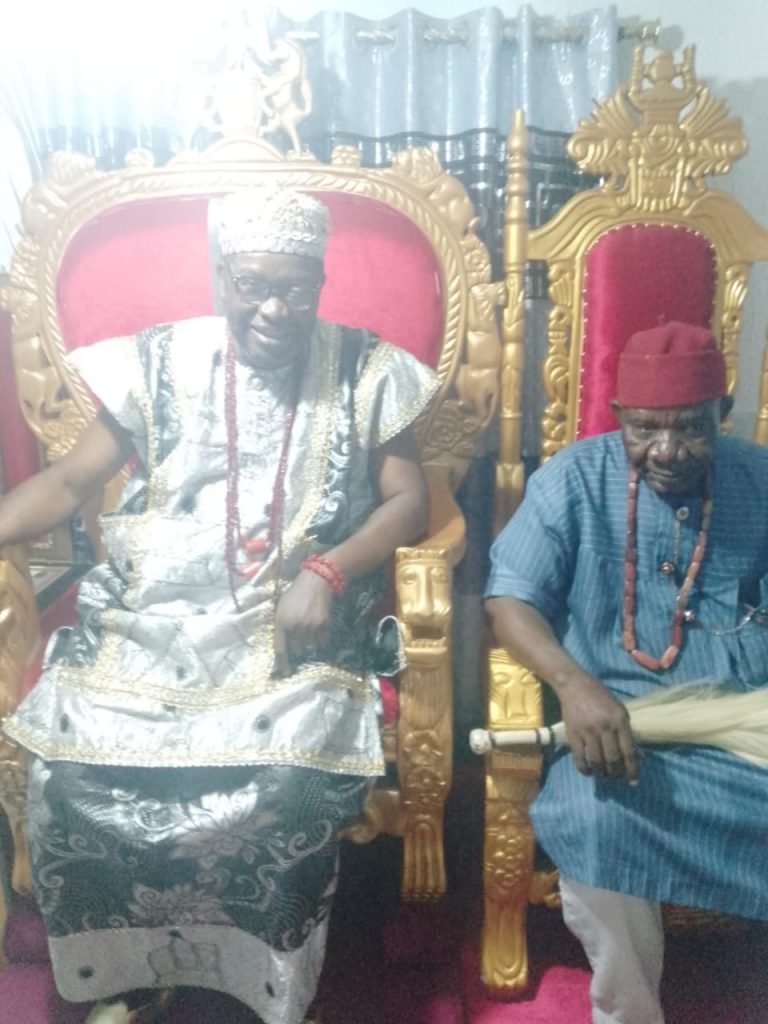 Eze Iwobi who was a special guest of honor, appealed that the name of the Palace be changed to Palace of peace, arguing that it merited the name considering that Eze Chimereze Emmanuel Chukwuakalikamadu is a very peaceful man , just as the Chairman of his cabinet and leader of Oriade LCDA Chapter of Ohanaeze Ndigbo.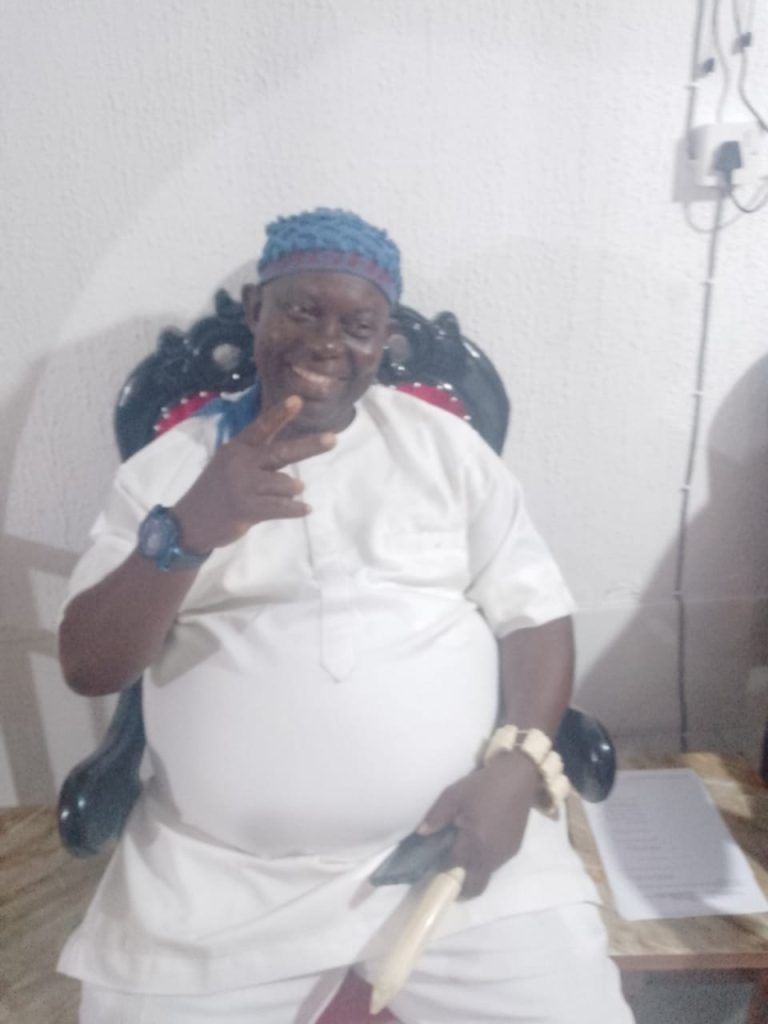 Contributing, Barrister Fabian Onwuhalu, gave credence to the peaceful and leadership qualities of the approved Eze Chimereze, calling him a lucky man.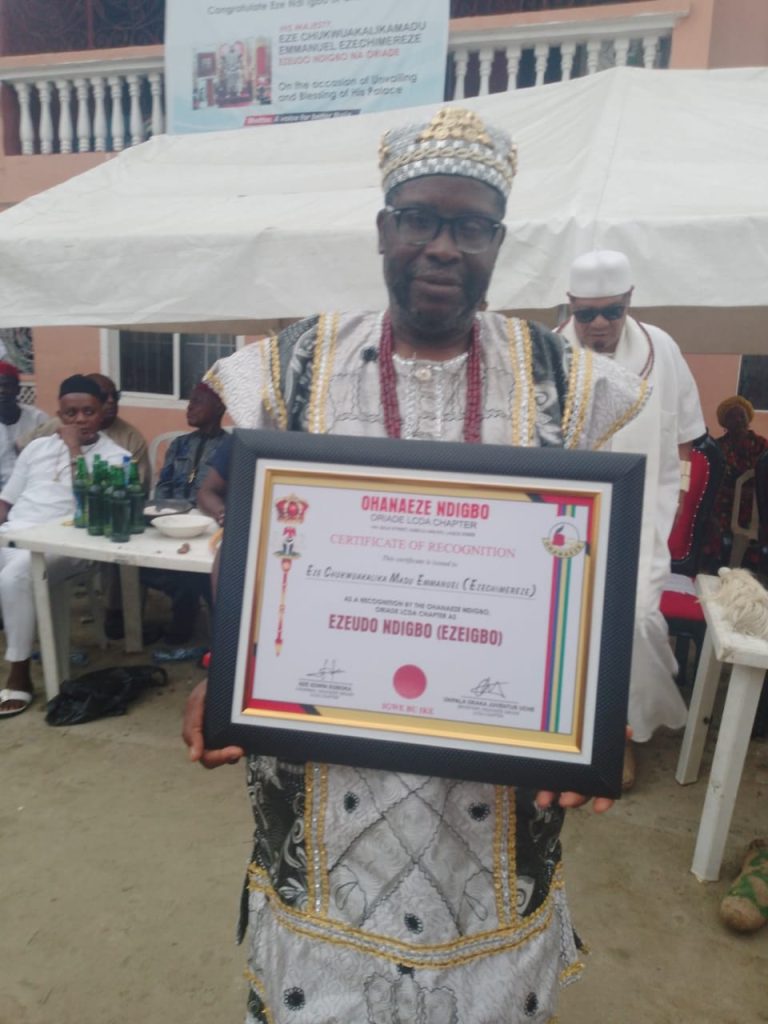 Barrister Fabian Onwuhalu however dismissed any insinuation by anyone else contending with Eze Chimereze for the position of Eze in Oriade ,as not only a stranger but an impostor." He has been crowned all the titles, Eze Udo, Eze Ndigbo in Oriade LCDA, so there is no other vacant position and name for anyone to aspire to have in Oriade", he emphasized.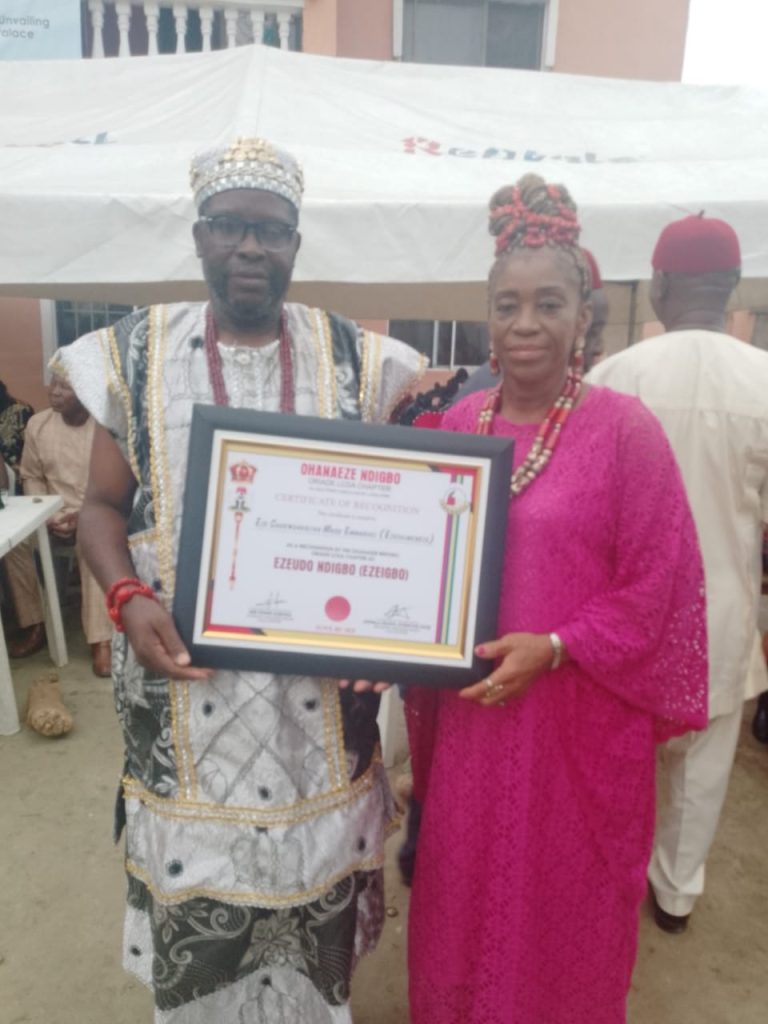 Congratulating Eze Chimereze, Ochiagha Ikechukwu, pledged his continued prayers and support for the Eze and Charged him to continue on his good works in Oriade LCDA.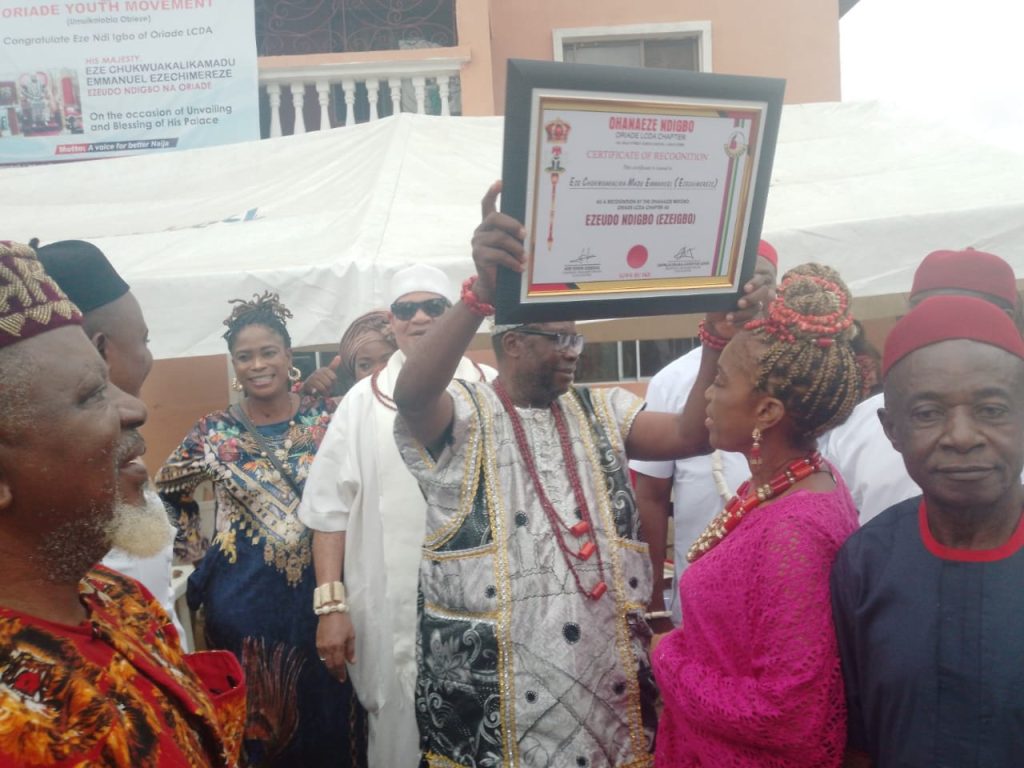 The event was also used to appreciate Oriade LCDA Chapter of the Ohanaeze Ndigbo since his coronation, as Eze Chimereze entertained them , gave them a gift of live cow, yams, drinks and other items.Food and drinks were not in short supply as guests had their fill and some even took food items and drinks home.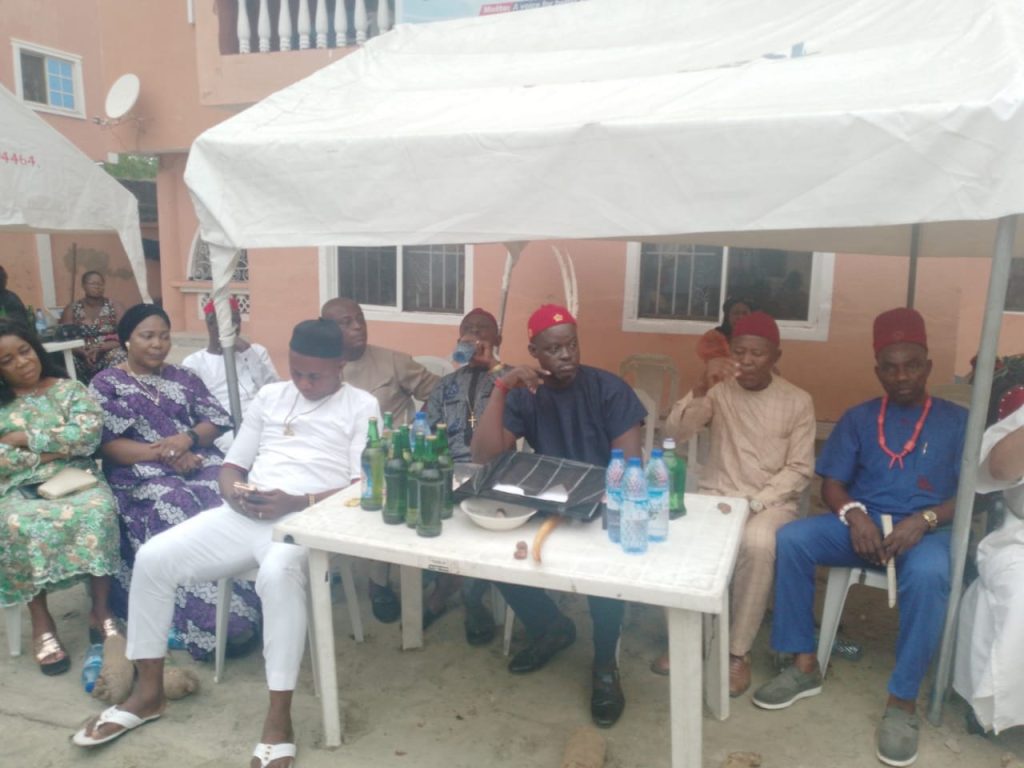 Speaking with the News Planet International after the presentation of the certificate of recognition, elated Eze Emmanuel Chukwuakalikamadu, who was with his beautiful wife , Queen Chukwuakalikamadu and one of his Son, appreciated all his guests and promised to continue to stand his leadership on truth without fear or favor.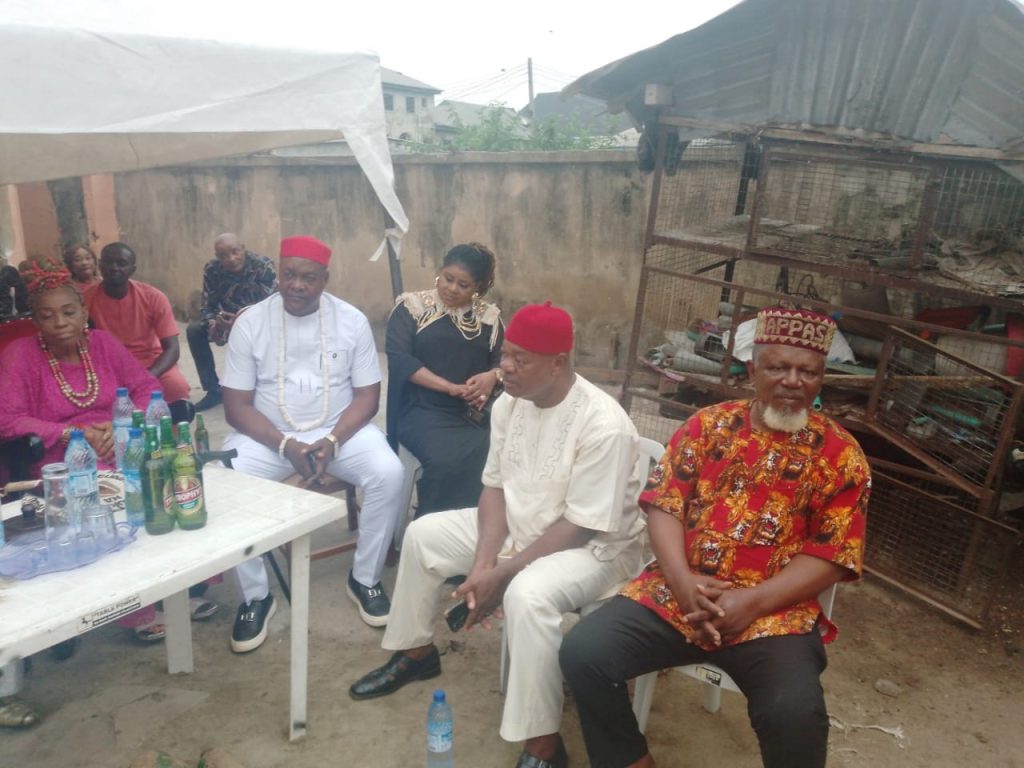 He also disclosed that he is the only authentic and certified Eze in Oriade, warning impostors to flee his jurisdiction as trouble makers will no longer be tolerated.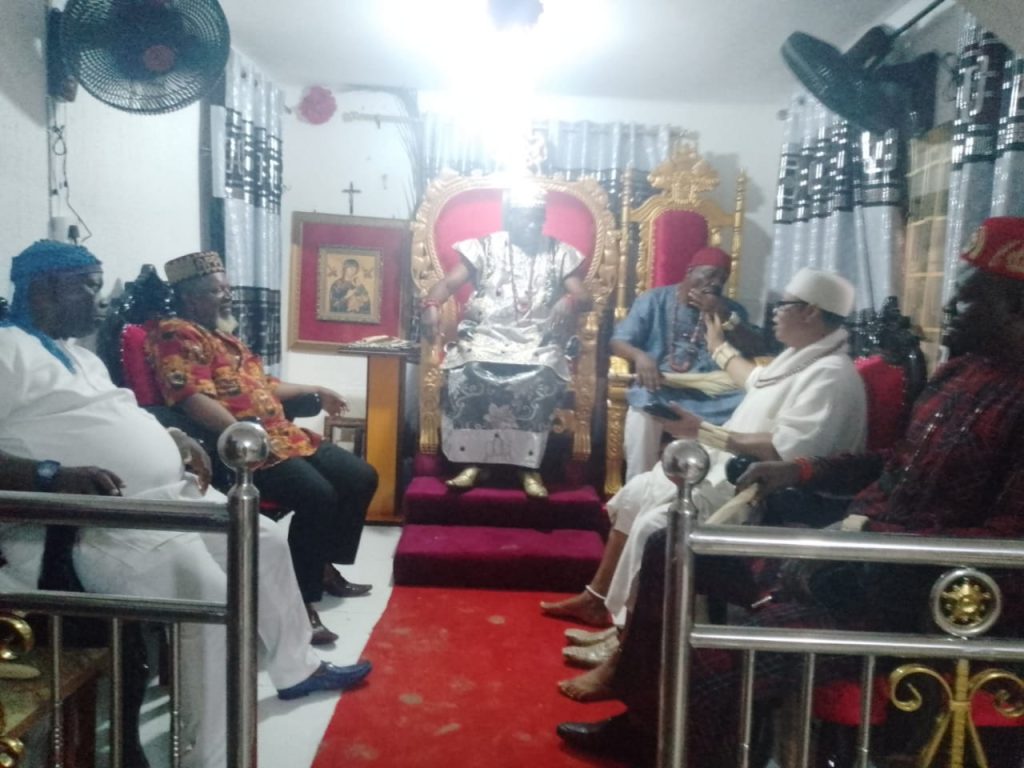 For the law abiding Igbos living in peace with the Yoruba hosts, he assured that he will continue to support them in Oriade LCDA.
It would be recalled that Oriade LCDA Ezeship was actualized shortly after the installation and coronation of a popular High Chief and Leader, known to be the Peoples Choice, identified as Eze Chimereze, Eze Emmanuel Chukwuakalikamadu, Eze Ndigbo in Oriade LCDA.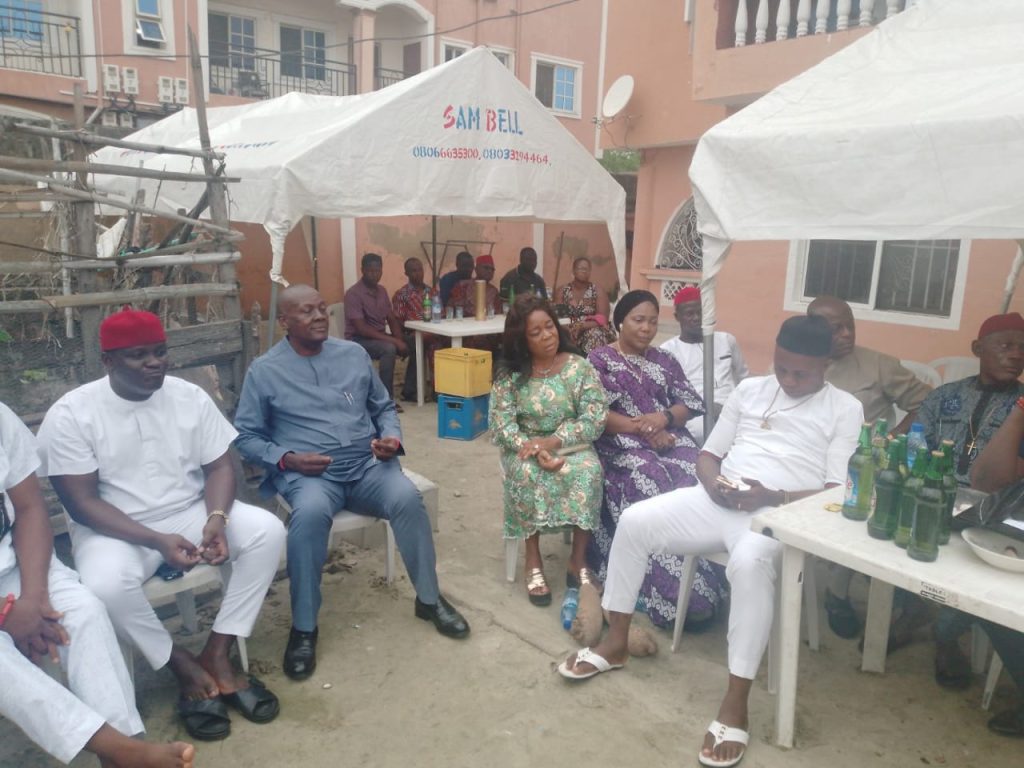 Eze Chukwuakalikamadu , who as at the time he was barely one month on the Throne ,had told our correspondent in an interview that there is no tussle between him and Eze Chukwukadibia Umenwekwe, as he is not in contest with anyone for the Eze Ndigbo Title in Oriade LCDA.
According to him, " Oriade had no Eze before my coronation. Therefore, i am the only authentic Eze Ndigbo in Oriade LCDA, any other person claiming such is fake and a counterfeit ."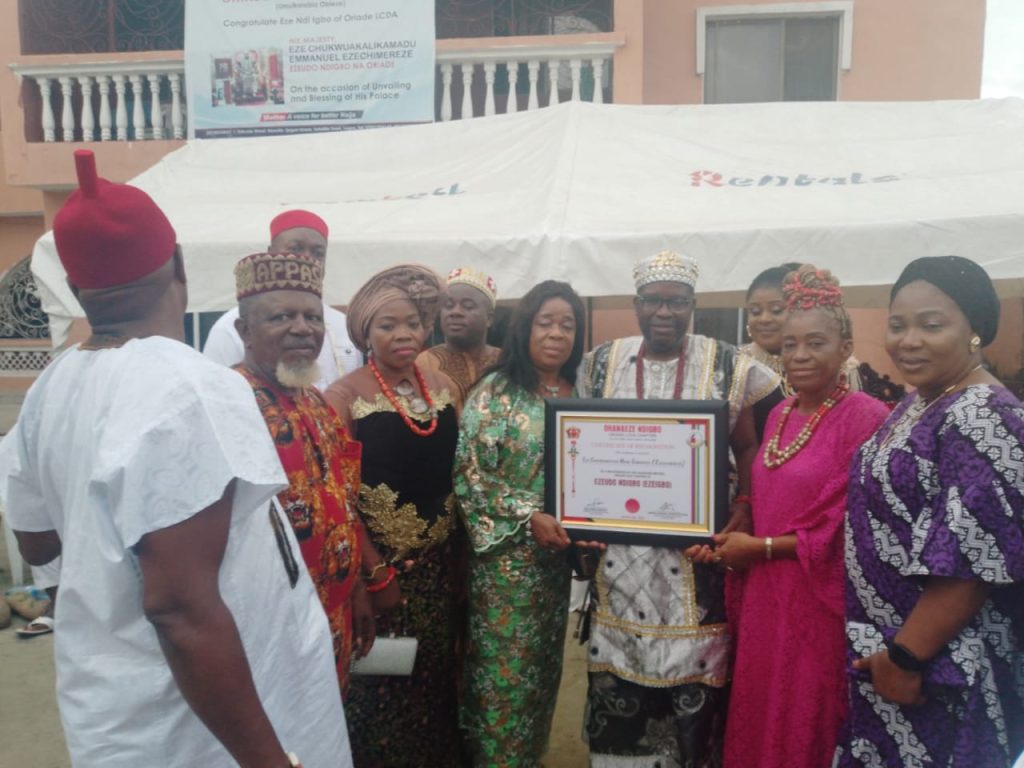 While backing up his position with facts, Eze Chukwuakalika ask ; How can someone that resides at Volkswagen area of Ojo Local Government Area ,just wake up one morning and rented a two rooms apartment in Oriade LCDA, just to contest for Ezeship and cause confusion amongst the Igbo people?" .
"For over four years, Igbo people in Oriade LCDA have been calling me to become their Eze but I declined. I didn't know that it was God's wish for me until when it dawned on me and immediately i accepted,everybody overwhelmingly and unanimously welcomed the idea and agreed that at last, here is the man that the cap fits, let him be our king in Oriade. Meaning that we don't have any king in Oriade before ".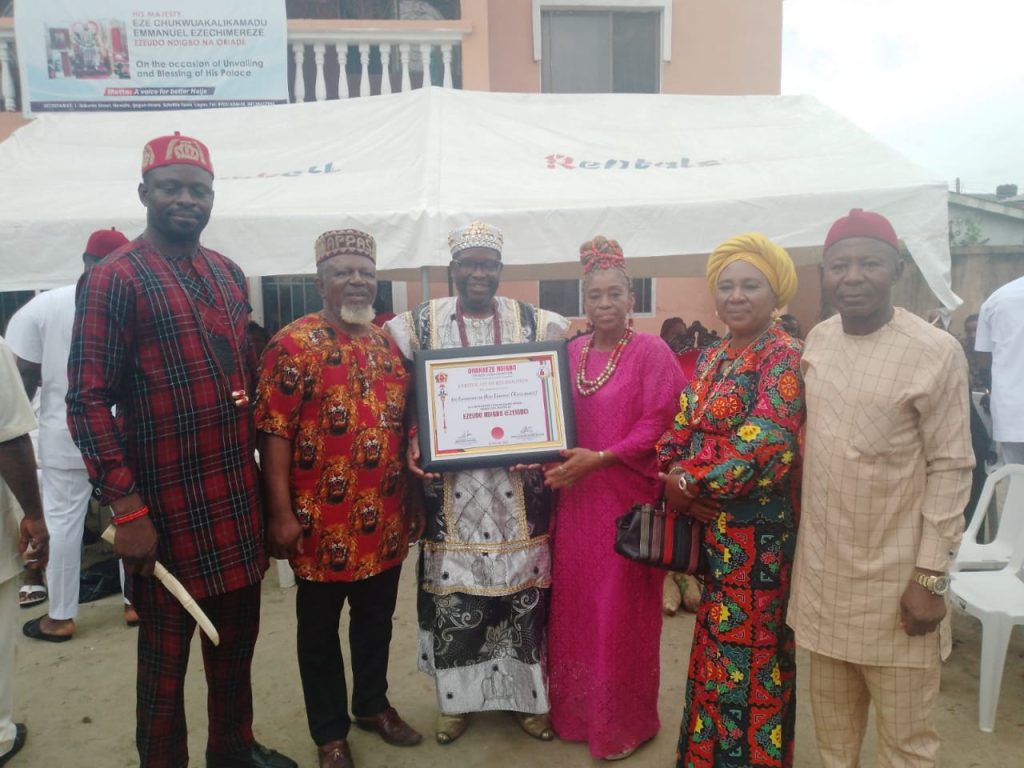 He said further, "As at now, Iam the first and the only king , this other man, Chukwukadibia, that is claiming that he is the Eze, no single person knows him as Eze Oriade, nobody knew whether they crowned him or not, not even a single soul. He was trying to build through my own channel and that was what they saw before inviting me to the throne, People were asking, how can someone from Ojo area come to take our position here", Eze Chimereze argued.
"I was busy with Christianity and other things and never knew that the Ezeship was a mission for me. And the person that made me to realize that, was Ochiagha, High Chief Ikechukwu Mark Onyemaechi , He was like the Biblical Eli to me, who made Samuel to answer the call of God.That is why I don't play with Ochiagha any day. He was the one that explained everything and made me to understand that it is my Job to be the Eze, because I have done a lot in Amuwo Odofin and Ochiagha was watching me closely with out my knowing that he was watching, so, he made me to understand that God has prepared me many years ago to be a leader and king of Ndigbo in Oriade LCDA.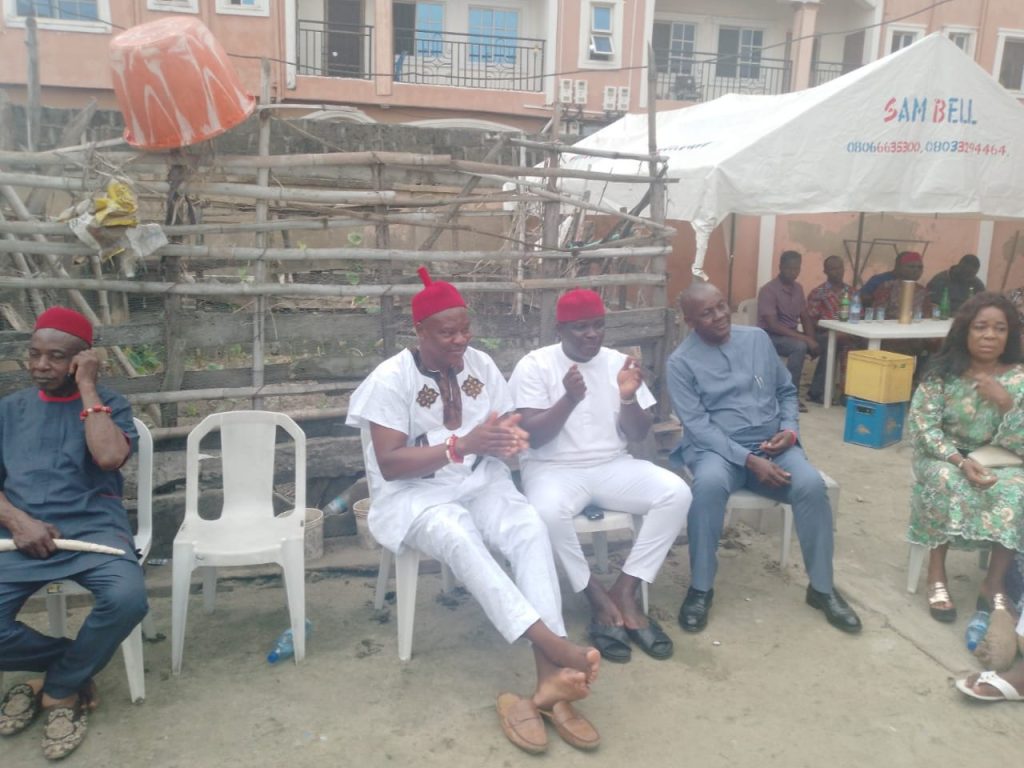 Emphasizing, he said that " it is God that is leading me, a new king is born and I don't do propaganda, I will work for all Igbos in Oriade LCDA. I have many peoples support even in Ojo , even Lagos State Government and Asiwaju Bola Tinubu knows my name and are fully in support" .
Advising Eze Chukwukadibia, he said " My advice to him is that if he has a territory and hence there is division of labour, and if he feels that he has been inspired by God, because its only God that make kings. If he is inspired by God to lead his people, let him go back to his constituency and look for them because his people really needs him.He can't come where nobody knows him, Nobody recognizes him here in Oriade. Here i am popular even while i was Chief Akalika".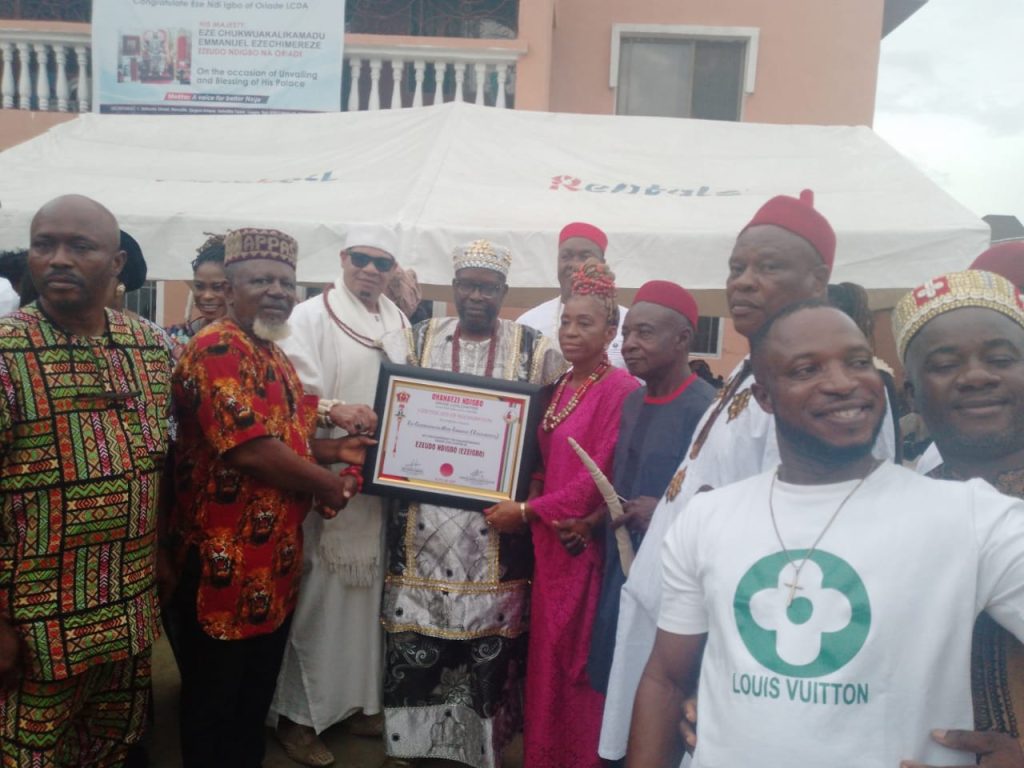 "I wouldn't want anyone to come here to buy a constituency and cause confusion. Lagos is so large to accommodate everyone, Eze Chukwukadibia should go to his own corner, do the right thing and he will be recognized, instead of coming here at Oriade to bring shame to himself for nothing", he concluded.
Reacting , Eze Chukwukadibia who reinstated his claim to Oriade Ezeship, accused Eze Chukwuakalikamadu of fraudulent conduct, blaming Ochiagha for the Ezeship tussle , "I was Crowned Eze Oriade since 2015 by late Eze Ogidi of Amuwo Odofin and I have been on the seat since then. Just because Ochiagha was not willing to work with Ohanaeze Ndigbo Chairman in Oriade, known as Chief Biafra and my Council of Chiefs Chairman, Chief Mmiri Oma, he decided to single handedly install Chief Akalika as his own Eze on November 8th, 2021, while I was in Abuja for a conference. I am still the legitimate Eze of Oriade LCDA and Akalika has no followers".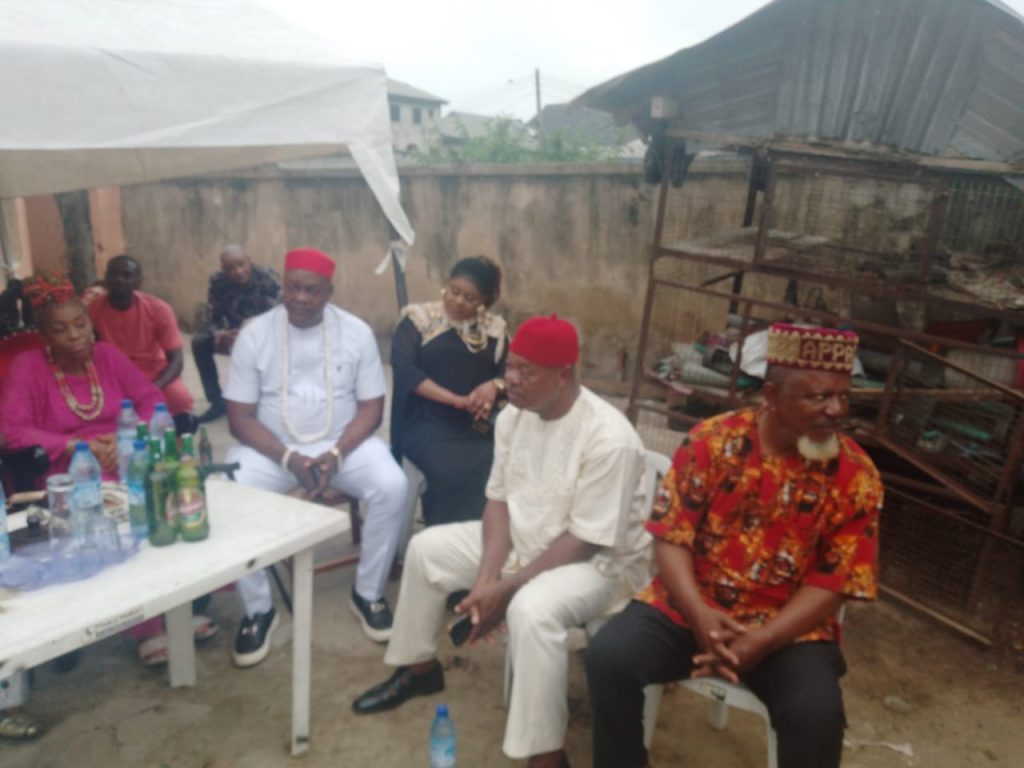 However, Eze Chimereze Chukwuakalikamadu , who last year celebrated his new yam festival was also honored with a Top Achievers Merit Award by Rhema TV productions at Santiago Milan Hotel, Amuwo Odofin Local Government Area, Lagos.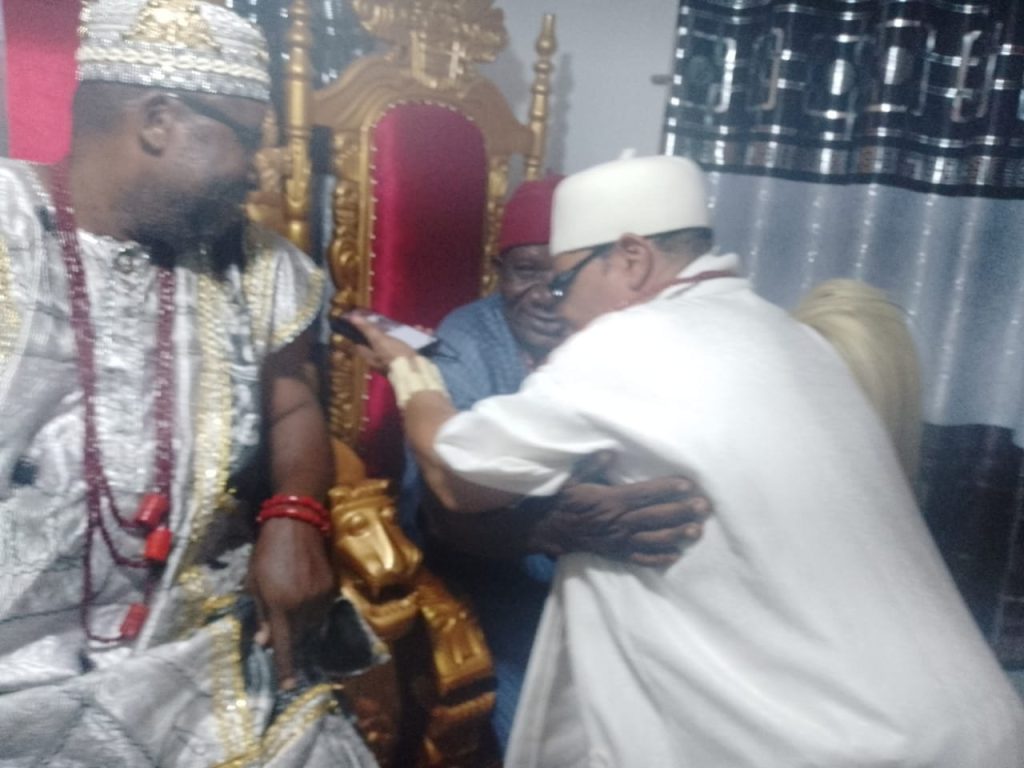 He prides his Ezeship with about ten men Council of Chiefs, identified as : High Chief Charles Uzoigwe ( Ichia Eziokwu); High Chief Emmanuel Eze ( Ichia Ijere) ; High Chief Chucks Okeke ( Ichia Sopulu Chukwukwu) ; High Chief Innocent Oforleta ( Ichia Ochimili Ejiamatu); High Chief Jerry Njoku(Ichia Ozueome) ; High Chief CY Edimobi ( Ichia Jibuaku); High Chief Charles Anakwue Umekwe ( Ichia Ezenwa); Chief Obioma Ahiaonye ( Ekuku Oma); Chief Chukwuemeka ( Chukwudiegwu) and Chief Ebere Nnadi( Oji Ugo)