Media Attacks On Notable Credible Igbo leaders By  Impeached former President Solomon Aguene, Antics Of Drowning Man —- Says Eze Uche Dimgba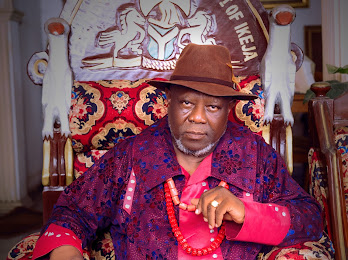 This is truly not the best time for the impeached former president of Ohanaeze Ndigbo Lagos State Chapter, as the false and deceptive ally he allegedly gathered after his dismissal from office, appears to be  abandoning him gradually, with reported mass exodus of Igbo sons and daughters,  who were former members of his rag tag army of sycophants, leaving his small camp.                                                                                                                                                                                                       

This is even as details of alleged financial inducement to Chris igwilo, Eze Christian Nwachukwu, Uche Babatata, Mr. Udoka Orobo and Femi Ferguson, have begin to emerge on how Chief Solomon Aguene allegedly gratified them with stomach infrastructure they much demanded,out of the said looted Ohanaeze Ndigbo fund which he was said to have swindled. The alleged financial inducement to some of these rebel members tagged "yes men" by Elders and Ezes Councils , who they said are publicly known to be strange bedfellows in the past and said not to have any visibly secured means of livelihood , it was gathered, was in order to allow the embattled sacked Solomon Aguene, hang on to his said frauduently procured consent judgment , which he is seeking to use to remain the President of Ohanaeze Ndigbo in Lagos State, until after the 2023 elections , to enable them collect expected money from politicians meant to facilitate Igbo votes, which has now turned to be a hoax.
News planet international reports according to the summation by the legitimate President of Ohanaeze Ndigbo Lagos State, Elders and Ezes Councils .
It would be recalled that this coming together of strange bedfellows started after Ohanaeze Ndigbo General meeting at Calabar Hall in Surulere, Lagos, where Chief Solomon Aguene was legally impeached over his unconstitutional and anti -Igbo activities including the alleged invalid consent judgment of the Lagos High Court which ignited the ongoing crisis .
Chief Aguene was said to have hired these "yes men" to deceive Officials of Lagos state government and create disunity in Ohanaeze Ndigbo Lagos State , so as to frustrate Chief Sunday Ossai's tenure as the legitimate President of the apex socio cultural group.
Meanwhile , there was a legitimate, credible,free and fair election conducted by the electoral committee and monitored by the Ohanaeze Ndigbo world wide in July, after the constitutional impeachment of former president Chief Solomon Aguene, which rendered his procured consent Court judgement null and void, Ezes Council Opined.
Moreso the tenure elongation of Chief Solomon Aguene through his consent judgment failed to fly ,as he was lawfully butted out of office through impeachment few days before his four year tenure elapsed.
Indeed, Solomon Aguene had constituted the very election committee before his sack and after the election, Chief Ossai was declared as the winner. Therefore, It was a rude shock and the fraud of the century as evidence emerged that the Impeached Aguene had rented the office space of the organization in his personal name, making it temporary inaccessible for the legitimate incumbent Ohanaeze Ndigbo leadership at the Secretariat located at James Robinson Street, Surulere, Lagos.
Chief Ossai and his executives having been sworn in, patriotically decided to embrace diplomacy and avoid deploying force to retake the office, so as to save the entire Igbo race the embarrassment of other races slamming Igbos as having allowed a slippery character to have ran it's affairs in the last four years .
Reports indicated that the true picture and Antics of Aguene's plots hatched years back to make himself an oligarchy and methuselah in the office, has now dawned on the new "yes men", showing that they had actually goofed and had been deceived by getting involved in the selfish but futile elongation ambition of the impeached former president of Ohanaeze Ndigbo, Lagos State.
One of the now frustrated yes men, who said they are no longer comfortable with Aguene, revealed that as soon as the recently received money in the custody of Solomon Aguene is disbursed to them, they will dump Aguene to his fate.
When Chief Solomon was contacted, his phone rang but he did not pick his call. However, Aguene's camp confirmed that the Court consent judgment directed that the Electoral Committee set up by Chief Solomon , led by Chief Oliver Akubueze , be retained and conduct election for both the Local Government and State Executives with the bylaws of Ohanaeze Ndigbo, Lagos State, which some members confirmed was achieved with the last conducted election that was won by Chief Ossai.
This was confirmed by Chief Solomon Ogbonna in one of his publications, despite that he has continued unsuccessfully to route for tenure elongation ,which has brought disunity to Ohanaeze Ndigbo.
In an interview with Eze Uche Dimgba, he explained that it is impossible to have an extension for an Ohanaeze President because it runs contrary to the group's constitution.
Eze Dimgba said that Ohanaeze legal experts led by Former President, Barrister Fabian Onwughala, have been briefed and had set up the process of weighing necessity of vacating what he called the 'Kangaroo' Tenure Extension Judgment in Court. Eze Dimgba ,said Chief Aguene's tenure was supposed to elapse on 15th July 2022, before he was impeached which validly makes nonsense of the judgment he is falsely parading with. Dimgba, popularly known as Okpetemba, enjoined all peace loving Igbo sons and daughters to disregard the constant media attacks by impeached Chief Solomon Aguene on notable and credible Igbo leaders as part of the Antics of a Drowning Man.