MAY 18TH , 2021, USA POLLS : DEMOCRAT ALEX RAJIS , NIGERIAN BORN AMERICAN CITIZEN, TIPPED TO WIN LOWER PAXTON TOWNSHIP SUPERVISOR ELECTION.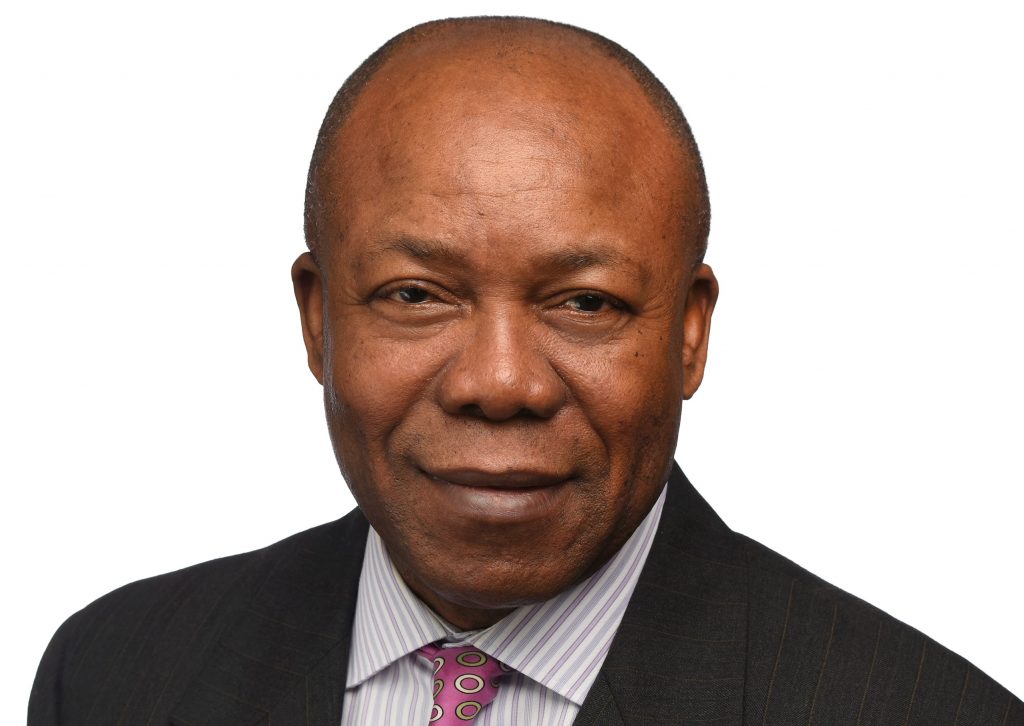 Few months after some Nigerian born American citizens triumphed in last year's elections that ushered in President Jeo Biden, Another Nigerian Immigrant, Architect Alex Rajis, is making waves in various pre – election opinion polls for the forth coming county election.
It was gathered that all the pre -election victory indicators ,appears to favor his candidacy over other contestants.
Survey conducted by our international research correspondents, indicated that out of the contesting candidates on the ballot for Tuesday , 18th May , 2021 election in the United States of America, USA, Dr. Alex Rajis, has been tipped to win the lower Paxton Township Supervisor position.
His supporters strength , it was learnt , cut across different strata of eligible voters, as both the black and white residents, who knew him over 44 years ago, when he migrated to the USA for his academic pursuits, are vouching for his credibility and resourcefulness .
Relying to win the election on his integrity, which he was said to have garnered over 14 years of his residency in Township, Rajis, who was born in Egwedu autonomous community ( formerly in Atta), Njaba local government area of Imo state , Nigeria, west Africa, migrated to the USA, over 44 years ago in pursuit of his academic laurels, as well as to achieve the American dream.
He is revered to have started from a very humble beginning as a labourer, dish washer , factory worker, while attending college and is now happily married with Adult children , who are graduates of Central Dauphin High School .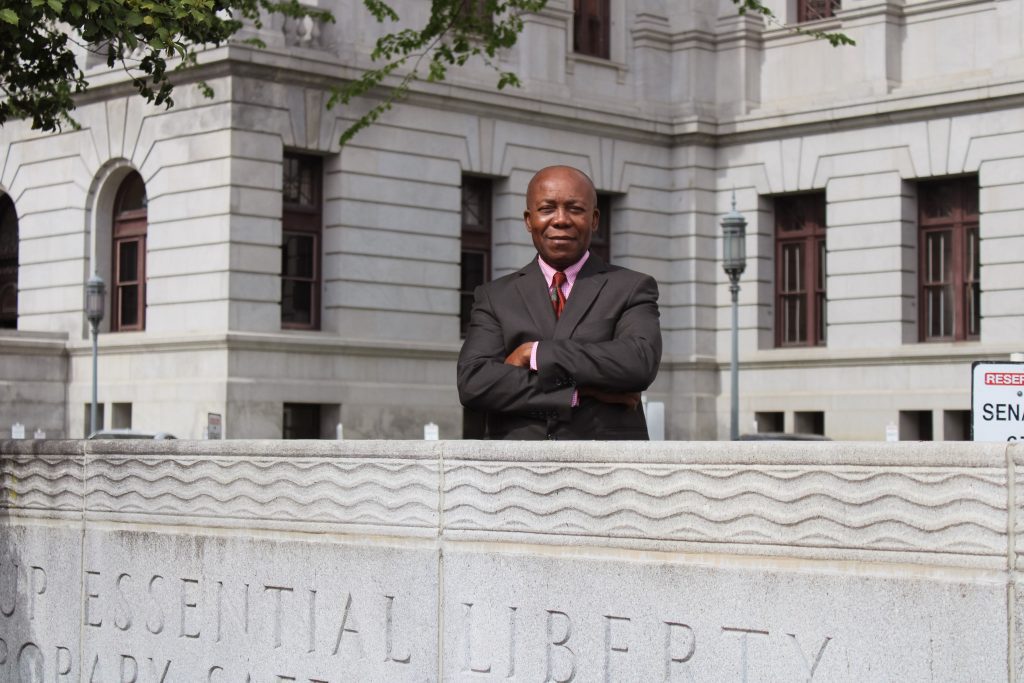 He was said to have show cased his rare brilliance and surmounted his educational desires with his extraordinary appetite for scholarship, which made it possible for him to acquire an MBA Degree in project management.
A doctor of Administration candidate with specialization in project management , having over 30 years of public and private sector experience in Architecture/ Engineering( A/E) and project management disciplines.
He founded 2Continent group Ltd, an Architect/ Engineering Consulting firm. He also Served as an Architect with the Commonwealth of Pennsylvania and USA Department of Housing and Urban Development .
It is on record that Rajis , who is known to be a favored Dauphin County Democrat , Managed and Supervised Various A/E projects worth over $ 1million .
Even his Opponents, Critics and contemporaries, attested to the fact that Rajis is a self made man, which he confirmed to our Correspondent when he stated that " Iam not a privileged person by any measure ; I have been working hard all my life and giving back to the society and my community ".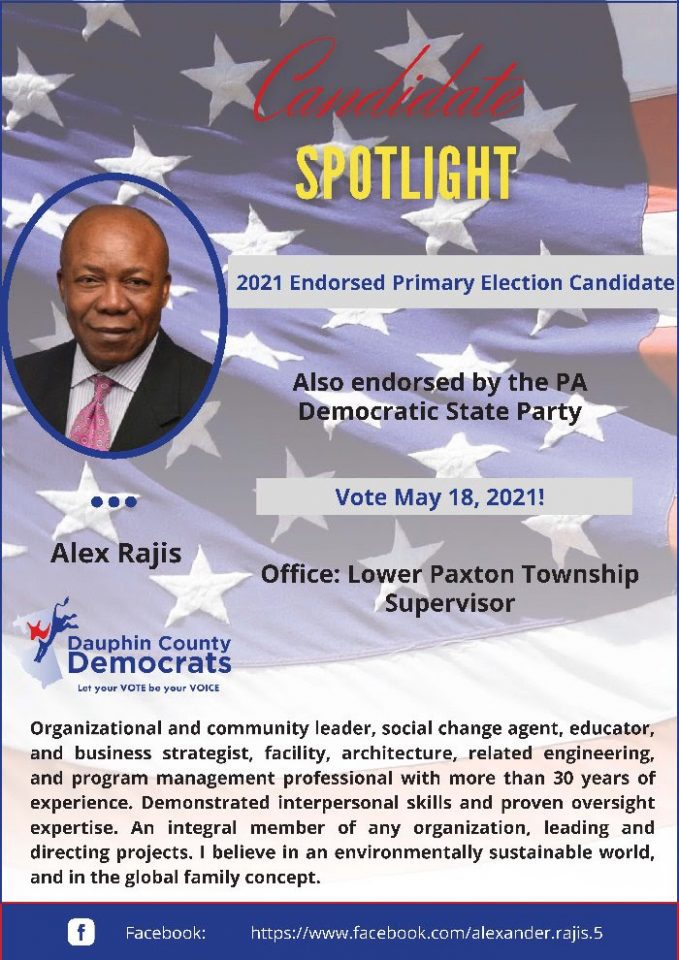 In areas of Corporate Social Responsibility and Philanthropy , Rajis has endeared himself to the people both in the USA and his Nigerian root, where his humanitarian gestures is reputed to be second to none .
Indeed, his large heart and willingness to help humanity has made him an epitome of humility and selflessness. Little Wonder the Immediate past Governor in his state of birth, Imo State, did everything to woo him back home, with a view of tapping from his wealth of experience and knowledge.
Speaking on the forthcoming election, he said , " I am answering a call to continue serving my community but this time as your township supervisor".
A township supervisor position, it was learnt, is an equivalent to the office of a local government Chairman in Nigeria.
While explaining to his supporters in his constituency , Rajis stressed that the work of a township Supervisor is to help formulate township policies and to supervise their enactment.
In one of his earnest speeches, Rajis noted that Municipal races determine issues that directly impact residents on a day to day basis, hence he declared his interest to serve with a view to protecting their common interests, with a desire to transform his American community .
If he is elected , Rajis has vowed to : " make policies based upon good economic sense, Justice and equity ; Fight to reduce his community's residents tax burden, negotiate reasonable service contracts which would be beneficial to the residents of the township ; Seek majority consent from residents before any policy is passed".
As part of his manifesto, the adorable Candidate also assured to ensure equitable representation for the diverse community he is vying to represent.
Besides the above stated and having known the enormity of the work to be done in his community, Rajis , promised to establish performance assessment and accountability measures, curb expenditures and unnecessary waste , which he articulates would maximize revenue .
On how to ensure cordial police relationship and improve internal security, the Architect , said that he would see to it that good mix of police officers are deployed to serve in their community which has diverse population.
Distancing himself from partisan sentiments, he concluded that Lower Paxton township residents deserves qualified candidates to serve them, promising to serve the community's interest with integrity as well as to be a good steward , preserving resources in order to advance the mission and values of their community .
Urging the voters to make their votes count, Rajis, appealed to all the eligible community residents, to cast their ballots in his favour , come may 18th , 2021. According to him, " It is all about accountability, which will be one of my priorities", he concluded.