IGWE SUNDAY NWOBODO, OTHERS, FELICITATES WITH ENUGU STATE GOVERNOR OVER HIS DEVELOPMENTAL STRIDES.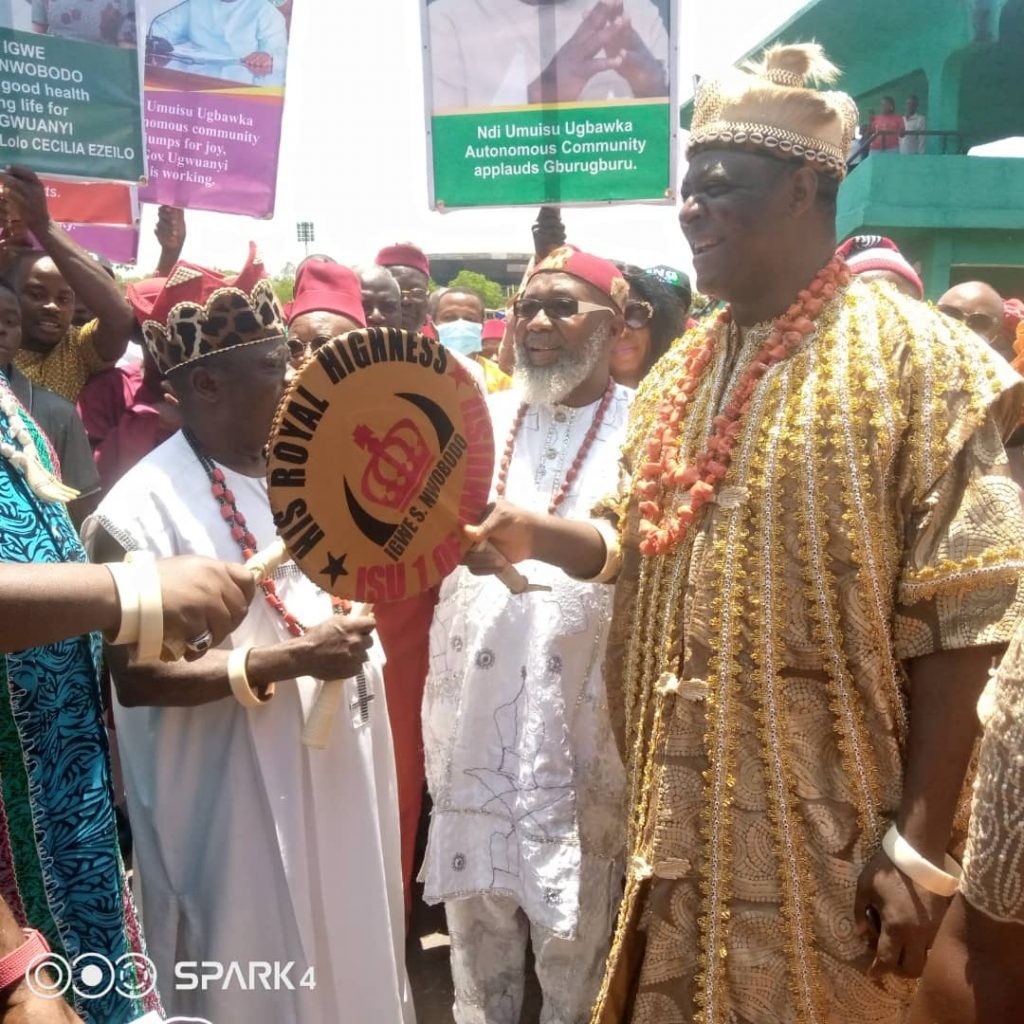 Following his widely celebrated infrastructural developmental strides in Enugu State,  the  Enugu State Governor,  Ifeanyi  Ugwuanyi, last week played host  to some prominent Monarchs ,leader of thought from across the state at the government house .                                                                                                                 

During the visit,  other representatives  from the  seven autonomous communities of Ugwuawka, Amauzam, Amafor, Isigwe, Imeama, Ovorie , Akpaa and  Umuisu , also converged at the  government house to say thank you to  Governor Ugwuanyi , for making life better for their communities, through the provision of needed infrastructural and other favourable policies and programs, especially the creation of the seventh autonomous community,  Umuisu.                                                                                     
All the dignitaries ,who spoke in their local dialects ,took their turn to  explain in clearer terms ,what the special favors  of Governor  Ugwuanyis' administration meant to them ,while expressing their loyalty and unalloyed  support to his government.                                                                                                                           
Addressing the Governor,  Igwe Sunday Nwobodo , the  Isu 1 of Umuisu autonomous community ,Nkanu  East Local Government Area,  expressed his gratitude to  Governor Ugwuanyi,  for creating an environment for harmonious conduct of all affairs of the  communities and promised to perfect the essence of the foundation of  peace  already created through inclusive leadership.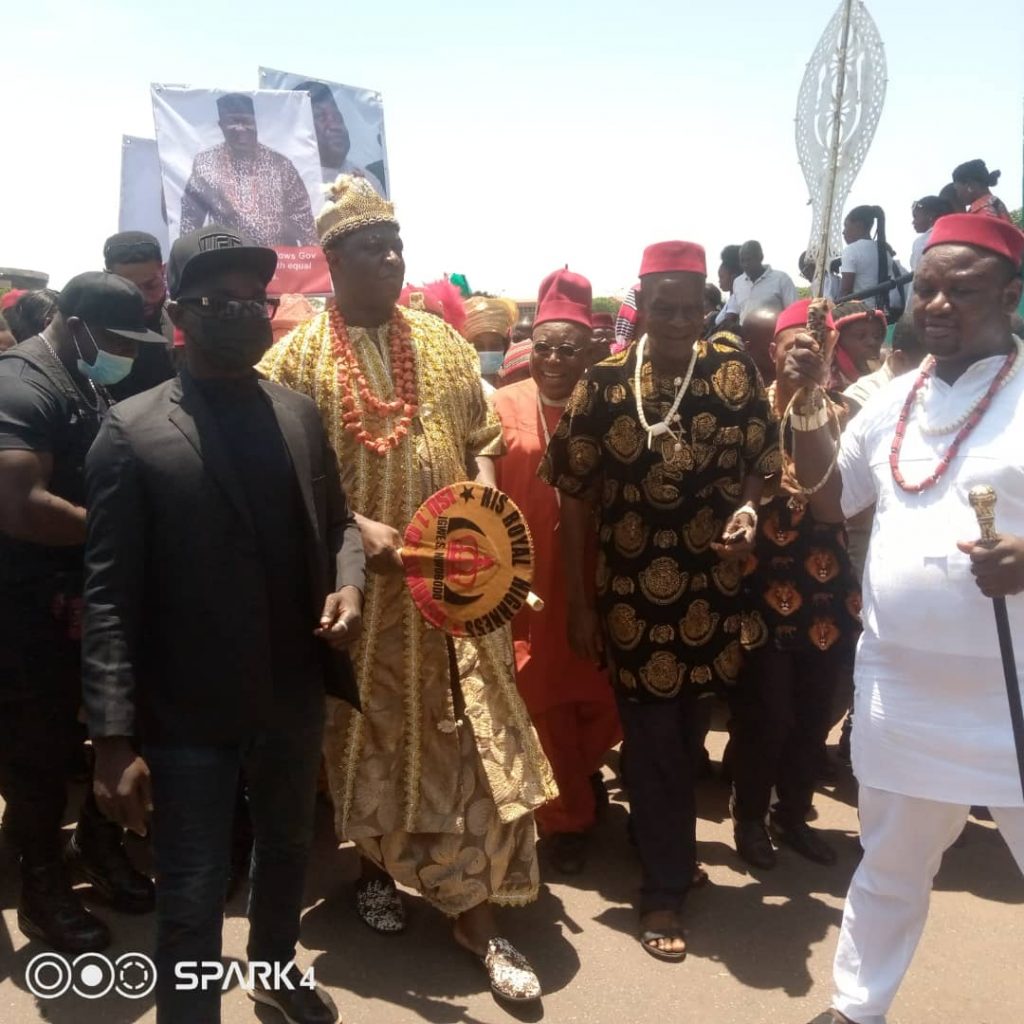 " Your Excellency,  we are grateful and appreciate you very well .we  promise you  that  Ugwuawka is yours and our prayers for you is that ,it shall be well with you, " Igwe Nwobodo stated.                                                     
A member of the board of trustees of the  Peoples  Democratic Party,  PDP,  Chief Rex Onyeabor,  in his remarks traced the antecedents of the Governor and described the kind gesture as a  mere extension of the nature of his non – selective  magnanimity to people around him.                                                                                                                     
" we thank our Governor so much for his non discriminatory policies ,he has  ensured that every part of our state is carried along in his infrastructural development ", Chief Onyeabo said.                                                                               
Another  Speaker,  who is a Member  representing  Nkanu East  Constituency in the  State House of Assembly,  Chief  Paul  Nnajiofor, noted that the  grass roots disposition of the Ugwuanyi led administration in keeping with his development agenda ,was responsible for the overall peace for which the state has been identified with since his inception in  2015.                                                                                                                 
" Every where Ifeanyi  Ugwuanyi ,who is our governor and big father says we should stand, that is where we will stand, Nobody should deceive you , he has the capacity , blessing,  divine unction ,inspiration  and the mandate from  Heaven", Nnajiofor submitted.                                                                                               
The Chairman of Nkanu East  local Government Area,  Chief  Uchenna Nwobodo,  in his statement,  thanked the governor for making the grassroots administration easier for third tier government,through his rural development program of the State government, he promised that the people of the area,  would continue to give their maximum support, so as to  enjoy more dividends of  good governance                                                                              
Meanwhile, an unanimity of acceptance was obviously observed in every mention and appearance of the new tradition Ruler,  Igwe Sunday Nwobodo ,while in the same atmosphere of harmony,  two  of the autonomous communities,  Isigwe and Ovorie, used the occasion to give indication of their renewed peaceful disposition for chieftaincy elections to be conducted for them.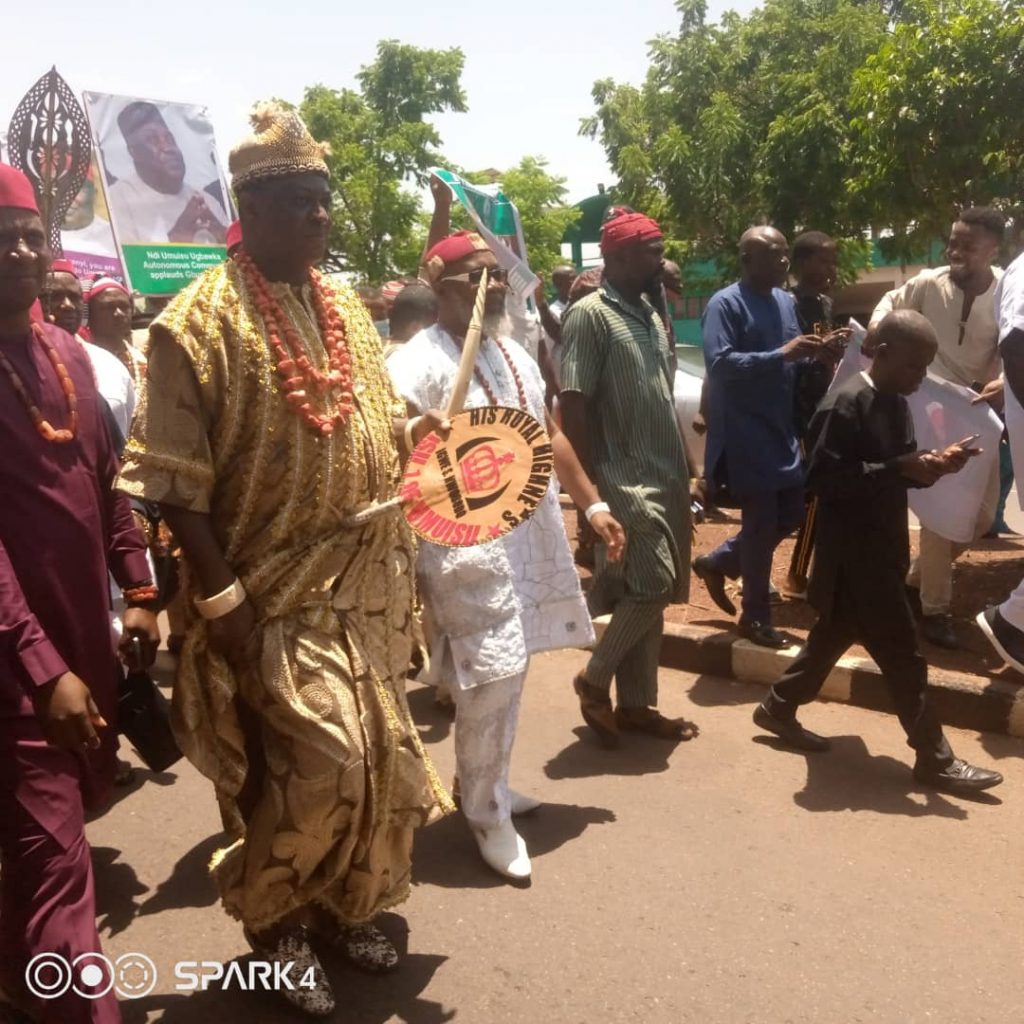 Traditional rulers from neighboring  communities including that of umuawalagu and Patron Enugu state  Traditional Rulers Council,  Igwe Abel Nwobodo,  were also present in solidarity .