Do Igbos Still Have Brothers In Rivers?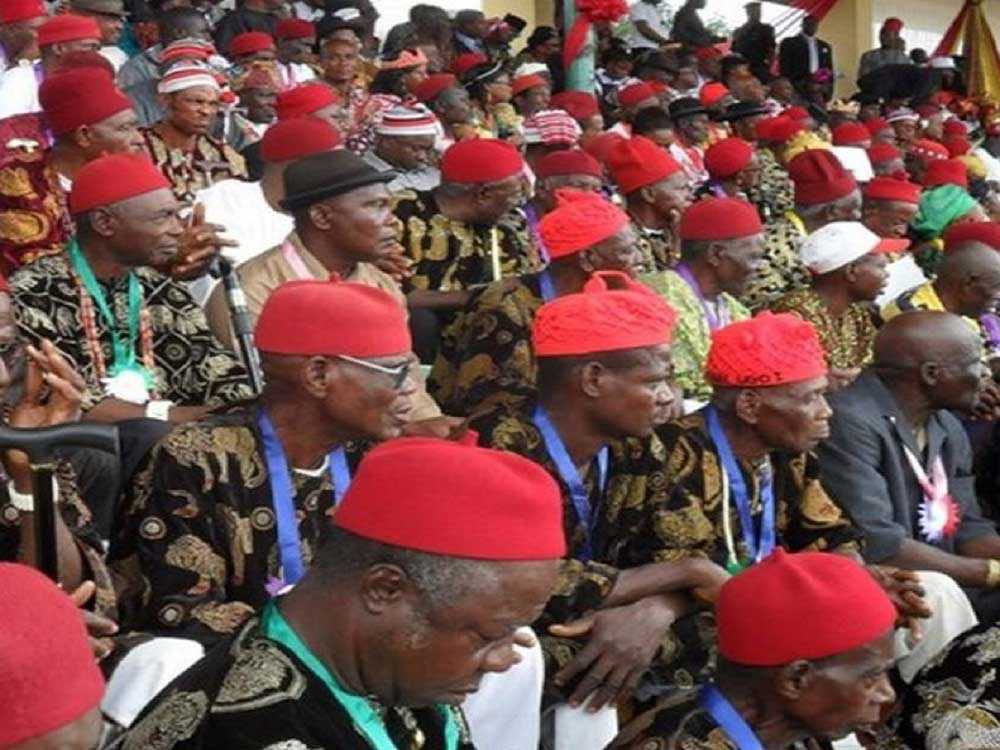 Wike is not the first Rivers man to deny Igbos as their brothers.
Isaac Jasper Adaka Boro was among.
Ken Saro Wiwa did the same thing.
Diete-Spiff was the father of Igbo hatred.
Elechi Amadi
E. K. Clark
Sergeant Awuse
And now Wike
I have frequently wondered why these people are wicked to the Igbos. Before the invasion of Obigbo, otherwise known as Obi ndi Igbo, (Igbo homestead), and no wonder several Igbos in Port Harcourt reside there, Wike had told the world via a press conference that the endSars protest was as a result of an incitement by Nnamdi Kanu placed one million naira prize on his head.
So, Nnamdi Kanu, in far away another continent is so powerful to have placed a bounty on a serving governor and chief security officer of a State and the governor became jittery.
Okay, let's assume that Nnamdi Kanu said so. Let us also agree that Nnamdi Kanu incited the proscribed IPOB to do their own protest.
But this is an endSars protest that took place in all the States of the Federation and Abuja. Which means Nnamdi Kanu must have incited all those 20 million youths, including top celebrities across Nigeria to protest.
If at all Nnamdi Kanu was the one that incited the youths of Obigbo and indeed the whole Nigeria, that means that Nnamdi Kanu is not an ordinary human like you and I or if he is human, deserves an international award.
If actually Nnamdi Kanu was the one that incited the youths of Obigbo which he has denied, so the sins of Kanu should be visited on the Igbos. I remember once Tompola threatened to make Nigeria ungovernable. Did the Federal government declare genocide against the Ijaws in Nigeria?
What of Tom Ateke, Asari Dokubo and others. Did they not incite their people at one time or the other? Did the Federal government or their governors invade their respective communities to kill their people?
When Obasanjo ordered the killing the people of Odi in Bayelsa and Zakibiam in Benue State, it means that the entire Yoruba race is guilty of his action.
Wike is aware that Ohaneze Ndigbo is the official mouthpiece of Igbos, not Kanu. If Kanu is not the President-General, Secretary-General or spokesman of Ohaneze, and Wike knows he is none of these, why would anybody declare genocide of Igbos because Kanu said something on radio far away outside Nigeria.
So if Nnamdi Kanu speaks on behalf of himself or even IPOB, then all Igbos should be exterminated. One wonders what would have happened if it was the Ohaneze chairman who made the statement, the entire Igbos in Rivers State would have been set ablaze.
I am equally surprised that Wike is denying his Igbo identity or history. Whether 'umu' is changed to 'Rumu' in order to separate the Rivers people from the rest of their Igbo kinsmen, what of their language and culture? Methinks that since they have changed the names of their towns and streets to Rumu, they should also change their names from Wike (Nwike) to Rumuwike and Amechi to Rumumechi. Does it not sound sweet? Fools.
Whether you call it Aro Ndizuogu, Aro Chukwu, or Aro Udi, Aro Ajalli, Aro remains Aro. Just as there are Ameican Jews, Russian Jews, German Jews, Jews remain Jews anywhere they are.

What Wike should have done:
1. Set up a judicial panel of inquiry as his counterparts in other States have done to ascertain the actual truth and circumstances behind the protest and violence in Obigbo.
2. If he so much believed the protest and violence were incited by Nnamdi Kanu, he should have invited the leaders of Obigbo and Ohaneze and cautioned them on the consequences of heeding Kanu's order .
3. Invite the leaders of the militant and cultist groups in Rivers State which the State has an abundance of and confirm their neutrality or innocence in the violence.
Don't forget that in the elections that brought Wike to power, gun shots were raining everywhere by militants and cultists, particularly in Obiakpor local government and casualties counted in their dozens. The yet unanswered question is whether all these weapons were mopped up from these militants and cultists after the election.
That said, it has become a record that of all the States of Nigeria, Rivers State, one of the closest neighbouring States and indeed Igbo brother State of the Eastern region, has been the greatest threat to Igbo people.
Since during and after the Biafra war, the people of old Rivers State have shown marked hostility, hatred and outright propensity for ethnic cleansing of Igbo people. What they are doing in Rivers State is not a new thing.
Isaac Jasper Adaka Boro studied Chemistry at the University of Nigeria, Nsukka. Throughout his stay in the school, he depended so much on his Igbo friends and colleagues. During vacations, Isaac would hang around in the homes of Igbo friends until the next academic session.
At a time, he contested for the President of the Student Union Government against three other contestants – all Igbo. Yet, Igbo students who constituted over 80 per cent of the student population voted and fought for him to victory. Even his chemistry department students did not support him.
Recall also that Isaac Boro was the first de facto coup plotter in Nigeria when he formed the first militia force in Nigeria, the Niger Delta Volunteer Force (NDVF) and on February 23, 1966, declared the Niger Delta Republic, the first time any part of Nigeria attempted to secede.
Boro and his comrades were arrested, tried and sentenced to death for treason. It was then head of State, Ironsi, an Igbo who commuted their sentence to prison terms. On the eve of the Biafra war in 1967, Boro was released and he immediately joined the Nigerian army and was commissioned as a major.
He later led 1,000 Ijaws to fight against Biafra and open the way for Nigerian soldiers to enter Port Harcourt. He was later killed under mysterious circumstances in 1968 at Ogu (near Okrika) in Rivers State by the same people he fought on their side against Biafra.
During the Nigeria/Biafra civil war 1967-1970, Ndigbo who are majority Biafrans left their property in the old Rivers State created in 1967, and fled for safety of their lives during thes war. After the war, when they came back to Rivers State under the then Rivers State governor, Lt-Commander Alfred Diete-Spiff, to start up a new life, they were deprived of their property with the connivance of the Nigerian state.
Before the end of the war, Ken Saro Wiwa was allegedly among the Rivers State indigenes who led other like minds from the state to Gowon. The outcome of their meeting was an accord with the Gowon-led government that should the war end in favour of Nigeria, the state would take over all that Ndigbo left behind in Rivers State.
Thereafter, Rivers men and women led by Ken Saro Wiwa, Diete-Spiff, Elechi Amadi, E. K. Clark, Sergeant Awuse and others claimed Ndigbo property worth millions of Pounds which they characterized as "Abandoned Property". One of them even wrote a novel in which the author mimicked Igbos by alleging how Igbos were eating toads and lizards out of hunger during the war.
Sero Wiwa afterwards became the champion of implementation of abandoned property programme and was said to have been the person who with Sani Abacha, claimed Sir Odumegwu Ojukwu's extensive property in Port Harcourt. Who knows if their enmity started there.
Saro Wiwa was later killed along with the rest of Ogoni-9 by the Abacha regime for reasons we all know. The execution triggered wide-spread unrest in Nigeria Delta anchored on mass agitation for resource control.
That was when late Ikemba Ojukwu made a veiled commendation statement to the people of Niger Delta titled, "Good morning" which some people interpreted as a congratulatory message to the people for waking up from slumber for so long to demand their rights.
It is also on record that it was An Igbo, Emeka Anyoku, then as Secretary-general of the Commonwealth who opposed Abacha's move to kill Sero Wiwa and his group. After their killing, it was Anyaoku who spearheaded sanctions against the Abacha regime.
Yet, Wike seems not to have understood to wake-up, in his futile bid to become the Vice-President of Nigeria, using Igbo lives as bait to his Northern overlords.
What is even more annoying is the on-going meeting organized by South East Governors for a dialogue and negotiation between Ohaneze leaders and Wike. Such cowardly move is a disgrace to the Igbo nation.
Negotiate what? Negotiate about the scores of Igbos already massacred or to stop further killing of Igbos? What are they negotiating about, when they should by now taken Wike to the International Criminal Court for ethnic cleansing and crime against humanity.
I am equally angry that while Wike has been roaring threats like a lion all this while and fulfilling those threats in Obigbo, South East Governors cannot as much as issue a statement of concern for Igbo sons and daughters being slaughtered like fowls at the instance of their fellow Governor. Even a hen and indeed every other animal do not keep quiet whenever their offspring are under threat, much less, being murdered in cold blood.
But we all know why. Myetti Allah separately and secretly promised each of them the position of Vice-President, the same slot Wike is plotting for. So how do you expect Igbo governors to speak against the Obigbo genocide and still be seen to remain in the good book of Myetti Allah.
For the records, the entire people of old Eastern region were involved in the Biafra project as reflected in the name Biafra which took after the Bight of Biafra, located between on the shores of Rivers, Cross River and Bayelsa States. As a matter of fact, it was Frank Opigo, an Ijaw man who suggested the name to Ojukwu in 1967. It was after the war that the Federal government changed the name to Bight of Bonny, evidently to erase the memory of Biafra.
As a matter of fact, the war started in Gakem, in present Cross River State and Biafran soldiers, mainly Igbos, came to the strong defense of the border town before they were sabotaged by some elements from the locality.
As a people who were common victims of northern pogrom in 1966, Ojukwu took all easterners as brothers and common target of domination, hence he carried Niger Deltans along in the prosecution of the war without discrimination or marginalization, with Niger Deltans effectively represented in the sharing of offices and other portfolio.
Major General Philip Effiong was Biafra's Chief of General Staff and later, Head of State while Mr. N.U. Akpan was Secretary to the Eastern Region and later Biafran Government. Mr. Ignatius Kogbara was Biafra's representative in London while Dr. Gary Leyton was Deputy head of the Research and Production Department.
Mr. Okon Okon Ndem was Communications officer and Broadcaster Radio Biafra while Mr. Frank Opigo who I introduced the name "Biafra" was Commissioner for Rural Development and Biafra's administrator of Yenegoa Province. Dr. S.E. Cookey was Biafra's Relief Co-ordinator while M. T. Mbu was commissioner for education and Mr. S.E. Imoke – Chairman Rehabilitation Commission. There were several others.
Uptill today, Igbos have continued to regard people of the Niger Delta as brothers and allies in all national affairs, hoping and expecting that they will "wake-up."
During the 2015 election, Igbos were at the forefront of Jonathan Goodluck's campaign for the Presidency, even at the expense of their kit and kin in the north, going as far as adopting Jonathan as a core Igbo and rebranding him with Igbo names of Ebele and even Azikiwe. All to show love and brotherhood to our Niger Delta neighbours.
Just when we thought we have put all the Igbo hatred by Rivers people behind us, Wike is reopening old wounds and making Igbos ask the question, do we still have brothers in Rivers?
Copied*