Customs construct toilets in border communities to end open defecation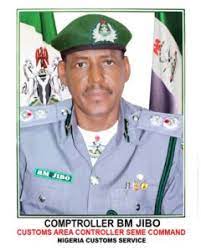 The Seme Command of the Nigeria Customs Service, has commenced the construction of public toilets in border communities in Badagry to end open defecation among travelers and residents.
The toilets which also have bathing facilities, is part of efforts to promote mutual relationship between officers and their host communities.
Customs Area Controller, Seme Area Command, Bello Mohammed Jibo, said he was moved to construct toilets and bath rooms, having witnessed the suffering which travellers go through when transiting to and from Nigeria.
Jibo, who also revealed that it is also part of ways to promote mutual relationship between the Service and members if it's host communities said it would further cement the existing relationship between both parties.
He said Such relationships have impacted positively on the smooth operations of the command, leading to the huge successes recorded by the unit in combating smuggling, other economic sabotage and crimes in the area.
"Aside, being a customs officer, my duty is also to strengthen existing relationship between officers serving at the border, host communities, business communities and travellers alike.
"When I arrived, the first thing I did was to embark on a tour of the entire communities under my command. During the tour, I met with community leaders. I sought for their cooperation and understanding.
"One of the things I noticed is that there are no toilets where travellers and business men and woman who come to seme could go to when they are pressed. I decided to build as many toilets as possible in most of the motor parks and garages. This has reduced the problem of open defecation around here.
"To also bring the youths together, I have decided to create a youth football tournament to engage them constructively. By so doing there will be free flow of information sharing between security Operatives. This will also remove their minds from smuggling" he added.
A youth leader, Abiodun Adagba, said the Command in return has been cooperating and playing a meaningful role and creating development outreach program to all the communities.
"For instance, the command is said to have built an ultra modern toilets and place of Convenience at J5 area, meant for the use of the community and travellers alike. "This is being replicated in other Border communities. Besides these, the Command has the support of the Royal fathers in the area, established a community owned football club, named after Badagry, tagged Badagry United football tournament, it will serve as a sort of recreation and money making venture for the communities. "Royal fathers in the area are also cooperating with us and in return we guide them in compliance to regulations concerning trade and anti trade laws , such as legitimate trade and duties payments on coconut business " he said.

On Inter Agency Cooperation, Jibo stated that his Command has a robust relationship with all the Agencies operating at the Border including Benin Republic Customs