APT  ELECTIONS 2022 :  Opposition Panic, As Traders Insist On 12 Apostles Team ,  New Generation Movement Soars Like Eagle, Cruises To Landslide Victory On Tuesday.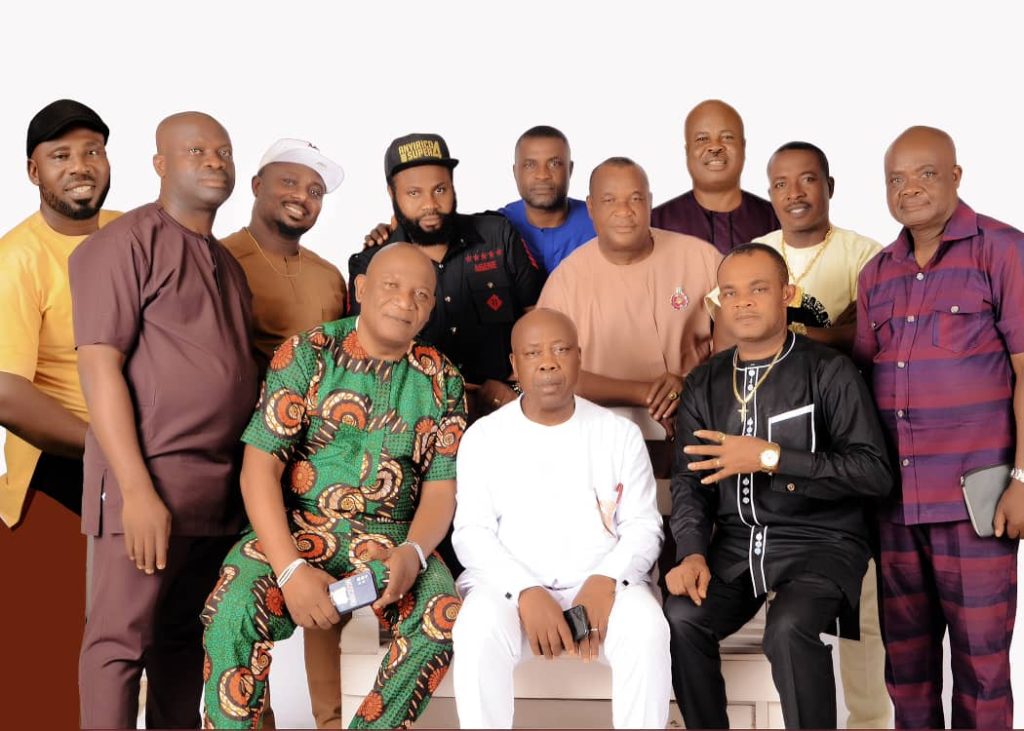 If all the credible opinion polls conducted at the Multi Billion Naira Association Of Progressive Traders, APT market is x-rayed, genuine Traders doing business at the market, appears to have unanimously chosen the hard working 12 Apostles political team as their next Association Executive Members come December 13th , 2022 general elections.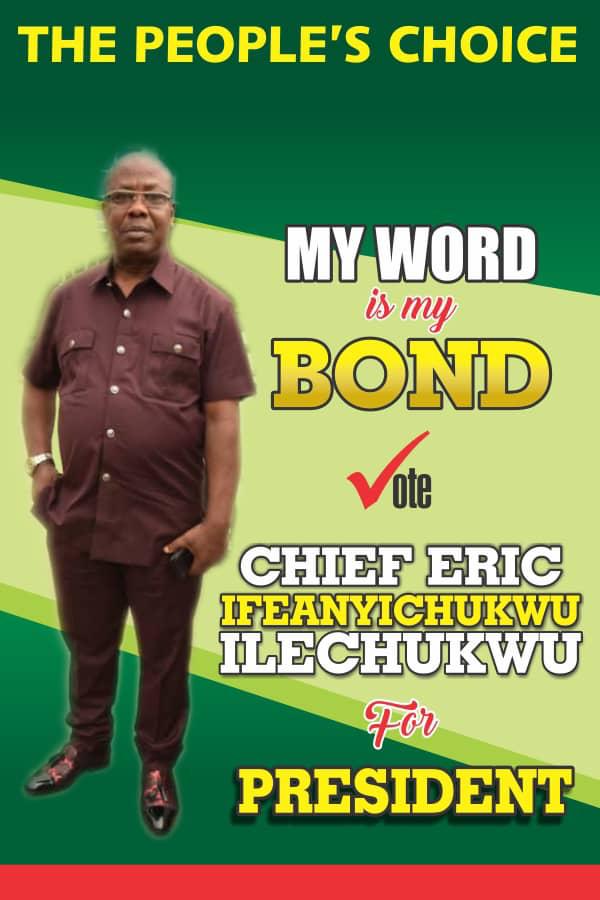 Atmosphere at the market ,our correspondent reports, is highly electrifying, after the alleged botched attempt by opposition group , thus, traders agree that they have focused their attention on getting a trusted, tested genuine traders like the 12 Apostles led by Chief Eric Ifeanyichukwu Ilechukwu ( Akunwafor Anyirico), fondly called "Mr. Project " , as their leaders come December 13th elections.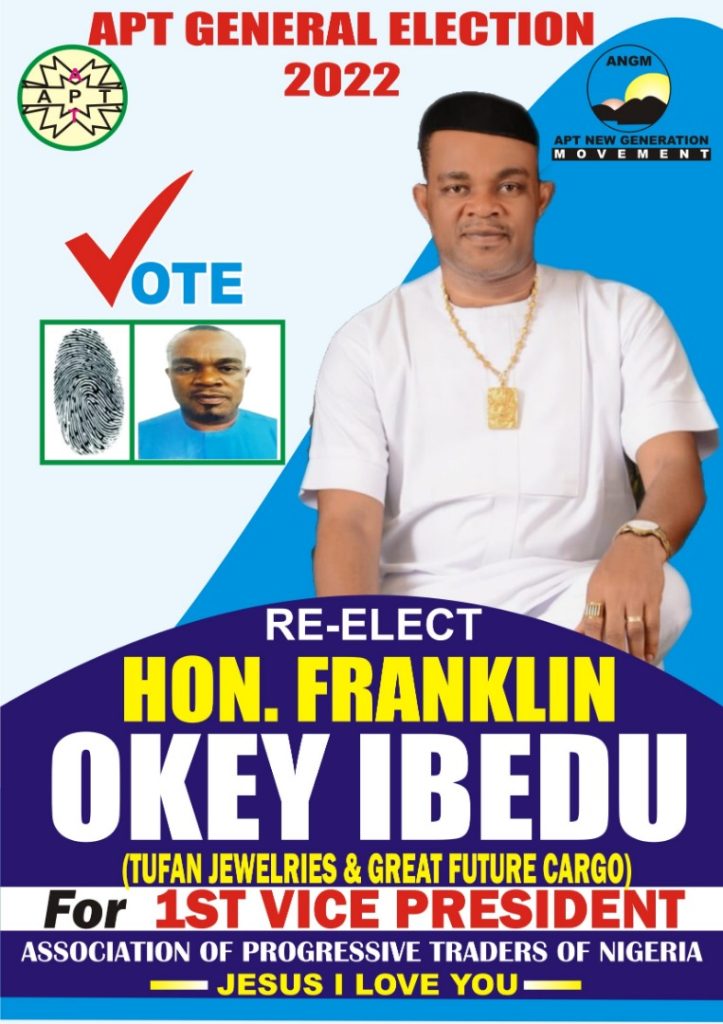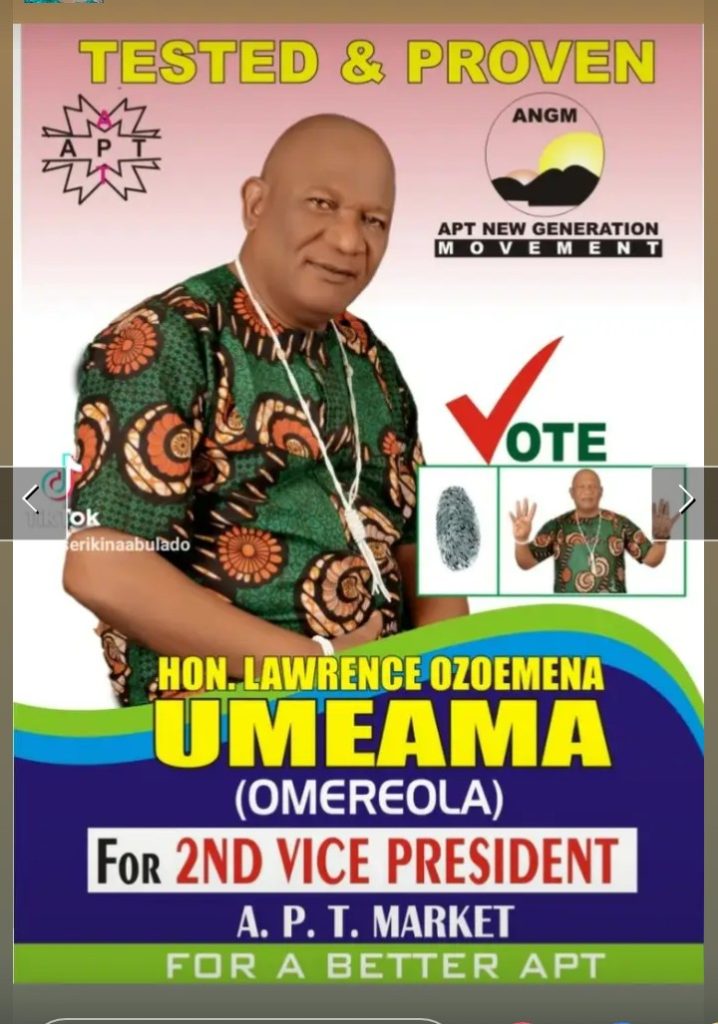 Majority of the traders who participated in the pre- election opinion polls, favored the Election of the candidates contesting under the APT New Generation Movement ,ANGM Party, popularly known as the 12 Apostles, as they vowed to resist any attempt to force on them those candidate being fronted by the opposition , who they argued most of them does not really trade with them and have no stake in the affairs of the market.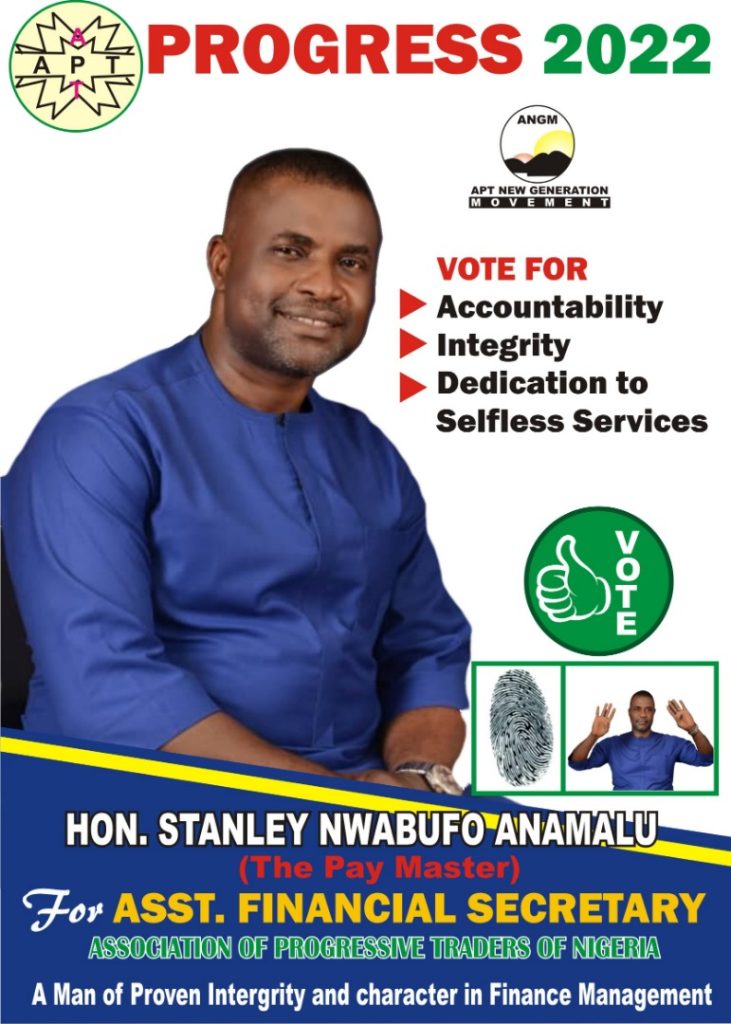 In an interview with our Correspondent, Chief Wisdom Okoye, who said that he was speaking on behalf of the larger traders block in the market stated thus : " We must continue to vote for the team that we have seen their developmental milestones and strides.Let us stop this idea of fronting for those that we know can't deliver dividend of democracy in this market. I have been in this market long enough to know the leadership qualities of the 12 Apostles political team led by Chief Eric Ifeanyichukwu Ilechukwu, and that is why i always insist that the man building all these projects must be president. We must allow the winning team to continue to lead and produce market president.This was exactly what led to failures of other market Associations ,who allow non tested people to led them and most of these people in the opposition, as we all know, are not stakeholders trading in the market, we can't allow outsiders to come from outside the market and hijacked the market."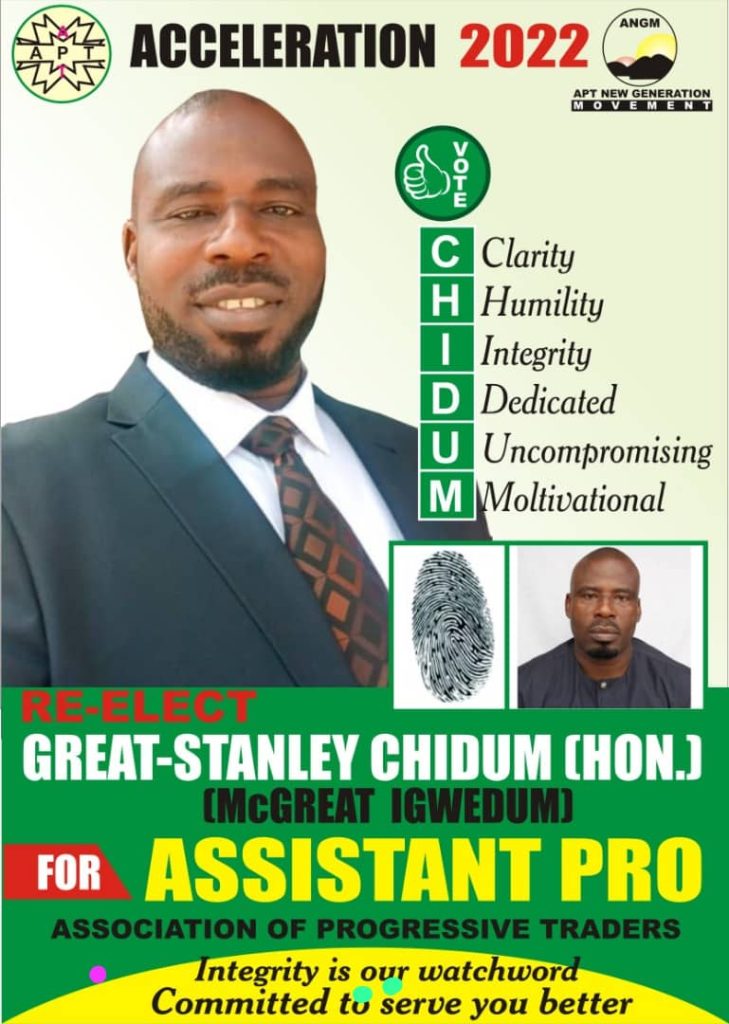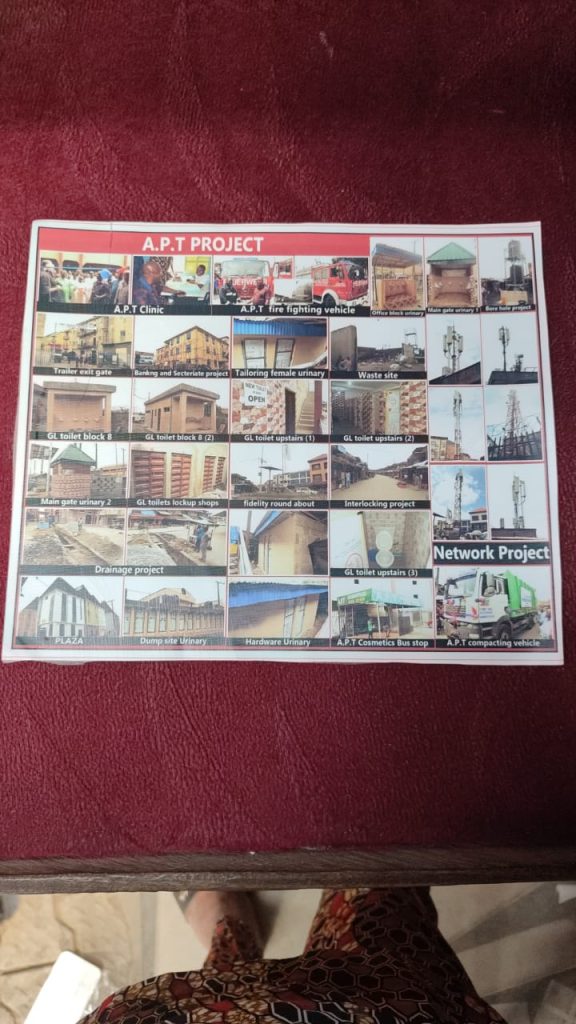 Chief Okoye also noted thus: " the time has come in this market that Genuine traders should be allowed to lead us.That is why this rumour of people fronting some opposition Candidates, is very annoying and must be rejected and resisted by all geniuine traders. a man , who has nothing to do with us here , this is getting me angry."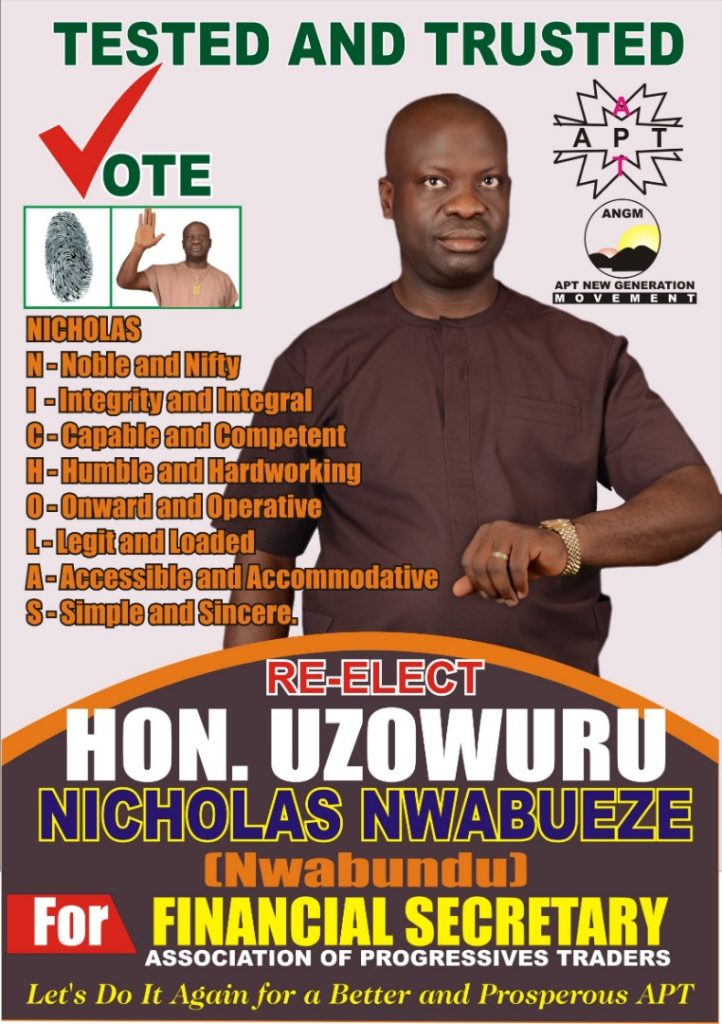 Continued he : "Infact, out of all the candidates, the 12 Apostles political team, made up of leaders like : Chief Eric Ifeanyichukwu Ilechukwu (Akunwafor Anyirico), fondly called Mr. Project , who is contesting for President ; High Chief Chuka Christian Mekaowulu Chinwatakweaku popularly known as ichie Ngene Umuoji, for PRO; Hon. Prince Omekannia Ifejika for Treasurer ; Hon. Cosmas Okafor for Assistant Secretary General ; Hon. Uzowuru Nicholas Nwabueze for Financial Secretary ; Hon. Great – Stanley Chidum for Assistant PRO ; Hon. Nkemakonam Chinedu," Igwe Maryland " for Assistant Provost ; Hon. Stanley Nwabufo Anamalu , "The pay Master " for Assistant Financial Secretary ; Hon. Charles Albert Ike, for Chief Provost ; Hon. Lawrence Ozoemena Umeama " Omereola" for 2nd Vice President ; Hon. Chief Peter Chidozie Oraeki for General Secretary ; Hon. Franklin Okey Ibedu " Tufan Jewelries & Great Future Cargo " for 1st Vice President, are the most qualified, responsible and acceptable candidates to all geniuine traders in our Association. "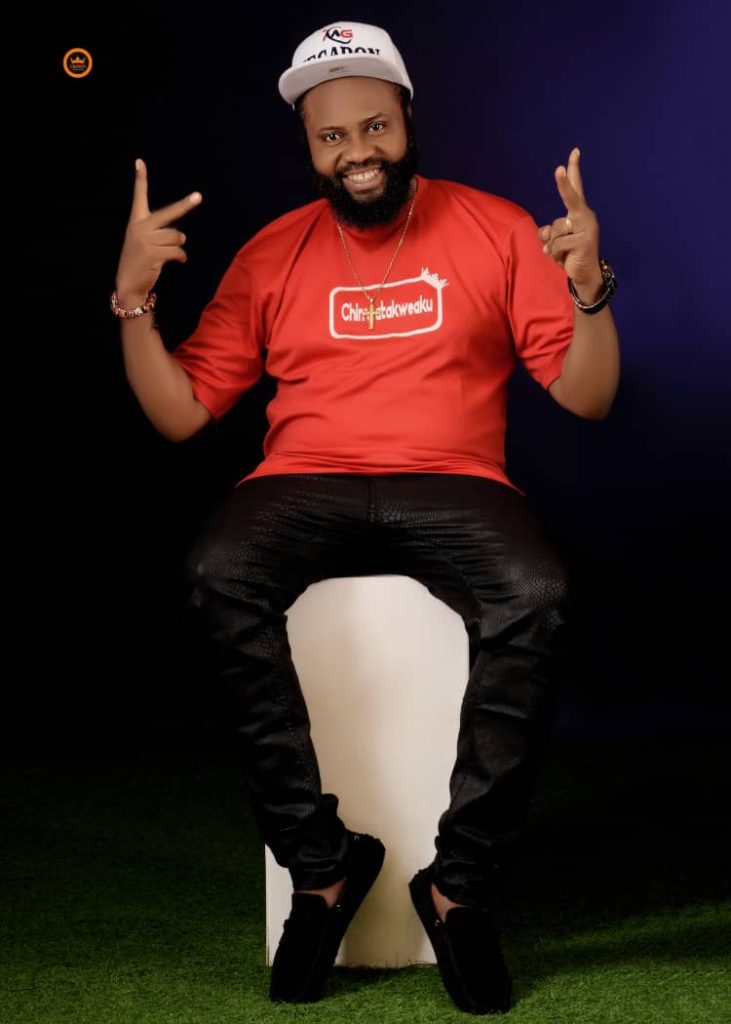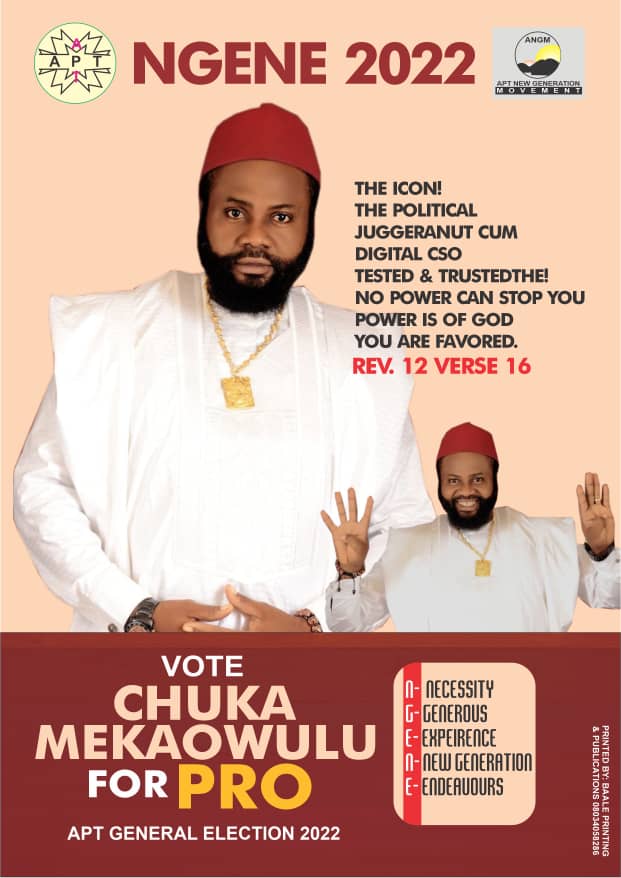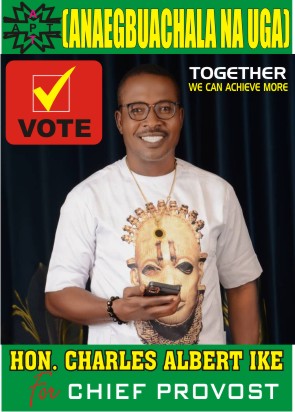 According to Most of the traders "they are Game Changers, some are seeking for re – election, experienced, credible, accountable, consistent, competent, transparent, full of integrity and professional traders and business men with leadership acumen to the core.We don't care if they are from any State , they has invested heavily in the market and we are sure that their victory will bring expected growth, improvement and peace which we yearn for. I sincerely beckon on my fellow eligible voters and other traders to work towards their victory at the polls come December 13th,2022 ", Chief Okoye said.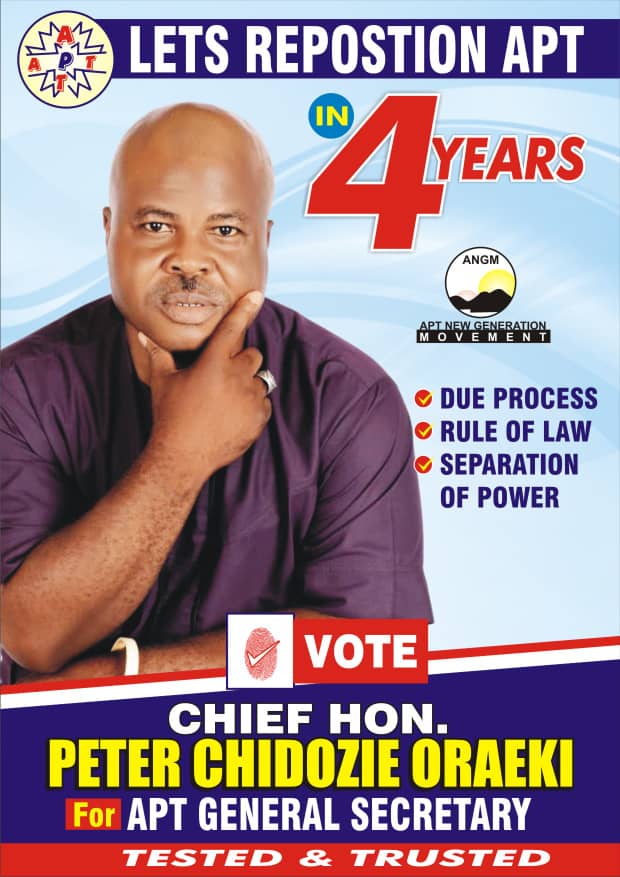 Collaborating Chief Okoye, Mr. Jackson Egwu, advice traders to avoid rumors and pull him down syndrome as evident in other markets.
Egwu, who vouched on the Credibility of members of the APT New Generation Movement Party , urged traders to cast their votes for the 12 Apostles , stating that their emergence in APT Politics and sure Victory in the forth coming elections on Tuesday, would continue to change the narratives in the market.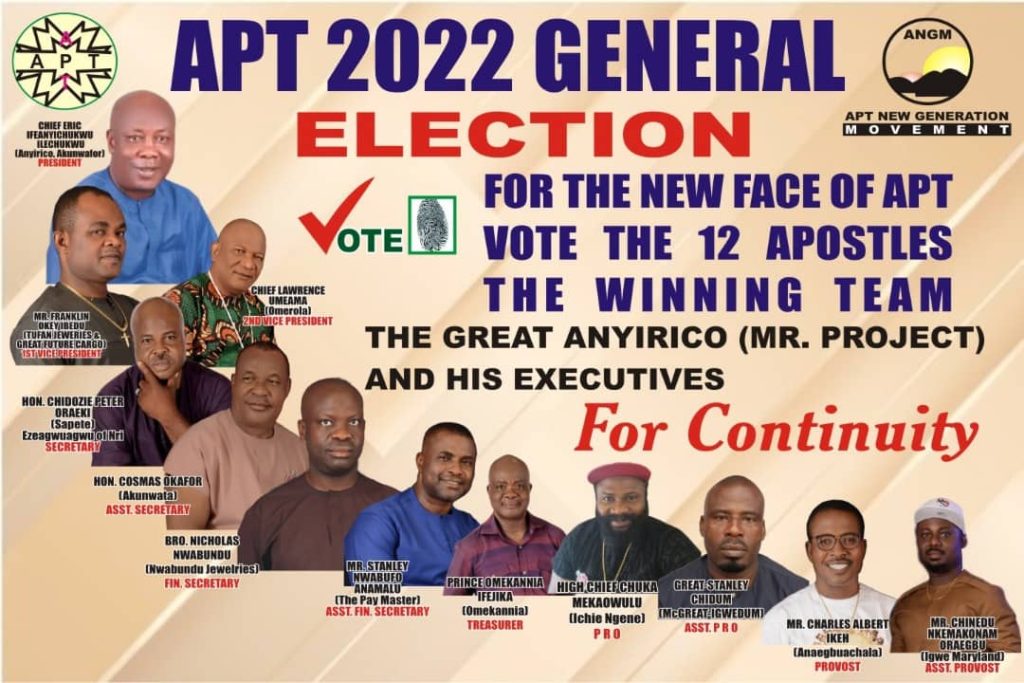 Speaking on their manifestos and Agenda, Chief Chuka Mekaowulu , popularly known as ichie Ngene , a Soft spoken market leader , digital and versatile Chief Security Officer, CSO, who is vying for the Post of Public Relations Officer, PRO, stated that the 12 Apostles are not pushovers in APT politics, he promised that their team would continue to restore peace in the market, abolish Touting, unacceptable tariffs and double standards.